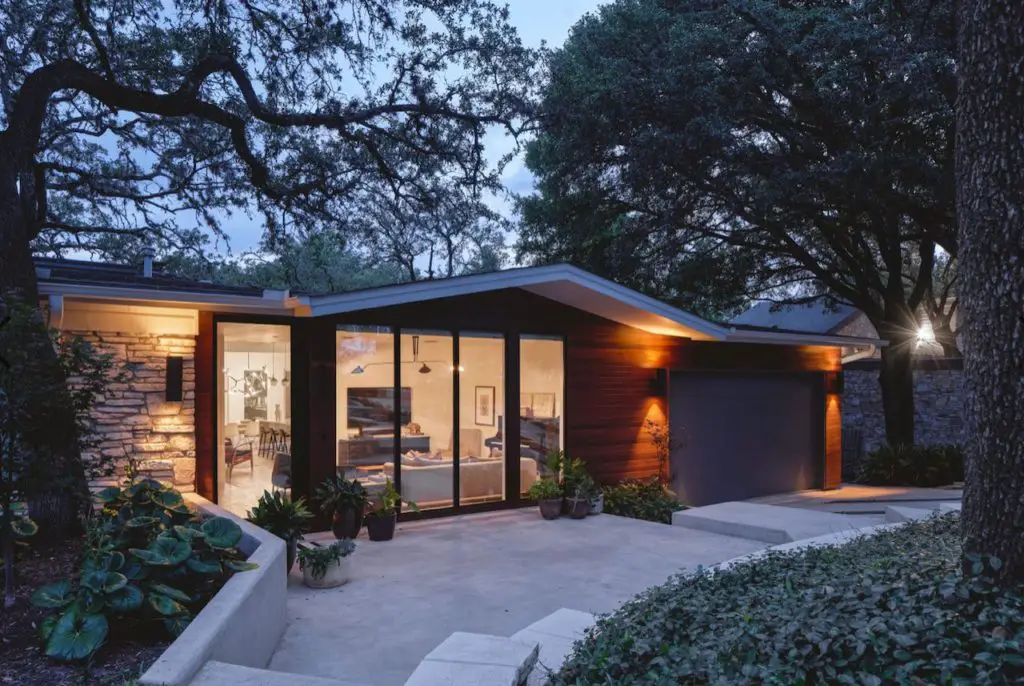 This stunning bungalow in Austin, Texas is a remodel of a classic mid century home. Remodeled by a talented all women team, the architects at restructurestudio were driven by a desire to merge sustainable practices with excellent design. Focusing on residential projects in the area, their small studio tailors each projects to their clients' needs.
They consider the Brookhaven Remodel as one of their best as it was born out of a successful collaboration between their small team and clients who shared the same design tastes. 
The existing house had a tiny galley kitchen at the entrance. This disrupted the circulation of the original house as the owners were forced to direct and welcome guests into the breakfast area. Given the inefficient layout of the existing home, the architects had to reimagine the space to cater to contemporary living. The remodel replanned the interior; the entrance was reconfigured to provide a vestibule adjacent to the expansive living room.
The social spaces – the living and dining areas, were also renovated to become more spacious. In addition, a new laundry room was added on top of a new powder bath. These transformations render the home more suitable for welcoming and inviting guests. More than a more logical floor plan, the Brookhaven Remodel also located the living room near the entrance and transformed the open kitchen into the center of the house. 
The finishings and furnishings were kept at a white palette to create a clean aesthetic. Furthermore, the light colors make the interiors look more spacious and light. Long windows puncture the envelope to let natural sunlight in. The facade is a mix of wood and natural stones, consistent with the earthy palette that defines the house. 
The all-white kitchen features a marble countertop that matches the clean aesthetic of the cabinetry. The residential remodel also juxtaposes the dark tones of the exterior with the bright whites of the interiors. The effect is an inviting and warm home where both the owners and their guests can enjoy a welcoming space.