With its clean lines and neutral tones, Las Palmas epitomizes the revered and iconic style of Palm Springs modernism. In this midcentury modern home, Queensland architects Tim Ditchfield Architecture explores and seeks to balance the intersection between the modernist movement and the contemporary lived experience.
With a prime location at South East Queensland in the gorgeous Noosa Heads, Las Palmas is situated in a spacious site that has amazing views to the Noosa River. Located in a waterfront locale, the architects opted to adapt a linear and open approach to maximize the connections and engagement opportunities between the property and nature.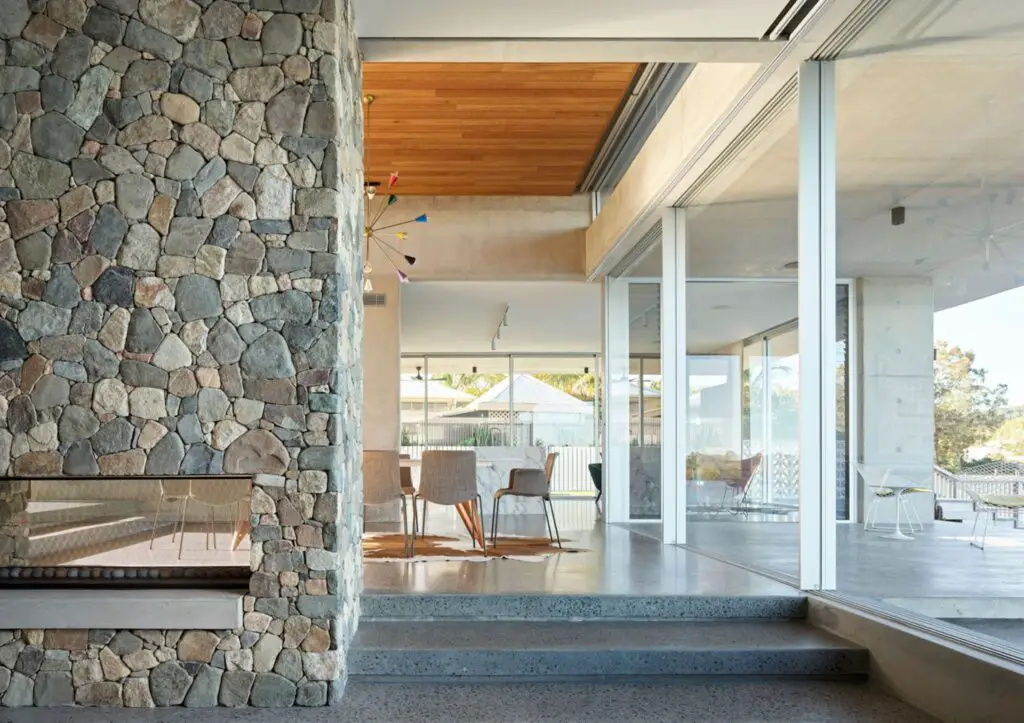 The inspiration behind the house is an interesting story. The client was on a trip in the famous Palm Springs in California when they had an immersion in the iconic Kaufmann House. The legendary house – a brainchild of prominent modernist architect Richard Neutra – was commissioned by Kaufmann, who also spearheaded Frank Lloyd Wright's famous Fallingwater. The client was drawn to and fascinated by one of the icons of modernist residential architecture and was intent on bringing in its key elements to their Queensland home. 
The product of this fascination and Ditchfield's design creativity is a contemporary home that hugs the earth, with rhythmic and regular forms blending seamlessly into landscape elements and highlighting connections between indoor and outdoor elements. With the help of Tim Ditchfield Architects, Las Palmas "brings principles that underpin the modernist style together through a contemporary lens and reinterprets them to create a home that bridges both with a resounding relevance."
Las Palmas is a product of a close collaboration between the client, the contractor and the designer – a careful curation of context and intent. The strategic orientation of the side opens it up to the edge of the river, which brings in the visual elements of the cacti and boulders and exudes a distinct Palm Springs vibe.
Consistent with modernist characteristics, Las Palmas has flexible interior and exterior spaces where courtyards are multifunctional. First, they bring nature into the interior. They also serve to create a central focus and cater to meaningful interactions and connections.
Movement is a central concept to Las Palmas. Throughout the home, changes in elevation through the introduction of sunken spaces add a sense of dynamism to the place. Another key element to Las Palmas is its minimalist, exhibiting restraint not only in palette but also in materiality. This conscious effort to tone down the space is complemented by joinery which "makes way for iconic furniture items to dot the home, as sculptures in space." In the end, while Las Palmas might have had its starting point in California, the resulting home is uniquely its own.