[tie_slideshow]
[tie_slide]
[/tie_slide]
[tie_slide]
[/tie_slide]
[tie_slide]
[/tie_slide]
[tie_slide]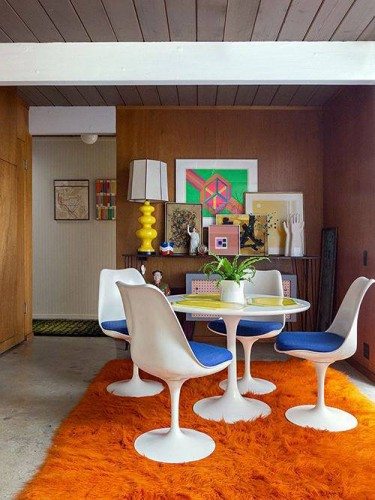 [/tie_slide]
[/tie_slideshow]

Taking the beautiful and natural form of a tulip, Eero Saarinen's Tulip Chair had more complex issues to deal with on its path into mass production. It was not simply a fact of producing this beautiful shape and colour to imitate nature, but also considering bigger design issues in its construction.
The post-war American and Scandinavian designers were much more futuristic than their pre-war contemporaries in Germany. Shapes often took on a more modern form with organic curves. The Saarinen Tulip Chair, in fact, was part of a furniture line that included a dining table, side tables and stools, and they were all supported by a single stand.
It was important to not only capture the artistic elements of the design that included its tulip shape, soft lines and singular structure but Saarinen also tried to maintain a practical purpose for its use as a chair.
His vision was clear in that he did not want to make a typical piece of furniture that he thought was ugly and lacked vision. He did want to make a structure that was all-in-one and had an attractive underside. To this extent, he sought inspiration from Tutankhamen's chair and Chippendale's design that had a total structure.
Even though the Saarinen Tulip Chair appears to be one structure, it is actually two parts joined together. It has a powder coating of rilsan over an aluminium base that can rotate and a fibreglass seat on top. Both are coloured the same and -in its original version- available in white or black. The seat cushion featured a cover with zips and was stuck to the seat shell by Velcro.
Saarinen's Tulip Chair was first manufactured by Knoll -that still produces it today- and has won numerous important awards like The Museum of Modern Art design award and the Federal Award in the category of industrial design. It is, without doubt, considered a classic and futuristic piece of mid century modern design.