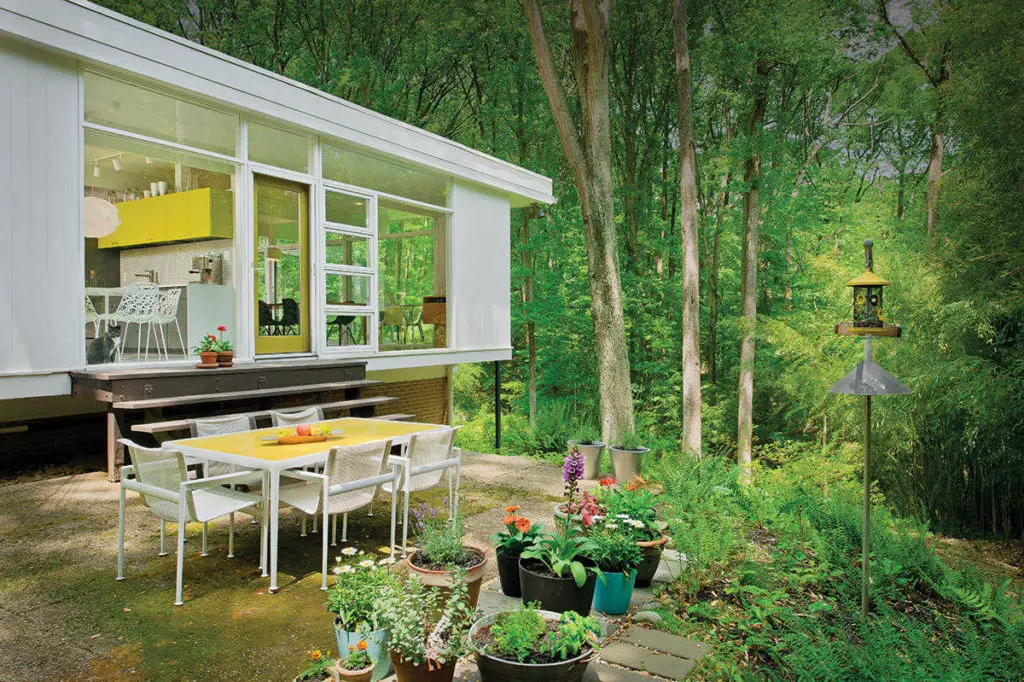 Resting in the thick of nature, the connection this contemporary house has to its surrounding environment is one for the win. Elevated on a hillside, the glass tree house-like residence is shrouded by greenery.
Enchanted by the midcentury modern home that was in perfectly good condition, professional architects Peter and Laurie Stubb purchased it in 2001. With sustainability in mind, the couple was eager to refurbish the building and provide the home with a fitting personality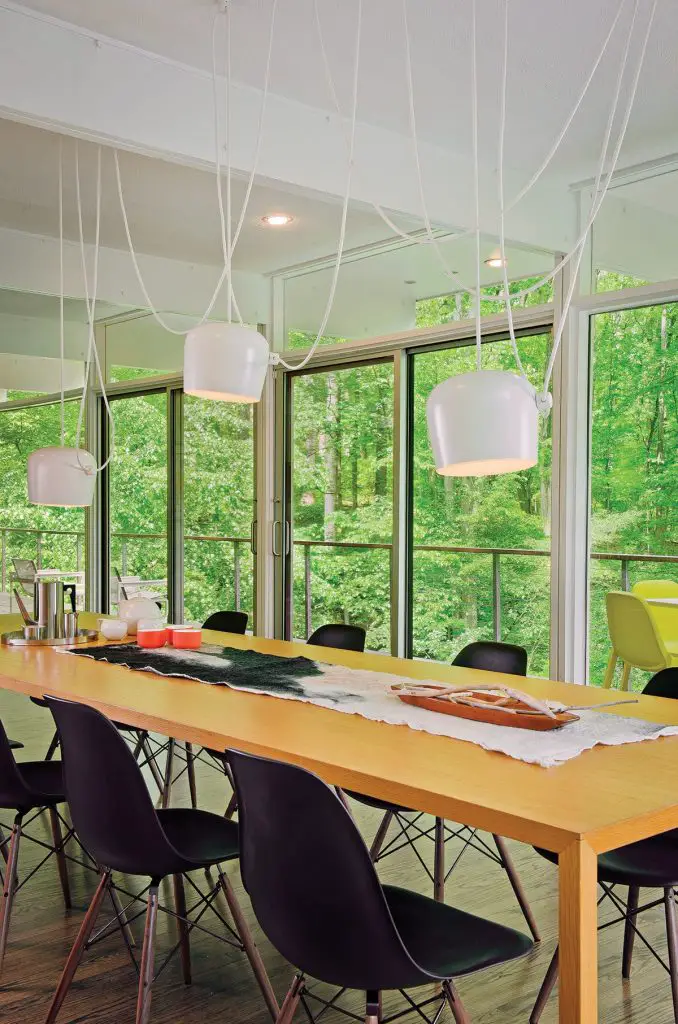 Cheerful bright yellow frames dress up the home's entrance, setting a rhythm that follows through in the rest of the home. From the kitchen's cabinets to the table top of the outdoor dining area, all the way to the color of the upper level balcony patio chairs, the same sparkling yellow creates fluidity between the indoor and outdoor spaces. At the right end of the home, the same yellow frames a glass door.

At the back, the same yellow frames enhance a glass door that opens to a staircase leading down to the patio. From there, a hill filled with planted greens extends down to a grass lawn, surrounded by lush forest. The connection to the backwoods is so strong it is easy to forget that an actual street leads up to the front of the home.
The spaces were not always there; in the summer of 2015, the couple joined forces with Owings Brothers Contracting to build up their Redwood balcony, adding another 1.5 feet to the balconies original 5-foot width. In addition to the backyard patio space, the Stubb can also enjoy dinners and entertain guests up on the higher level during warm summer nights while enjoying the views of the natural environment.

This midcentury modern home is well equipped with windows to ensure natural light flooding inside. Floor to ceiling windows, glass doors and numerous clerestory windows make sure sunlight pours inside throughout the day, while sunken lights and decorative modern lamps provide generous amounts of light in the evenings and at night.

Thanks to their careers as professional architects, Peter and Laurie take pleasure in experimentation, something which this exquisite home continues to pass down.