Every year, Salone del Mobile and Fuorisalone bring together thousands of buyers, creatives and design enthusiasts from all over the world under the Milan Design Week umbrella and last week was no exception. 
It goes without saying, that this year's Supersalone was of course more poignant than ever before, signaling to the world that Italy is once again open for business, after the COVID-19 crisis. 
Announced in June after months of speculation, and with current travel restrictions in place for Asia and US, event attendance was subsequently lower than average, but the city remained true to its vibrant self with thousands of visitors from across Europe present at many locations across Milan.
Evidently planned with a delicate mix of excitement and caution, it was clear  that the intent of event organizers was to keep the quality of  events high, focusing on  inspiring attendees rather than overwhelming them. 
The Fuorisalone encapsulated the many events, exhibitions and installations spread across the city centre, and as you may have seen from our Instagram stories and feed, we stopped by a selection of locations to check out some much-loved design icons as well as the influential brands and designers of the future.
Showrooms
Showrooms at key locations across Milan from a host of major and upcoming design studios featured a number of recent product launches throughout the week.
Fritz Hansen showcased its new Clam lamp, an opal glass pendant by Ahm & Lund inspired by seashells and old gas lamps. A stunningly beautiful design with a clear midcentury influence.
Carl Hansen and Son unwrapped  their latest design icon, the Plico chair, an extremely comfortable and foldable lounge chair with saddle leather armrests and stitched linen canvas cushions. A truly Danish design: stylish, practical and sturdy.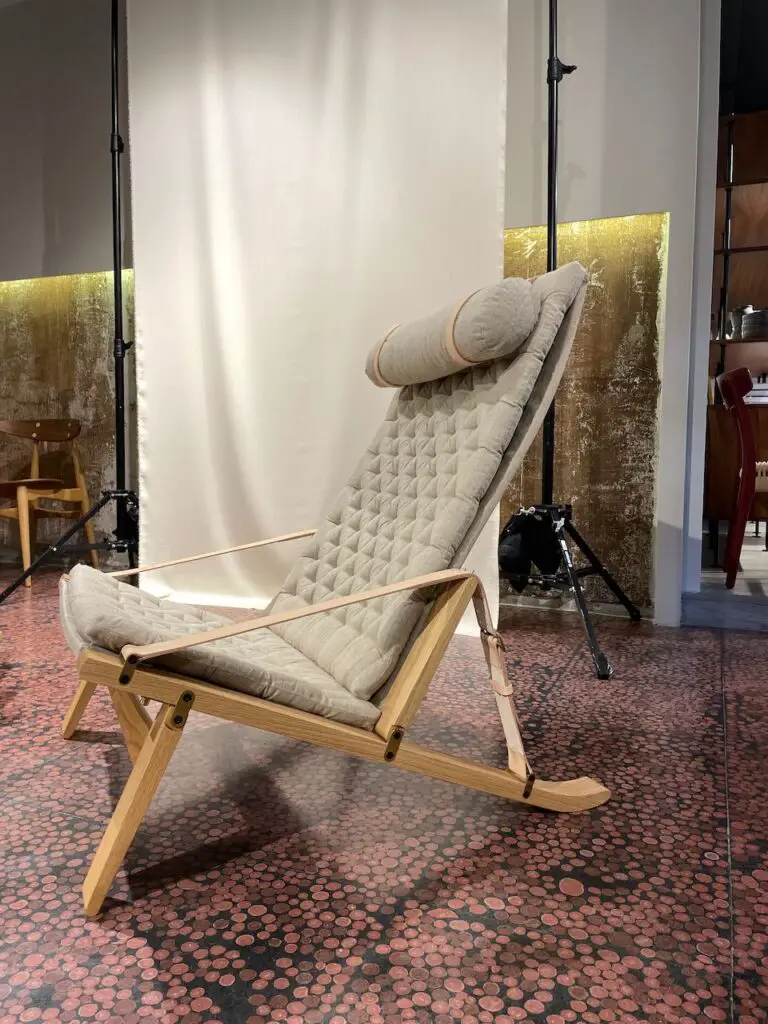 Danish brands House of Finn Juhl and Fredericia both participated in  the beautiful apartment installation entitled 'I'll be your mirror', curated by design studio H+O which focused on the power of ceramics and paint.
The eclectic and contemporary apartment was the perfect background to showcase the best pieces from the two renowned Danish companies. A well executed project where different pieces mixed and matched perfectly, creating a contemporary, hygge vibe.
The centrally-located showroom by Ceccotti Collezioni hosted the latest work by Spanish designer and artist Jaime Hayon, the T-Bone chair, as well as the matching side table, Árbol. The chair is designed as a highly customizable product available in multiple combinations of wood types, fabrics and finishes, beautifully crafted with a vintage look and feel.
Under the careful curation of interior designer Stefano Gaggero, Swedish rugs and textiles brand Kasthal showcased some if its classical rugs from the 1950s to the 1980s, alongside some of the finest examples of Italian design from across the decades.
Exhibitions
Palazzo Litta hosted "Design variations", a bespoke  curation of objects from a diverse range of designers, independent studios and companies. The XVII Century palazzo in the heart of Milan welcomed visitors with a refreshing installation by Portuguese architectural studio Aires Mateus in the courtyard. 
Studio Mosca Partners' selection of projects ranged from a Chinese school of design, to a furniture startup from the southern Italian region of Sicily, offering interesting views of what today's design is about: research, reflection and impact. A welcome surprise. 
The Triennale di Milano is the most design-centric of Milan's collection of museums, having always promoted its permanent collection of Italian design icons from the 1940s to the present.. From this year, it is joined by the new Compasso d'Oro Museum (ADI) showcasing all the winners of the prestigious industrial design prize, from 1954 onwards.
The Triennale's refreshed permanent collection included some pieces from ADI but added a more in-depth point of view thanks to the exhibitions happening on the first floor which focused on Milanese architect Vico Magistretti,  Carlo Mollino, and the last 60 years of Salone del Mobile respectively.
Special mentions also go to Alcova, a design project developed by Space Caviar, as well as Studio Vedèt, which changes location every year to bring attention to Milan's forgotten locations of historical importance,  temporarily reopening them as venues for design activities and exhibitions.
Installations 
In addition to the plethora of showrooms and exhibitions across the city,  it was the  Hermès presentation of their new home collection, as well as Dimorestudio's homage to the 1930s and 1970s which stole the show.
The Hermès installation was an homage to materials and touch. The different geometrical motifs decorating the outside of each of the five 'homes' built inside La Pelota, recalled the products displayed inside. 
Like the structure of each home, the products themselves also demanded  to be touched. The organic shapes, warm colors and natural materials felt as beautiful as they looked. The sand covering the floor and the soft music, added the final touches to a fully sensorial experience. Remarkable. 
Dimorestudio's 'Past and Future' apartment installations offered a tour of some of the best 1930s and 1970s Italian design. The immersive, multi sensory experience comprising lights, colors, materials and loud music, transported visitors into another dimension and another world. 
Despite the events of recent months, it's clear that Milan, Italy and the whole design community are definitely back on track and eager to show off again. The underlying message in all of this? We are back. The world has changed. This is how we want to contribute.
All photos by Marco Guagliardo