Text via Rogan Nash Architects In architecture, responding to site and context is the essence of a successful design project. Unconventional sites can therefore present both challenges and opportunities for the architects.
This was the case in this midcentury modern house in Auckland, New Zealand. Award winning architectural firm Roger Nash Architects was tasked to rise to the challenge and make the most out of a long, thin and narrow site.
Set in Auckland's Herne Bay, Roger Nash Architects renovated this villa with utmost thought and care to the overall character of Ponsonby and Grey Lynn.
Taking into account the clients' desire for indoor outdoor living, the classic villa was renovated and transformed into a beautiful and modern house that blurs inside and outside. The renovation catapults the Grey Lynn Villa into a "triumphant contemporary 'stage' for living where you hardly know if you're in or you're out."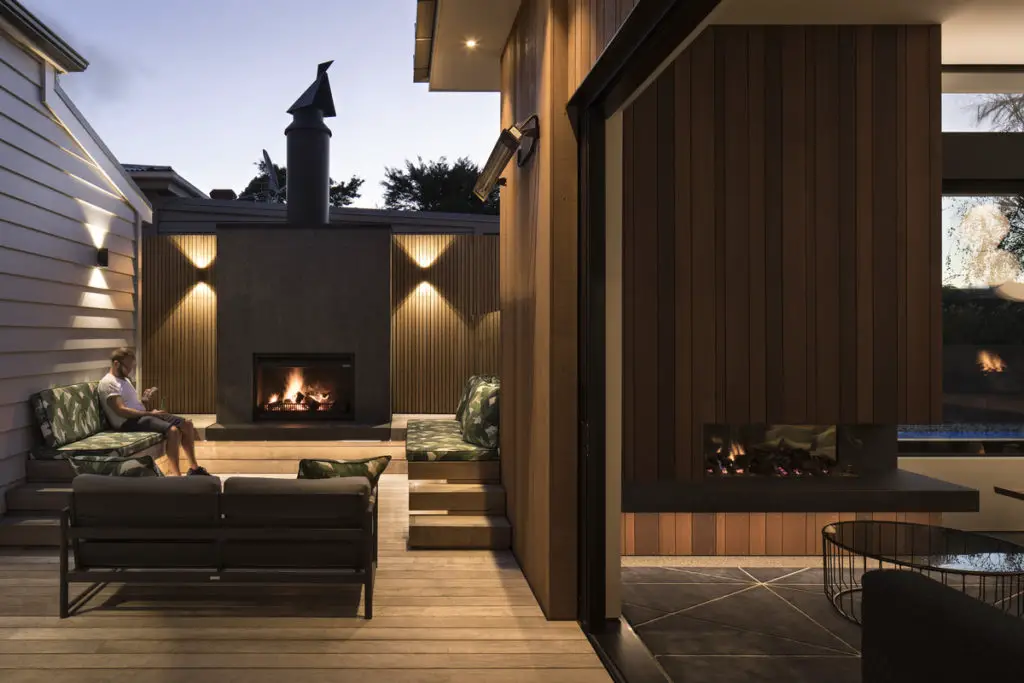 Roger Nash Architects achieves this seamless blurring of interior and exterior through expansive floor to ceiling sliding glass doors.
Glass is used to dissolve the boundaries between indoor and outdoor and create a strong visual connection. A clerestory window is added to further let more natural light into the main living room.
Distinct and unique character details, such as a white picket fence and a thatch roof transforms the elevation into a beautiful and homey midcentury modern home.
The Grey Lynn Villa accommodates plenty, with four bedrooms and a bathroom with a walk in closet and a large en suite to the main suite. The clients' penchant for midcentury modern transcends the bathroom and bedrooms, with accents and furniture setting a luxurious yet intimate tone.
Midcentury modern is the design language that informs everything in the house. From the dark wood tables to the brown leather nook stools, the architects complemented the furniture of the house to the sideboard the client owned.
The renovation was a complete overhaul, with the addition of a gallery with cave-like spaces including a storage-packed scullery, laundry and media room. In between the existing house and the sundrenched living is a living, dining and kitchen addition with a high timber acoustic ceiling.
The terraces were thoughtfully oriented to the north and were fitted with outdoor fireplaces and a long swimming pool. The location of the terrace aims to capitalize on the warm afternoon sun, a delight for the owners of the Grey Lynn Villa.
The open plan accommodates outdoor living and is conducive to welcoming guests. This new addition features a contrasting modernist aesthetic and has won multiple awards, from the NZIA Housing award to the Silver Pin at the 2018 BEST Awards. The result of this renovation is a house that is not only sophisticated, but also relaxing and intimate.