After being occupied for 51 years by one family, the 1962 Raplh Rapson-designed home in St. Paul, Minnesota, was in dire need of renovation.
Upon purchasing the house, Matt Muenster (reality TV star of the DIY Network's "Bath Crashers") made use of "respectful renovations", mending and adjusting where necessary, while maintaining the original feel of the home.
Curious as to how he went about starting renovations on this midcentury modern home, we reached out to Muenster for advice for others in a similar situation. A word of advice? "Exercise patience and don't cut corners".

Which part/s of a new project excite(s) you the most?
I think the thing I loved the most was that each project was a chance to try something new. Every client or homeowner is unique – and I liked the process of getting to know them and discovering the things they cared about – and bringing that to life.
In your opinion, what are the emerging trends in residential architecture that will shape our way of living in the next ten years?
The easy answer here is tech. How we interact with our homes is evolving constantly – improving constantly. It's becoming easier to implement and interface with certain smart home elements and I expect that to continue to develop.

READ ALSO: 5 Books To Help You Live Your Best Scandinavian Life

Can you tell us a bit about the house itself, its architect and why you decided to buy it?
The neighborhood was the first draw. But choosing to live in a more modern home of architectural significance appealed to me. I feel that responsibility with every project I involve myself with – but with this home, I really wanted to be a shepherd of the story of this home.
Plus, it was only owned by one family prior to us – for 51 years actually – and I loved the time capsule feel. I respected it and simultaneously knew I needed it to evolve to be a home you can live in in 2018 and beyond. I liked the challenge.
Which were your main objectives for this project?
When it came to window replacement, the need was obvious. Wood windows set in place were aged beyond their ability to perform. The main considerations for a replacement were equally weighted between performance and appearance.
I wanted to maintain the architectural aesthetic, and due to the size and orientation of the original windows, that was going to be a challenge. Renewal by Andersen's custom window design process checked every box for me. Renewal by Andersen could replicate the look of the Rapson design, right down to the introduction of the black exterior color on the operable windows.
The goal was for anyone who walked past our home after install day to not be able to tell they had been replaced. Plus, the low maintenance properties of Renewal by Andersen's Fibrex material made it a no brainer: modern-day materials that don't compromise the integrity of the home, and make it an easier space in which to live for years and years to come.
The house features a warm and distinct color palette. What guided you during the interior design process?
I think there are those who would argue with you on the description of "warm palette" as it applies to my home. The walls are a warm white and there really is no other paint color to speak of. This gives the entire home a crisp, almost art gallery feel.
The punches of color come from either architectural finishes (tile, backsplash, etc.) or artwork itself. The design aesthetic relies on these elements to introduce color and pattern into the space. Plus, the transparency between indoor and outdoor that comes from these large expanses of glass really becomes a key element in the experience within the home.

Midcentury houses are known to be challenging to renovate and many architects prefer to keep very little of the original structure. What challenges have you faced with this house?
We had a uniquely framed flat roof that gave us a load bearing wall surprise when we renovated our kitchen.
An engineer needed to get involved to determine the size beam we needed to carry the roof load, but for the most part, the home is pretty straightforward and open from a layout standpoint, so it's just being clever to maximize space and most importantly maintaining craftsmanship.

What is your favourite part of the house and why?
The courtyard in the center of the home is my favorite. So unique in the Midwest, it gives us an outdoor space with complete privacy.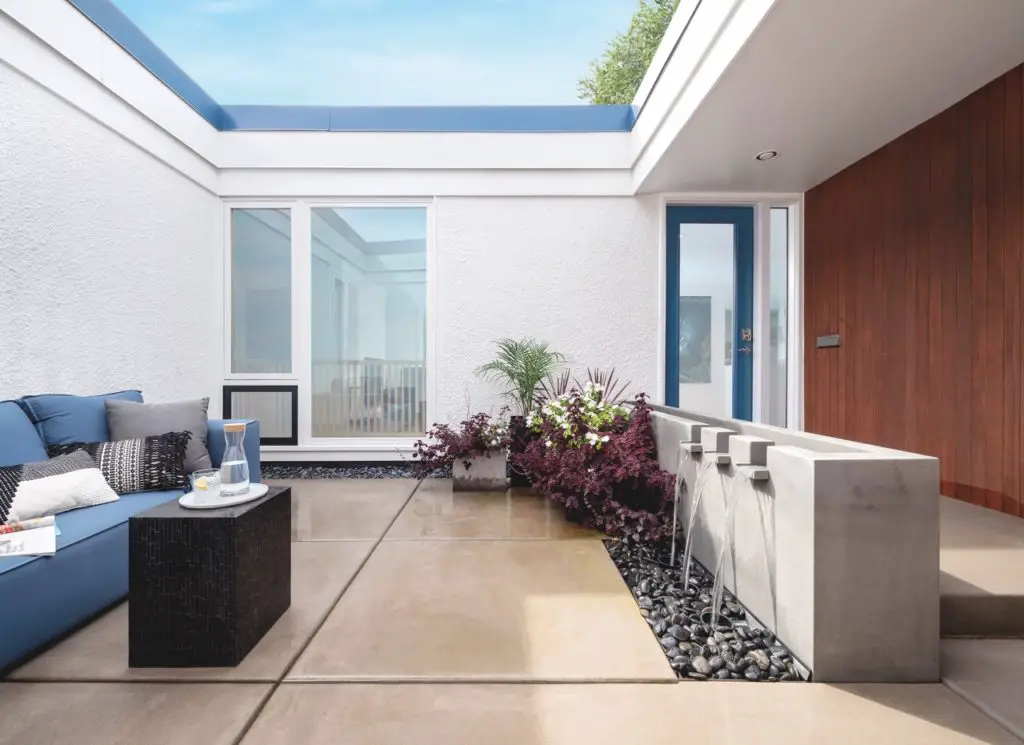 Our readers often wonder how to approach the renovation of their newly bought mcm house. Many would like to keep the original look and feel but face high renovation costs and technical challenges: roof, windows, wiring, heating etc.From where would you advise to start a renovation process, to someone that just bought a mcm house?
There are often some slightly higher costs involved with renovation, but my advice there would be to plan your projects far in advance and only proceed when you feel good about having the funds needed to move forward. If that means waiting for the kitchen remodel until the spring because it will allow you to save the few extra dollars to do the project correctly, do that. Exercise patience and don't cut corners. You'll regret making hasty decisions because you were unwilling to wait until you were able to do things the way you want them done.

Last but not least, why in your opinion the midcentury aesthetic is still so popular today?
Design trends are always cyclical. I think part of it is where we're at aesthetically at the moment. I also think that we're living much more openly within our homes. Less segmentation. Fewer walls. The midcentury modern aesthetic lends itself naturally to that way of life.