You can tell this mid-century house is a special one as soon as you set eyes on the entrance. Located in Woodside, California, and completed in 1969, the home was built for Doctor Robert Scoren by architect Don Knorr, with interior design from Alexander Girard, both of whom were friends of Scoren's.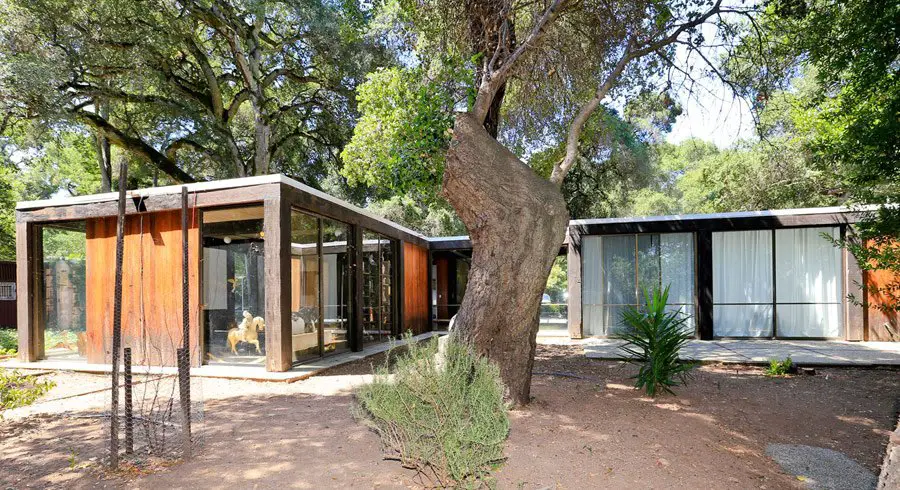 This entrance deserves special attention, since it's as striking as they come. The door is decorated in a distinctly *designed* pattern (courtesy of Girard), and featuring the letters of Scoren's surname, in white, black, red and blue, and arranged in a decidedly sixties modernist style.
ALSO READ: Wood Reigns in Modernist House by George Matsumoto
As a master typographer—as well as frequent collaborator with such mid-century design luminaries as Charles and Ray Eames, and George Nelson—this was a flourish quite in keeping with Girard's approach.
Zooming out, the doors are flanked by two floor-to-ceiling windows, offering full view of the entrance hall and the lounge in the distance. And zooming out further, the entrance is reached across a wide-open courtyard, with a friendly sculpture of a bear sitting amid a raised bed.
ALSO READ:  This Mid-Century House in Beaumaris, Australia, Could Not Find Better Owners
All this is a clear statement of intent. True to one of the central pillars of mid-century architecture, the inhabitants have nothing to hide, happy to expose their house to visitors, and the environment beyond.
The entrance also underlines their particular and idiosyncratic in their tastes. Indeed, the doors and the bear sculpture are just two of several standout items that were custom-made for the house by Girard.
ALSO READ: Cozy Mid-Century in Kensington, California
Some of our favourites are the shelves set against one of the windows—which house a series of collectibles—and also the minimalist black and white fireplace set in a chunky dark-polished wooden timber frame—which also provides the structure for the rest of the house).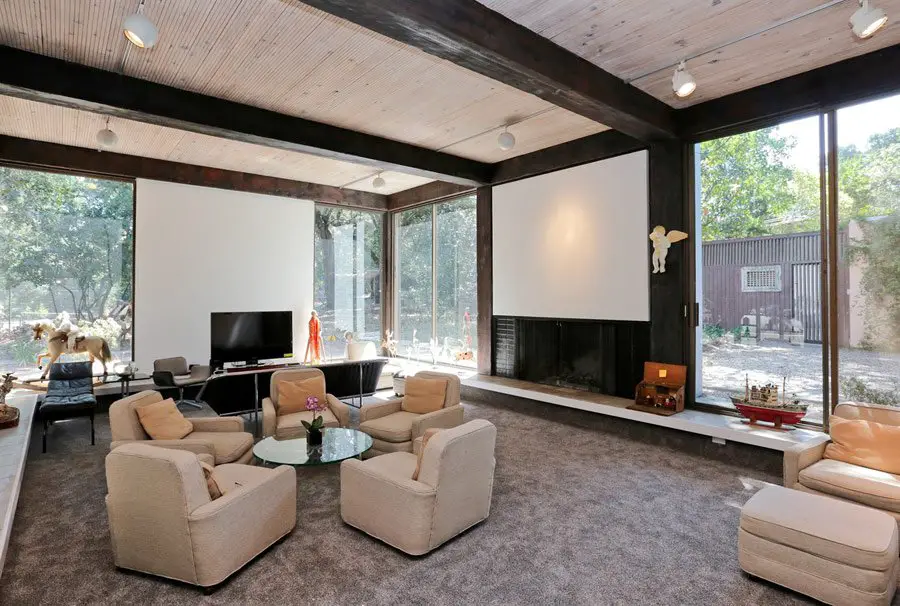 On that note, the peculiarity of the interior is really helped by Knorr's overall design. Thanks to the large windows running throughout the property, the corridors are dappled with shadows from the wooded grove surrounding the three-acre property.
All in all, it's a delight to behold.