Darren lives in a beautiful mid-century house in Melbourne. The house is a vivid example of Australian mid-century Modernism and is carefully furnished with mid-century designs collected with love and passion.
MCH: Hi Darren, tell us a bit about yourself and your house.
D: My house is situated in the Melbourne suburb of Caulfield which is one of the principal areas of the city for Mid Century Modern architecture. Melbourne has a number of pockets where these fabulous houses can be found.
My house was built in 1963, designed by an architect named Phillip Mann who is not as much a "household name" as recognized Australian Modernist architects such as Robin Boyd and Roy Grounds.
Just eight years later it underwent a small renovation which saw the backroom added on, which is now my sunroom featuring the blue-coloured cane setting. The fibreglass pool was put in at the same time, and that's the one that's still there over 40 years later.
[tabs type="horizontal"]
[tabs_head]
[tab_title] Related Books [/tab_title]
[/tabs_head]
[tab]
[one_third]
[/one_third]
[one_third]
[/one_third]
[one_third_last]
[/one_third_last]
[/tab]
[/tabs]
MCH: Has the house ever been renovated since was built and/or did you buy it?
D: The previous owners (after the original ones) did some more work to the house I estimate around a decade ago. This involved opening up the kitchen area and making it more open plan with the larger meals area. They also rejuvenated the bathrooms and added the decking around the pool above the original pebble-mix finish.
I was looking for a mid-century modern style house for around two years before this one came up. Now three years later, I have not done much to it all. Luckily the house has remained "unmolested" all these years, and where changes have been made, they have been sympathetic to the style.
So far all I have done is change a few light fittings and tidy up the garden with some new plants and stone landscaping. Naturally, I moved in all my existing style of Mid-century Modern furniture and accessories from my previous home, and then have added to the collection since to achieve what you see in the photos.
READ ALSO: A Recent Update Makes this Eichler House Even Better
MCH: Which are the three biggest challenges and advantages of living in a mid-century house?
D: One of the biggest challenges is getting tradesmen in to do anything to the house as being so original, you really don't want anyone making a mess of anything, so there's always a degree of nervousness.
Along the same lines, finding other bits and pieces to replace anything that may break can be a challenge for a house built around 50 years ago.
The other challenge is keeping the house warm in winter and cool in the hot Australian summers due to all the glass. The flat roof also doesn't help in that regards, so the gas and electricity bills can be quite high.
On the plus side, the large expanses of glass are fantastic as they bring so much light to the house and give it a real indoor-outdoor feel. The garden is also quite low maintenance with all the desert-style succulent plants needing very little watering.
Another interesting advantage is the uniqueness of the design, which makes it a great party place, and also a location for photographic shoots and filming, with a number of advertisements and period TV shows having been shot at the house.
MCH: Which architectural elements do you like the most of your house?
D: The expanses of glass are great to bring the sunlight in, especially with the house designed around a courtyard.
MCH: The rooms are all quite big in size which is another major attraction…
D: The house also sits elevated from the street, giving it great appeal and creating a grand impression as you approach, along with the huge span of the carport. This then leads to the gate which brings you to the courtyard and then striking front door, all superb elements that work seamlessly together.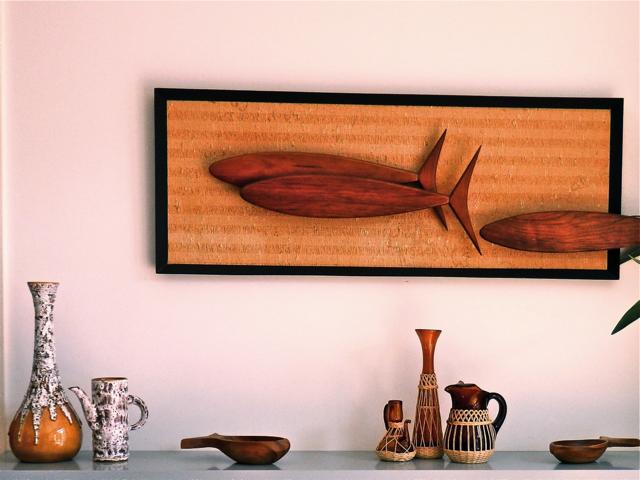 MCH: Where did you find the furniture?
D: The furniture in the house comes from a variety of sources. There are a number of great vintage furniture shops in Melbourne, so many pieces have been bought from them. The bed setting and the lounge suite though are "new" as I did have a vintage Danish Deluxe lounge setting previously but wanted something very comfortable and large as there is a huge area to fill there.
Most of the wall art I have collected over a number of years, but the Slim Aarons photo of the Kaufmann House in Palm Springs – that sits in the sunroom – I put together myself.
I was in Palm Springs this year and cruised all the mid century modern furniture shops there, bringing a few pieces back with me. Other small ornaments and accessories I inherited from my grandmother, but a large majority have been found on Ebay over the years.
That includes my most recent, and one of my proudest acquisitions, the sexy and slender brass table lamps in the main bedroom.
MCH: Is there a specific designer from the mid century that inspires you?
D: I can't say that any one designer truly inspires me, but I am proud of Australian designers (such as the architects mentioned earlier) as they were at the cutting edge of Modernist architecture as it happened.
I like the work of all the major designers, especially the Palm Springs crew comprising notables like Neutra, Cody, Frey, Jones, Wexler, Williams and especially John Lautner who earns extra points with his Elrod house having been used in the James Bond film "Diamonds Are Forever".
MCH: If you had an unlimited budget, which piece would you buy?
D: I am not a big shopper for "names", but I think it would be an original of one of Finish designer Eero Aarnio's chairs – either the ball or the bubble. I'm not sure where in the house I could fit it, but they are just such iconic pieces that symbolize the era like nothing else. Otherwise, if I really wanted to go all out, maybe an original Warhol would be nice.
Do you live in a mid-century or modernist-inspired contemporary house and want to be featured on MidCenturyHome? Contact us with some photos and a short description of your house at: info@midcenturyhome.com