From the same architects as Kojyogaoka House, the Koka House is a play on roof elevation to create a town icon. Located at the termination of a T junction, the house faces the street on three elevations. The client wanted to exploit this opportune location and considered opening a coffee shop at street level. As such, the house designers – the Japanese firm Hearth Architects who are also the brains behind Kojyogaoka House, developed the programmatic elements of the house around public and private use.
These two main programs are delineated by two delta roofs that mimic a coffee shop in a mountain hut. Situated in the mountainous region of the Shiga Prefecture in Japan, the architects borrowed from the traditional "yamagoyas," or "mountain huts". The architects, who are known for translating a purist and minimalist Japanese design on their houses, envisioned the Koka House as a modern home with two levels.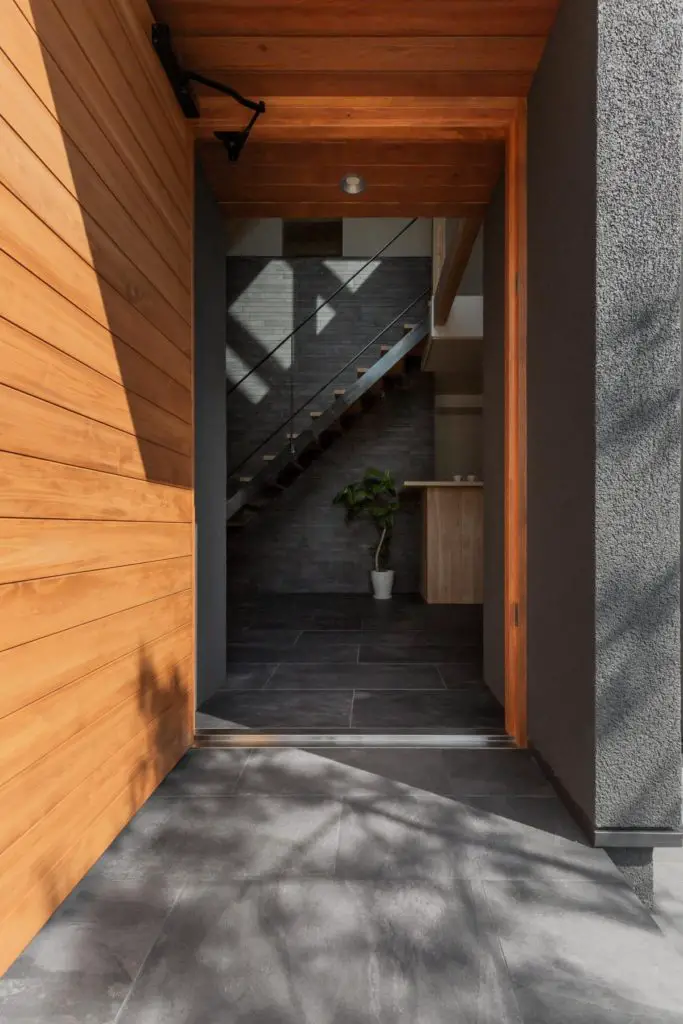 The architects ensured that the two programmatic elements of the house – the private spaces and the coffee shop, are connected seamlessly and gently. The coffee shop consists of a bar and a few seating spaces and flows continuously to the outdoor spaces. For the architect, this is born out of a desire to connect the house into the city. The flooring is tiled to ensure it is suited for semi-commercial use.
The open kitchen is likewise adjacent to the coffee bar to cater to both commercial use and private use. At only a little over a hundred square meters, Hearth Architects maximized space by bringing in an abundance of natural light through a sun roof. The effect is a light and open interior that feels spacious and expansive. The upper spaces are reserved to the private functions – a living room and the sleeping quarters, to protect the owner's privacy.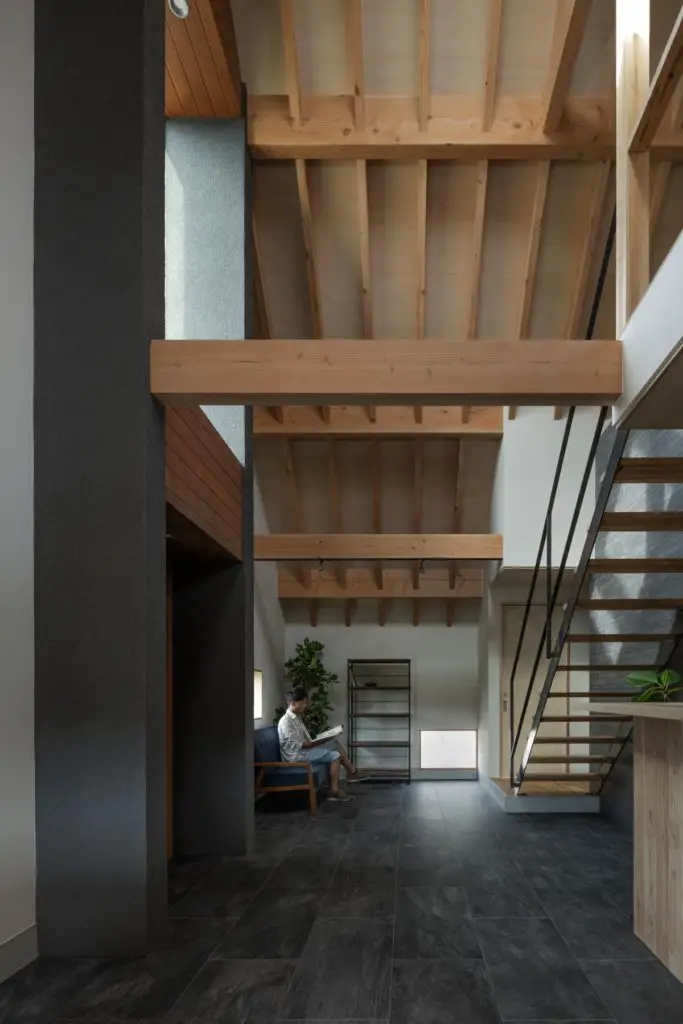 The exterior is dark, juxtaposing the earth tones that overwhelm the interior. The split roof breaks the monotony of the otherwise simple elevation, transforming the house into an easily recognizable icon in the town.
The architect designed the elevation as such to complement the lush greenery that provides the backdrop to the Koka House. He highlights the design intent, "The trees in the garden will grow thickly and [the] external wall by the burned cedar will decay well. The house will blend with the street when the client opens a coffee shop in the future". Through a strategic and minimalist design language, Hearth Architects successfully shows how the thoughtful use of space can create a unique and bespoke project.