No stranger to modern design, Max De Pree was the chairman of the Herman Miller Furniture Company, a firm which, founded by De Pree's father, began championing modern design in 1930 and had professional connections with the offices of Charles and Ray Eames since 1946.
Based near the company's headquarters in Zeeland, Michigan, De Pree commissioned Eames to design and build a functional and stylish modern home that was well suited to the local area. However, there was one vital condition in De Pree's brief, only local Dutch artisans were to be hired to build it.
The finished article, dubbed Eames' De Pree House, was constructed in 1954. De Pree wanted a contemporary house that simultaneously reflected Scandinavian esthetics, very much in vogue at the time, but also adapted well to the local neighborhoods cultural ambience. As a result, The Eames office designed and built an open plan, two-story rectangular house.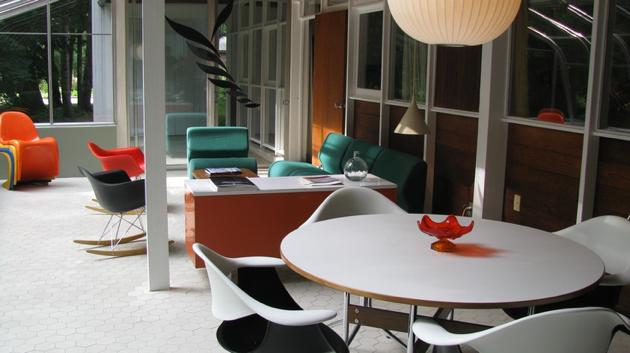 The structure of Eames' De Pree House followed a similar plan to many of the Case Study houses but the architects were required to use much less glass in order to keep out the long, harsh Michigan winters.
The Eames office stuck to its brief and solely employed Dutch artisans who built the timber frame structure with their famed hand-tooled accuracy and precision. The roof of the house was flat with an overhang that was reiterated in the second story balcony at the front and back of the house and the front façade featured strong vertical elements in a modular grid that was filled in with wood and glass.
Facing the Eames De Pree house from the road, a visitor would be confronted with two symmetrical wooden structures; one of which housed a study and the other a garage. The entrance to the house is found at the end of a covered walkway that is situated between the two frontal structures. The main body of the house, a rectangular area that covers approximately two thousand square, is constructed of modules contained between vertical members.
The interior of the home was also designed by the Eames Office who included blueprints for the various additional rooms in the plans for the home. The De Prees, who eventually sold the house in 1975, would gradually implement these additional rooms throughout their ownership.
.