This modern style home is laced with luxury and contemporary elements in conjunction with 1950's Southern Californian class.
Resting on a plateau above the Coachella Valley, the expansive property enjoys breathtaking views of the Santa Rosa Mountains from within Thunderbird Heights in Rancho Mirage, a secluded, gated hillside community in California. This desert style home has no shortage of space, natural light or privacy.
Thunderbird Heights is known for its refined midcentury modern architecture, a district well known to many of Hollywood's privileged class (former home to Frank Sinatra). Originally constructed in the 1960's, this broad, flat property covers 1.3 acres of land, its sandy brick exterior blending right in with the surrounding crisp and clean desert landscape.
The home's entrance is found from the driveway through a private courtyard, a statement of privacy from the get-go. Anne Attinger of Attinger Landscape Architecture took on the task of breathing fresh air into the existing courtyard.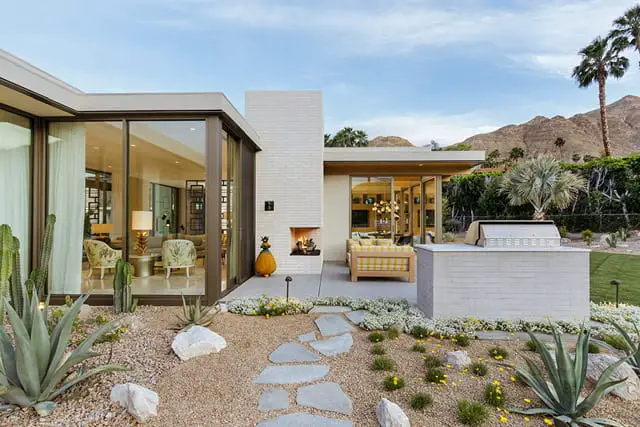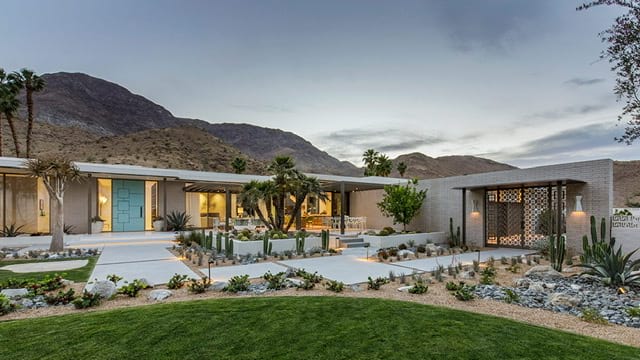 The end result is a sizeable, private inner courtyard which blends into the surrounding landscape. Aside from patches of fresh green grass, the inner courtyard is abundant with various species of cacti and California palm, to name a couple. Further in towards the back end, a large pool and spa are found, sided by a modest outdoor dining area.
The homes interior, designed my Joelle Nese and Morgan Thomas of Maison Inc, predominantly mimics a natural color palette, fitting to the natural surroundings. The idea was to incorporate modern ideas in combination to prominent design elements from 1950's Southern California. These expressions can be found throughout the house, from the geometrically inspired front door to complementary metal screens at the front gate as well as the homes entry hall.
Throughout the span of the building, floor to ceiling windows largely make up the walls facing the inner courtyard, providing easy access to the outdoors in addition to stunning views of the rocky hillsides that rise from beyond. The indoor to outdoor connection fills the home with light and blurs boundaries between inside and out.
For the recomposition of this property, most of the existing foundation and roof structure were put to use under the skilled craftsmanship of Nate Van Malsen of West Coast Builders. External remodeling included added brick walls, extremely thin cross-shaped columns, steel trellises and large roof overhangs.

On the inside, the living room and kitchen were opened up into open-air terraces and due to a growing family, additional bedrooms were needed.

This modern style home is laced with luxury and contemporary elements in conjunction with 1950's Southern Californian class.