This gorgeous midcentury modern design was originally built by football legend Jack Clarke in 1962 for his structural engineer. Only minor changes had been made over the past half century, and the home was in dire need of attention and updating.
By incorporating original features and materials, MRTN Architects faithfully restored the home, breathing new life while at the same time ensuring preservation of the architecture for many years to come.
For the architects, formulating a narrative for the original home was central to their conceptual framework. The team used photographs taken by Julius Shulman of the fifties and sixties West Coast architecture as sources of inspiration to help reimagine the design of the original.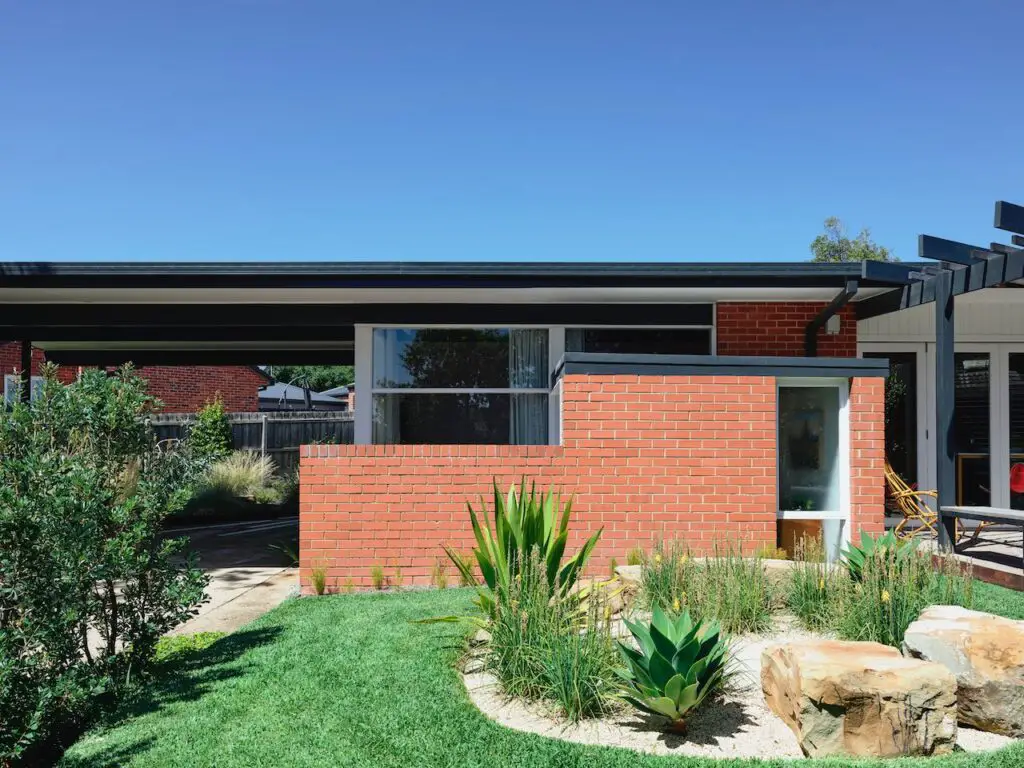 The next phase was to develop a color palette that would represent the time of the original design while making only minor changes to the outward appearance of the house. The natural clay fired tiles, American walnut veneer and cedar lining boards were selected for their nostalgic connection to the period.
The general idea was to retain the original outwardly appearance of the house and to expand the floor area just a little bit: an ensuite was added to the main bedroom and the south wall of the bedrooms was pushed out the line of the original eave.
The clients were very excited to have purchased this house but conflicted about how they could maintain the original house while updating it to meet the needs of a young family. They wanted to preserve the past by creating a home suited for the next sixty years.
The cooking and eating areas were reconfigured by orienting their direction to the north, which also created a physical outdoor connection. The indoor outdoor flow increased the flooding of natural light and warmth into the interior spaces. For the outside, MRTN Architects collaborated with landscape architects SBLA Studio for a classic midcentury Californian home atmosphere. 
The budget is always a big matter when renovating, whatever the scale of the renovation. By limiting the budget to, for the most part, a renovation of the original, the team was able to introduce materials that lifted the overall level quality of finish from the quiet spare utilitarian original to a home that is more aligned to the Julius Shulman photographic precedents referenced. 
When the inhabitants were posed the question of what contribution does the design make to their lives, they answered, "While being aesthetically sympathetic to the era, more importantly we feel that the design is imbued with the ideals and spirit of modernism and sense of 'doing better with less'.
The house has a familiarity reminiscent of the modest yet welcoming family homes of our suburban childhoods, capturing all that made the 'burbs great.
Bright, multi use spaces adaptable to changing needs of our young family; generous outdoor living areas which invite interaction with the neighbourhood; and a playful material palette which reflects the personalities of the occupants and joyfully blurs the lines between old and new."