This renovation was was a close collaboration between the builders and the midcentury-loving owners. It was important to both sides to preserve the home's authentic midcentury character.
We chatted with New Urban Home Builders to find out more about the renovation.
Do you have any details on the client brief?
Our clients brought a lot to the table here; one was a Herman Miller employee, and the other, a do-it-yourself-er with a fondness for working on historical homes. Together, they had amassed an amazing collection of original and new midcentury modern furnishings.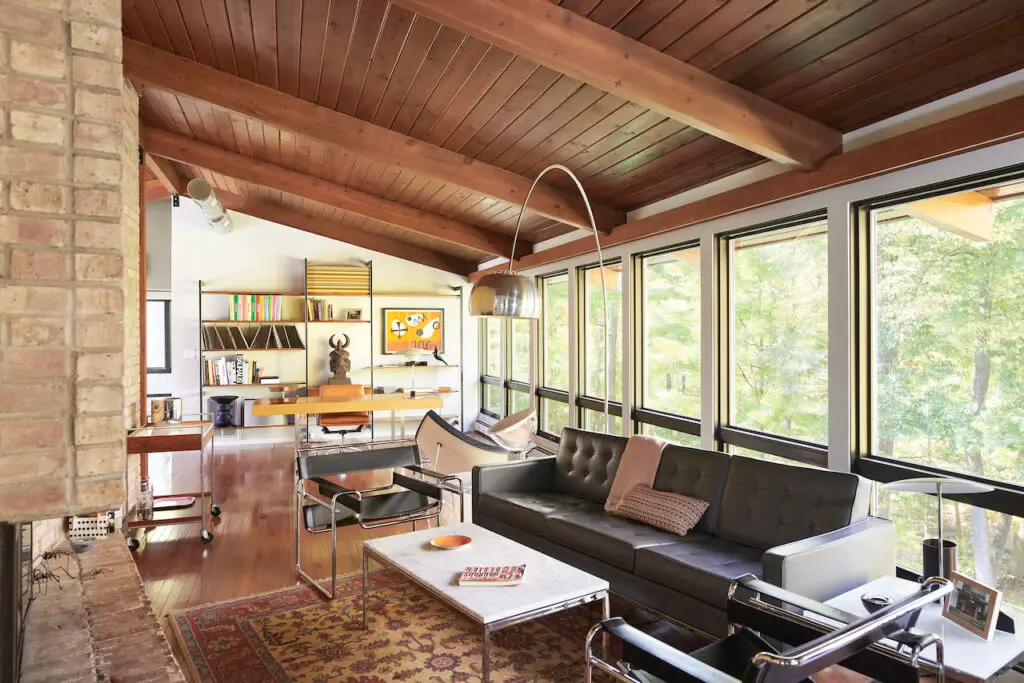 What was the house like previously?
The home they purchased was a true midcentury with massive potential to be a perfect place to showcase their furniture collection, but a large-scale renovation would need to be undertaken to restore the home to its original form and aesthetic.
What were your challenges for this project?
Over the years, incongruous elements like aluminum paneling around entry doors, bay windows and a deck had been added on, all of which needed to be removed. A key challenge was to return the home to its minimalist form while finding places to run and hide updated mechanical systems throughout.  
What do you know about the original architect who designed the house and have you had experience with his homes before?
We were not familiar with Don Steenwyk, the home's original architect, but soon learned that he was a fairly prolific designer of West Michigan homes. Our clients selected his son, Dan – also now an architect – to design their renovation.
What do you think was so special about this period in American design?
Midcentury architecture broke from earlier forms in its emphasis on connecting homes and their environments, particularly through glass – new building technologies of the time allowed for more windows than ever before.
Midcentury homes were more utilitarian, devoid of 'noise,' missing a lot of ornamentation that served no functional purpose. They were much more organic in look and feel. 
What in your opinion are the best features of the home?
The home sits high up on an embankment, overlooking an expansive backyard – the Thornapple River meanders through at the bottom.
We added oversized windows along the back of the house on both main and lower levels to enhance the views down the river, and also created a 3-season back porch, complete with a custom fireplace.