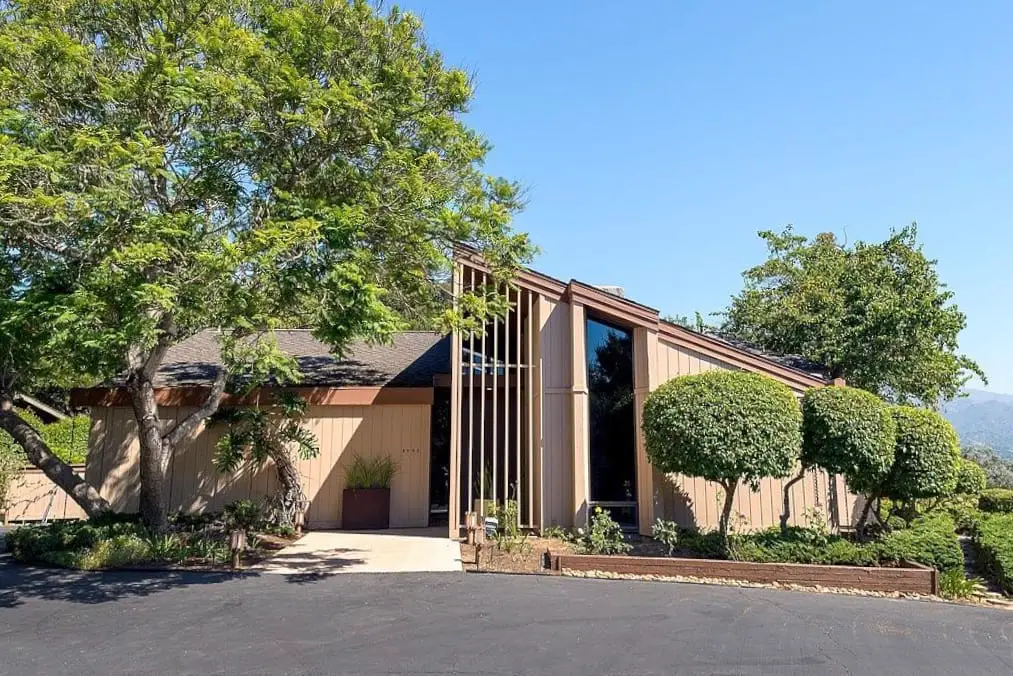 This iconic midcentury modern-style estate stands like a castle on top of the hill. Designed by architect James Morris in 1979, this single story Hope Ranch residence is a perfect example of Morris' eye for location and tying a seamless connection between inside and outside; the 3, 241 square foot residence takes full advantage of the panoramic mountain and city views of California's Santa Barbara.
The interior spaces are characterized by sharp lines and pointed corners. Thanks to expanses of glass and skylights throughout the building, natural light fills the home from a number of different angles, reflecting off the deep redwood-lined walls and vaulted ceilings.
The living room alone is a sight to behold; the custom craftsmanship Morris has put into these ceilings brings a sense of openness, even grandeur, to the open space.
A stone wall with an embedded fireplace breaks from the otherwise wooden interior, giving the space a tastefully textured look that fits right in with the mountain views outside. In addition to a wall of windows, natural white carpet and furniture are a clever way to lighten up the space.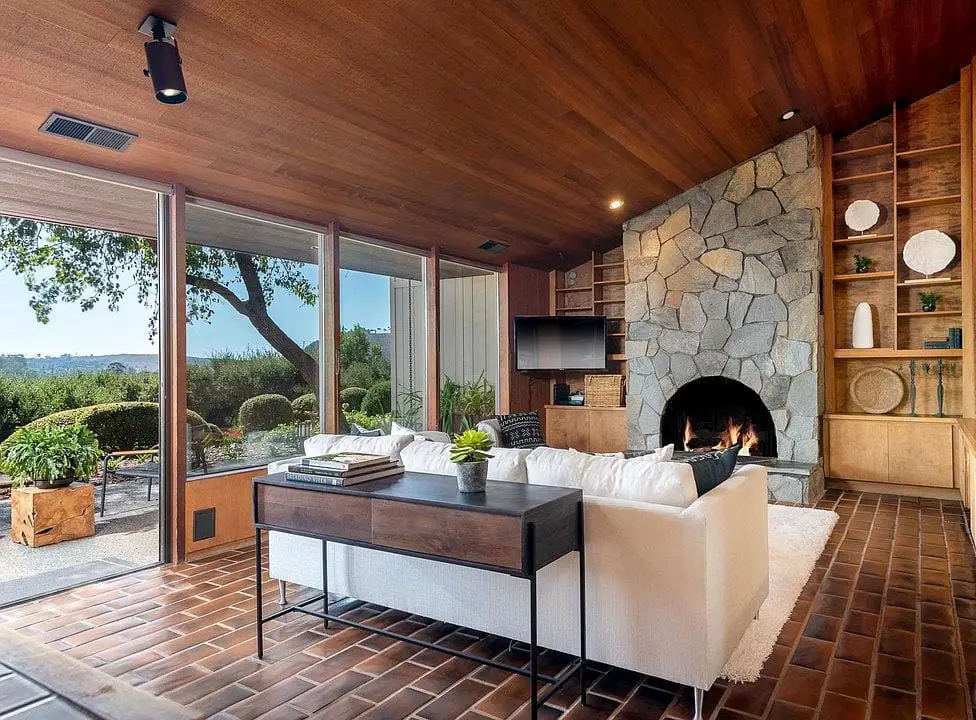 Moving into the dining space, the atmosphere takes a more formal standpoint. This area is separated by wooden dividers, which caters a sense of intimacy to the area. On the back side, a door from the open plan living and dining areas grants access to the backyard and dining patios for outdoor entertainment.
A second living room bears semblance to the first one with tile floors, white carpet and another (smaller) stone wall fireplace. The major difference here is the walls, which are lined with wooden shelving and cabinets for extra storage.
The open plan kitchen follows suite, furnished by a spacious kitchen island and plenty of storage space made of natural wood. Floor to ceiling windows slide open to a cosy patio overlooking the beautiful vegetation that surrounds the home.
In addition to the common spaces for leisure and entertainment, this residence accommodates three bedrooms and four baths. The home as a whole has been kept in great condition. Fully landscaped and irrigated, the 1. 19-acre property is fully landscaped and irrigated with a lush green backyard in addition to the outdoor spaces for entertaining.
This stunning property with scenery overlooking the city of Santa Barbara is on the market for $2,695,000.