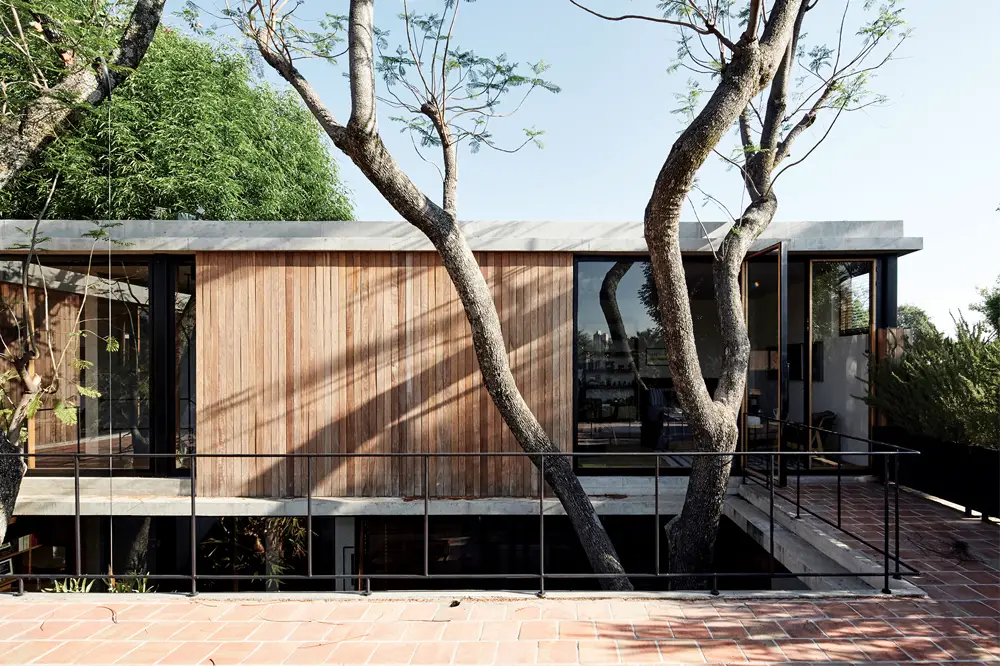 The Guadalajara House in Mexico's city of the same name is one with nature. Structured around existing trees of the natural environment, the L-shaped concept was born out of a reaction to the climate. This contemporary home design is the beautiful work of Argentinian architect Alejandro Sticotti in collaboration with local architect Javier Rosales Iriondo and Nicolas Tovo.
The first level of the home forms an L shape around a large garden and outdoor dining and living areas. Lush with shrubs and trees, the outdoor spaces provide a fresh and calming ambience to the home. The dining and living areas outside are covered by a concrete slate, which offers shade from the warm sun as well as shelter from rain.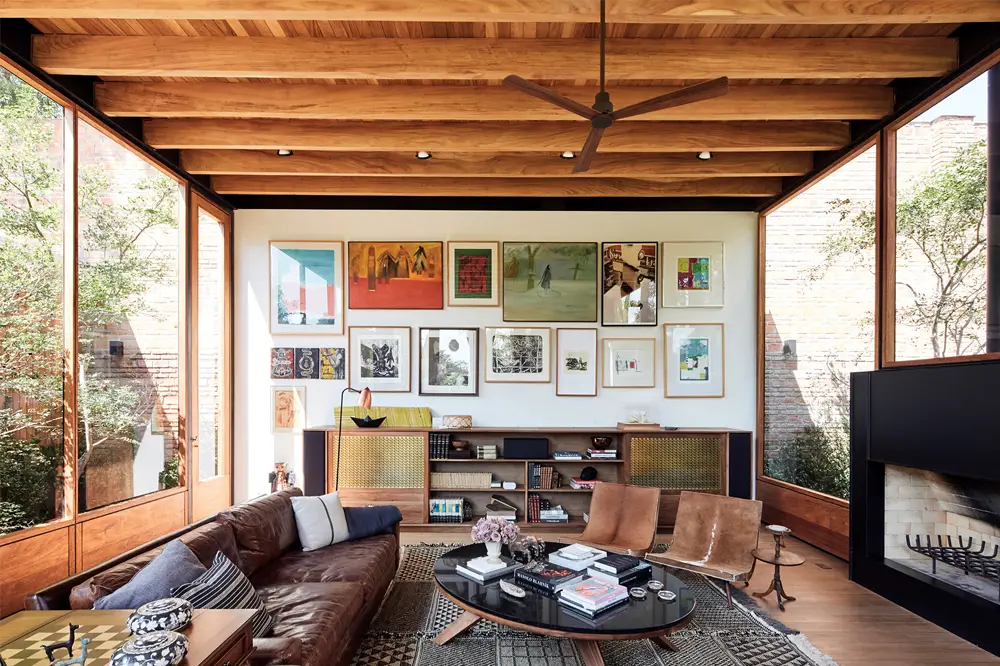 The trees which the structure is built around shoot through the first floor terrace, extending up past the two bedrooms and bathrooms on the second floor. All in all there are three volumes which make up the entirety of the house; in addition to this two-storey block, two single-storey sections include the master bedroom as well as the common entertainment areas.
Due to the warm climate of the area throughout the year, the clients wished for plenty of outdoor places for daily use. Wooden framed floor to ceiling glass doors and windows open to the outside garden and living spaces from the living room and bedrooms.
In addition to the covered dining and lounge areas, other outdoor spaces include another smaller seated area with a wooden dining table and a pool surrounded by sunbeds for relaxing. The poolside also comes with concrete benches integrated into low-level walls for extra seating.
A neat and natural color palette including light concrete and ipe wood runs throughout the home. Wooden details such as the windows frames and furniture bear semblance to the natural environment outside and strengthen a seamless connection between inside and outside.
This home is as unique as they come. "The whole house was custom made, not only the furniture but also the frames, the stairs, the railings, everything is a craft," Sticotti explained. Sticotti's studio was also responsible for designing the furniture, which was manufactured in Buenos Aires and then delivered over the Guagalaraja House.