Five years into their search for the perfect weekend home, the owners of the Lawless Retreat Cottage settled into a stunning site in central Michigan. After numerous nights in tents on three different properties, they decided on a strip of land sitting at the edge of a nature reserve. The site, surrounded by mature and dense trees, had a valley and a small creek at its center. Departing from the sensible aesthetic of their lofted Chicago residence, the Lawless Retreat is a marriage between a modern home and a cabin in the woods.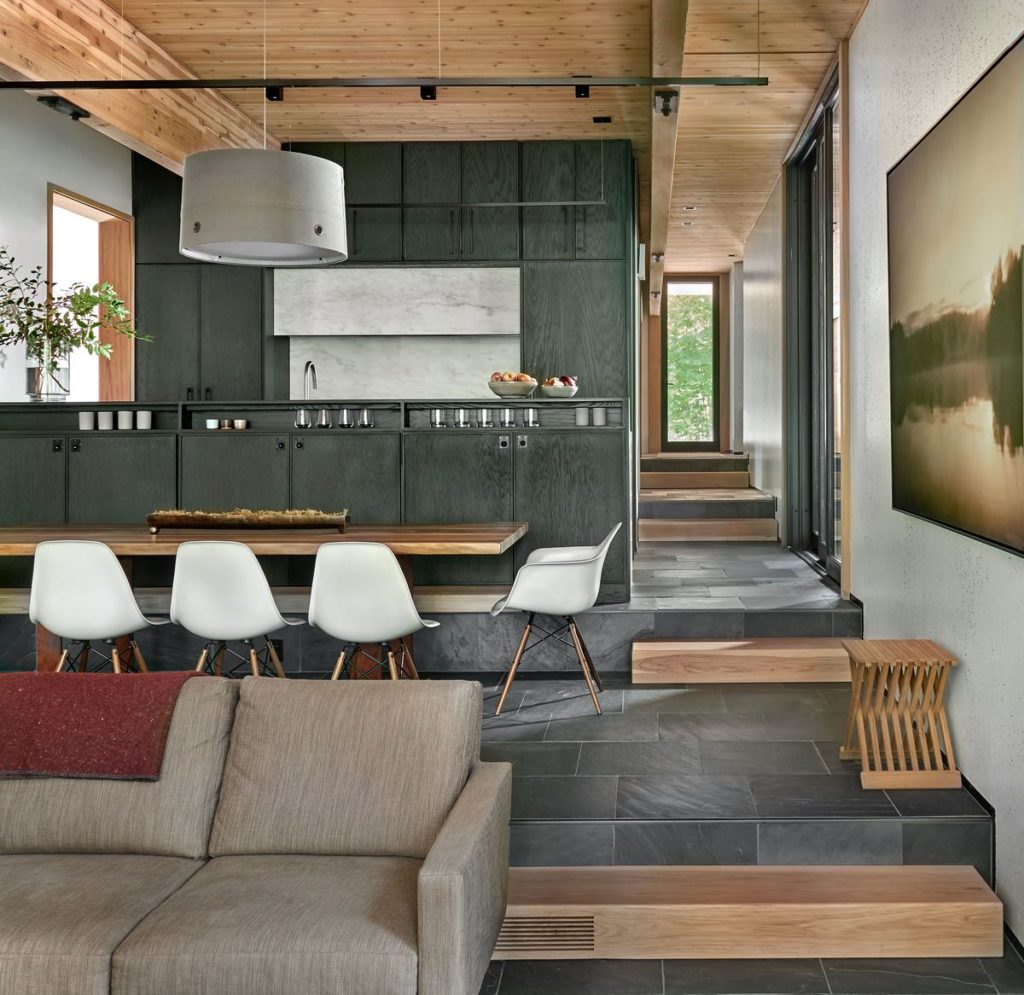 The clients, who were clearly involved in the build process of the house, entrusted the award-winning Chicago based Searl Lamaster Howe Architects with the design of their dream home. With stakes and orange tape in tow, the two teams plotted the final positioning of the house. They oriented it just below the north ridge at spot, maximizing the view down the valleys in the winter and nestling the modern cottage within a rich canopy of greenery during the rest of the year. 
The modern house is an exploration of the progression of scale and transparency. The shaded facade and the front porch transitions into the open and visually light living room. A pair of glulam beams runs through the length of the house to evoke a sense of fluid transition as the floor levels transition down alongside the site's terrain.
The T-shaped building footprint is created by intersecting two congruent axes. The effect is a balanced union between two contrasting exterior volumes. The calculated order that informs the facade juxtaposes with the organic wilds of the site beyond. The exterior, a craftful combination of charred cedar and slate, settles harmoniously against a backdrop of a lush canopy of maple, oak, cedar, aspen, and ash trees that surround the site.
The careful crafting of exterior materiality extends into the interior of Lawless Retreat. Natural cleft black slate floors cover the expanse of this contemporary home. The untreated cedar roof overflows into the outside of the building footprint, a visual extension of the house into nature. The clients inundated the house with stunning craftsmanship, hiring local artisans to build the cedar wood cabinetry and furnishings. The bathroom faces a small deck, capitalizing on the relaxing vistas of the enveloping terrain.
By bringing wooden elements into the interior, the architects mediate a conversation between habitat and nature. It is apparent that a respect for ecology and environment is at the core of Lawless Retreat. Its impact is minimized by thoughtfully positioning it outside the path of any mature trees. These trees were likewise used to lessen the need for mechanical cooling requirements during hot summer days. Standing at barely 220 sqm, the Lawless Retreat is actually quite compact. Nonetheless, it manages to offer an unparalleled sense of spaciousness, sustainability and serenity.