(above: ceramics by Axel Salto and candles holder designed by Hayno Focken. Sofa and side table by Kaare Klint.)
With this post I will start writing about mid century modern from a different prospective. So far I mostly shared with you beautiful houses and interiors designed and furnished back in the 50s and 60s; when mid century modern was not a trend or a style but just contemporary modern.
Today things are different as mid century modern furniture became classics: we can call them the new classics.
The most beautiful contemporary houses I saw this year were not fully mid century modern decorated but a mix of art and contemporary, new classics and sometimes industrial or 'old' classical pieces.
Looking at those houses not as common living spaces but as the representation of how much the interior decoration changed in the last 60 years, can be the definitive inspiration for design enthusiasts like us.
That's why from today until the end of December, I will publish one house a week that should inspire us not for the functionality of its decors or the beauty of its furniture only but for the story that the interaction of art and furniture tells us.
I really hope you will enjoy this series and, as always, feel free to leave a comment at the end of the post!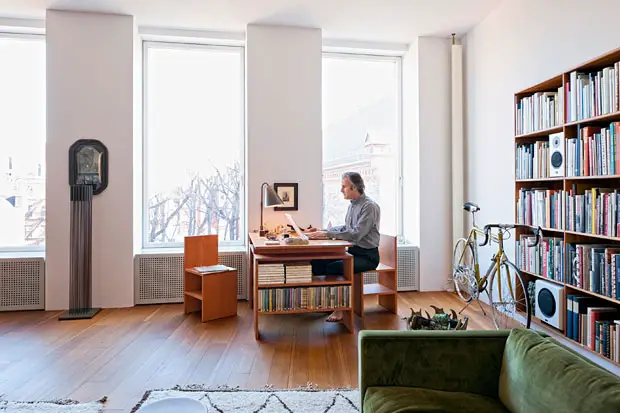 (above: desk designed by Donald Judd. To the left a sculpture by Harry Bertoia and in the corner to the right the 'Terra-Cielo" lamp
designed by Osvaldo Borsani in 1953)
Michael Maharam -who runs the eponymous New York supplier of fabrics for architecture and decor- is the owner of this apartment in New York and a great collector of art and design; 300 pieces in total so far. He sits on the Board of Directors of the Chinati Foundation, created by artist Donald Judd and he's a member of the Art and Design Committee of MoMA.
(above: the cradle designed by Nanna Ditzel in 1963 stands below a ceramic mask by Axel Salto.
To the right the Steltman Chair designed by Gerrit Rietveld in 1965)
His wife Sabine likes to say that Michael has a very American attitude as he thinks art only begins after the Second World War. But since they met he started to come closer to even the old masters.
(above: the Red and Blue Chair designed by Gerrit Rietveld in 1921)
The first thing he brought in the house was a marble bathtub weighing 300 kilos, later came pieces by Donald Judd, Jean Prouvé, Alvar Aalto, and Gino Sarfatti.
What Mr. Maharam wanted when he bought this house? Only a home that calmed things down, he says, like in the end everyone else.
(above: dining table by Poul Kjaerholm and chairs by Finn Juhl. Ceiling lamp by Poul Henningsen)
(above: on the side night table the lamp and the candles holder are by Tapio Wirkkala)
All the pics in this post come from my favorite magazine about interiors, design and architecture: Case Da Abitare. I love this magazine and I'm buying it since more than 10 years now. It's an Italian magazine but all the articles are translated in English as well that's also why I strongly recommend you to check at least one issue; you will fall in love with it 🙂
You can easily buy its digital version here.