A sense of serenity pervades this home. Specially designed for its artist owner by o2 Architecture, the home is located in South Palm Canyon, a neighbourhood of Palm Springs, California.
In an echo of the principles of Usonian architecture, the home's layout clearly echoes the dramatic landscape in which it is situated. Built on a sprawling horizontal axis, and consisting of just one floor, there are obvious parallels with the long stretch of mountains which occupy over two thirds of the view from the house.
But the design of this contemporary house goes much further than just echo its immense surroundings. Indeed, it also orients itself around them, so as to make the most of both the views and the sunlight as it moves through the day.
As the architects explain, "by orienting the home's indoor/outdoor living to the south and north, the project maximizes passive heating and cooling strategies and promotes cross ventilation from the prevailing cooling breezes". Even in the pictures you get a sense that this contemporary style home is remarkably cool given its context (incidentally, while utilizing generous indoor/outdoor operable windows and openings, the design managed to exceed California Title 24 Energy Standards).
READ ALSO: Hawaiian Modernism: Craig Steely's Minimalist Yeo House
The central structural element is a white split face concrete masonry wall. Described as "the home's structure, finish, and underlying texture" it connects the main core of the home to the artist studio and creates a courtyard promoting indoor-outdoor living. Such a consistent anchor has undoubtedly gone a long way to ensuring the self-evident fluidity of the space.
One of the other standout features of this contemporary home design is the landscaping. Combining neatly arranged deserts plants and simple hardscaping, it provides just the right amount of visual excitement to enrich the structural elements without cluttering up the space, something which is no doubt vital for the artist owner.
READ ALSO: Modernist House in Santiago Is a Delight to Behold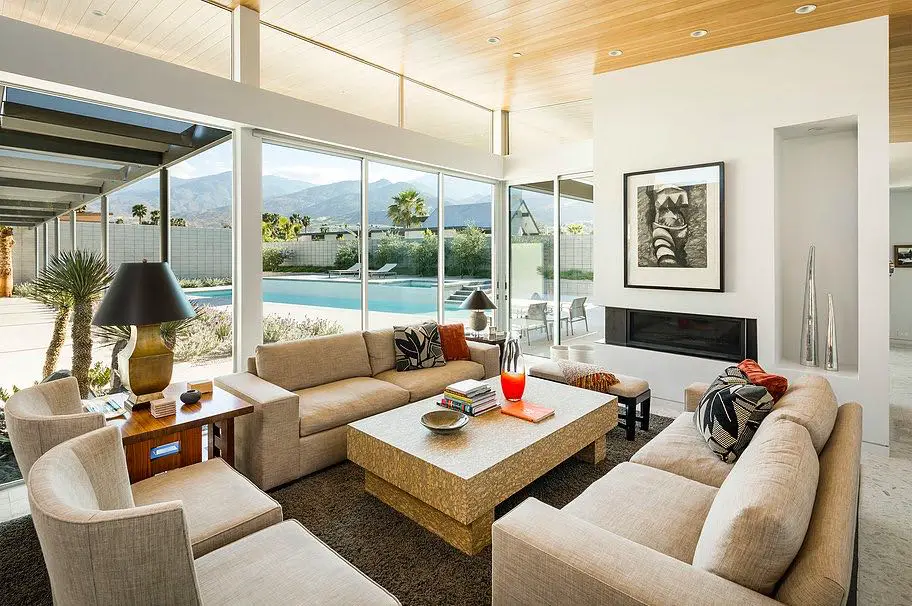 Speaking of which, while the bird's eye view of the house shows that it is located in a neighbourhood full of other houses, viewed from this courtyard, it feels almost as if the inhabitants are alone with those awesome views. Such an impressive illusion must make for a wonderful environment in which to work.