The Edgeland House is quite otherworldly, as if an alien spacecraft crash landed in a remote of America. Located on a rehabilitated brownfield site near Austin, Texas, the project is the product of Bercy Chen Studio.
Perhaps the defining feature of this contemporary home design is how much use it makes of the surrounding terrain. Indeed, few houses we've covered so clearly merge with the landscape. This is most obviously carried out with a couple solid, triangle-shaped roofs on top of which grass has been planted to match that of the surrounding area.
Interestingly, besides being a striking design feature in itself, the introduction of grass to the roof restores the break in the terrain created due to the site's previous use as passage for a Chevron pipeline.
Taking its cue from the Native American "Pit House", this sunken location evidently offers a good deal of privacy but it also has the added benefit of providing natural insulation.
The contemporary style home consists of two separate structures, linked together by a central outdoor space. One is open, providing space for the living area, the other is more private, making room for the bedrooms.
In an unusual, and rather bold move, these structures follow the same shape, as if they were once whole but have been broken apart to make way for this central outdoor space which runs between them. It's a nice, modern take on the kind of indoor/outdoor merging that you see in the mid-century home
In terms of the interior design, the theme closely replicates the general aesthetic of the structure itself, with hard, exact, metallic edges in abundance.
This is probably best represented in the kitchen area where a breakfast bar has been made out of a single metal sheet bent round for the leg support. Meanwhile the chairs underneath the bar are similarly minimal and metallic.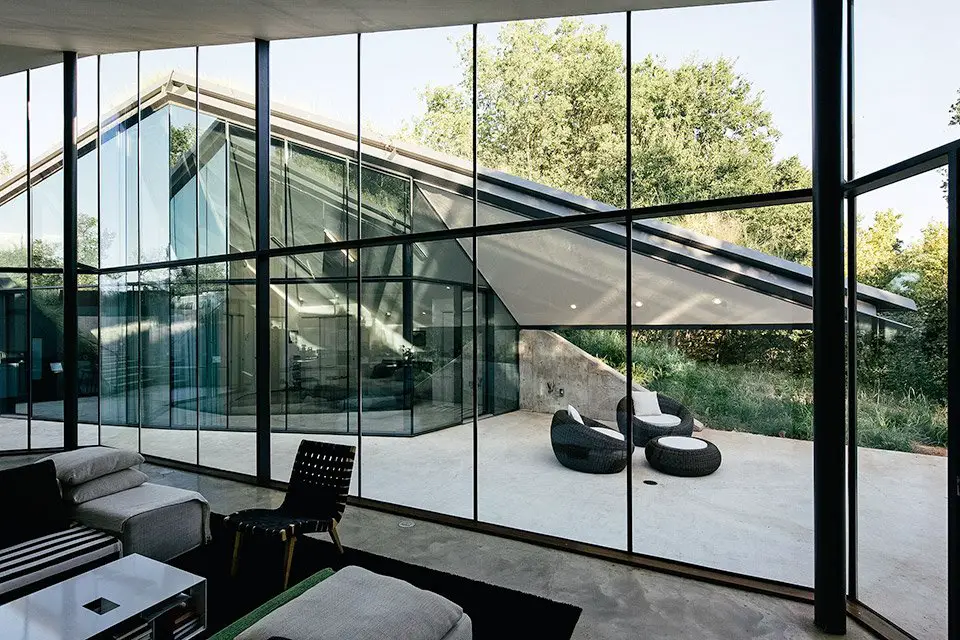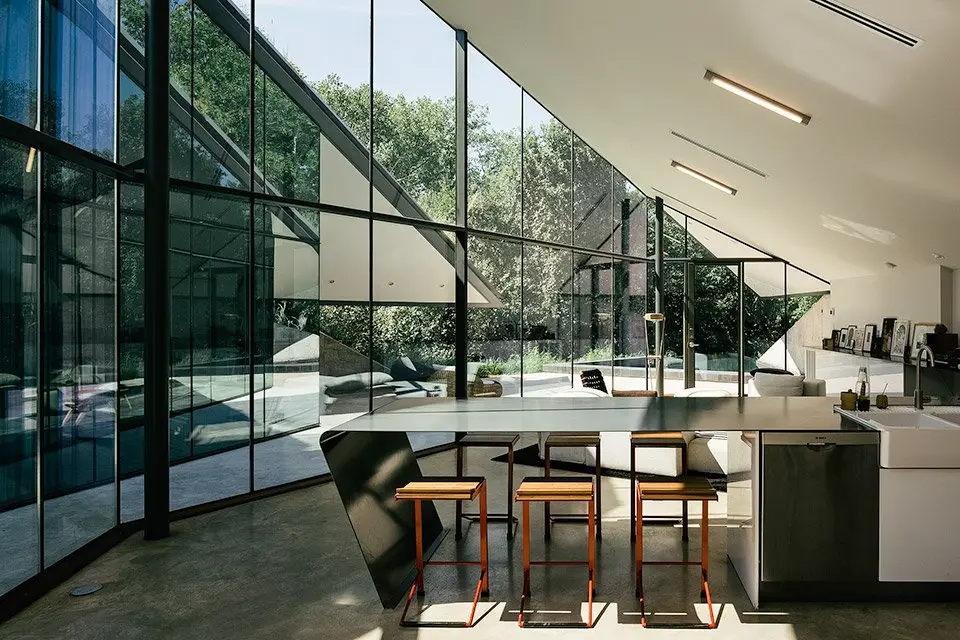 This could seem somewhat cold. Yet with efforts including the successful reintroduction of 40 native species of plants and wildflowers to the site, this home is anything but.
Photos by Bercy Chen Studio/Paul Bardagjy