Cutler Anderson Architects designed a modern mid century classic with the Newberg Residence. The firm, a tandem of two exceptional Seattle architects, shines in this Oregon home. Built in 2013, the 153 square meter house exists in conjunction with a 51 square meter guest house. The house is an attempt to strengthen the owners' connection to their environment.
While they already had a strong connection to the living world, the clients wanted to further immerse themselves in nature and capitalized on the Newberg Residence to do so.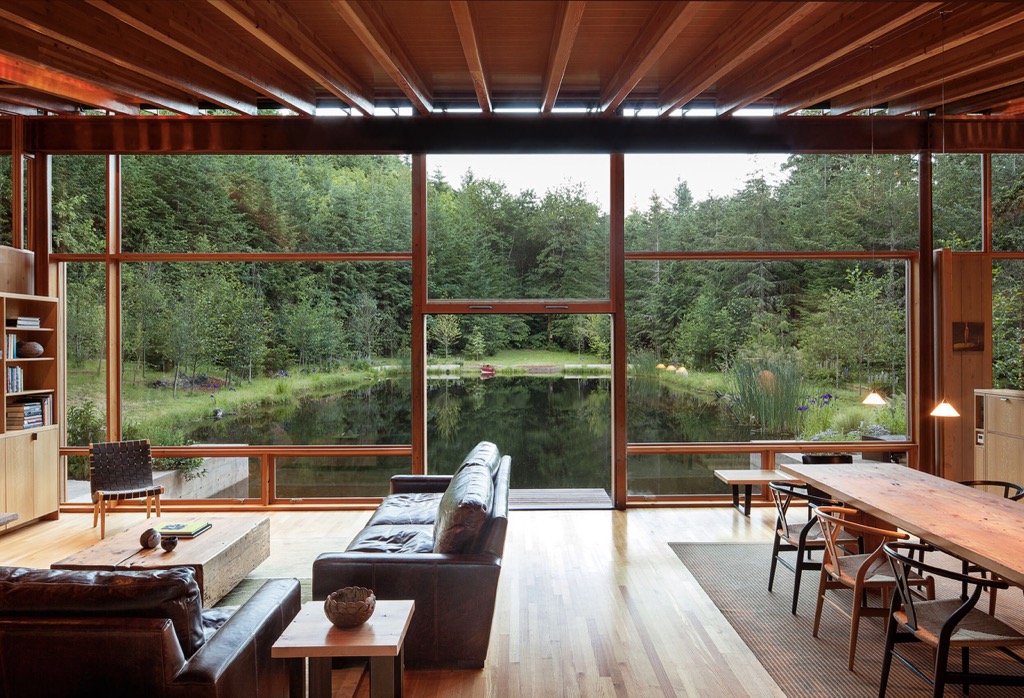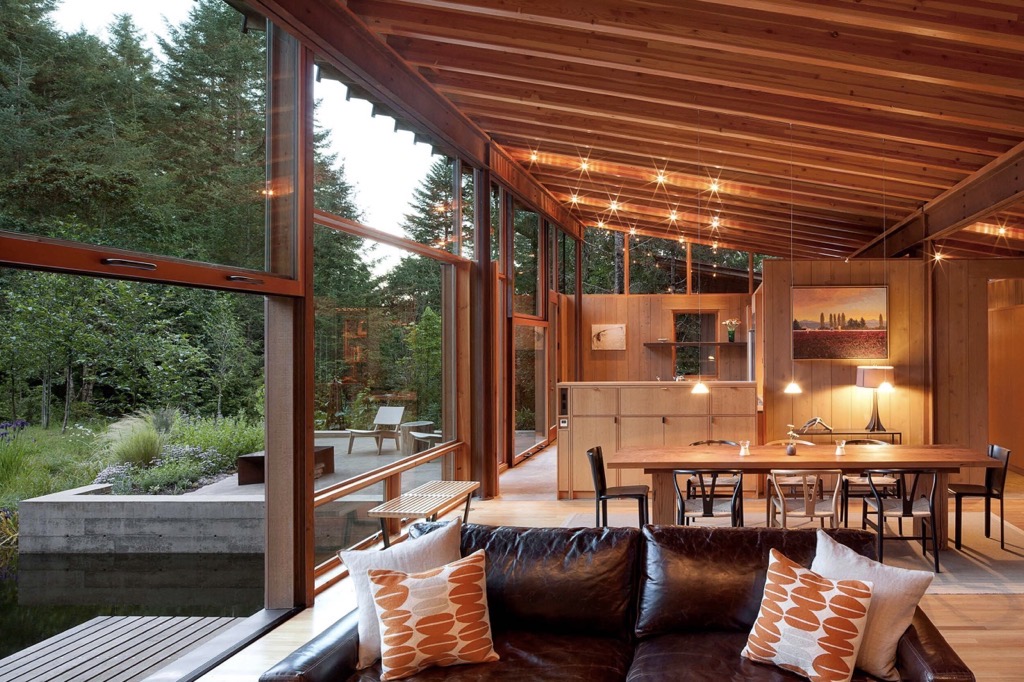 The architects, who founded their firm in 1977 in Washington – a state near Oregon,worked with the client to find the ideal site. They decided on an overgrown area in a vineyard which features a manmade pond that was later on enlarged for this project.
The architects explain that "the design attempts to make the pond and residence a single entity, in which the owners can enjoy and connect with the wild creatures that come to the water,". As such, the owners of the house can see a variety of animals in their property such as trout, coyotes, frogs and ducks. The house was imagined to serve as a connection to the north end of the pond.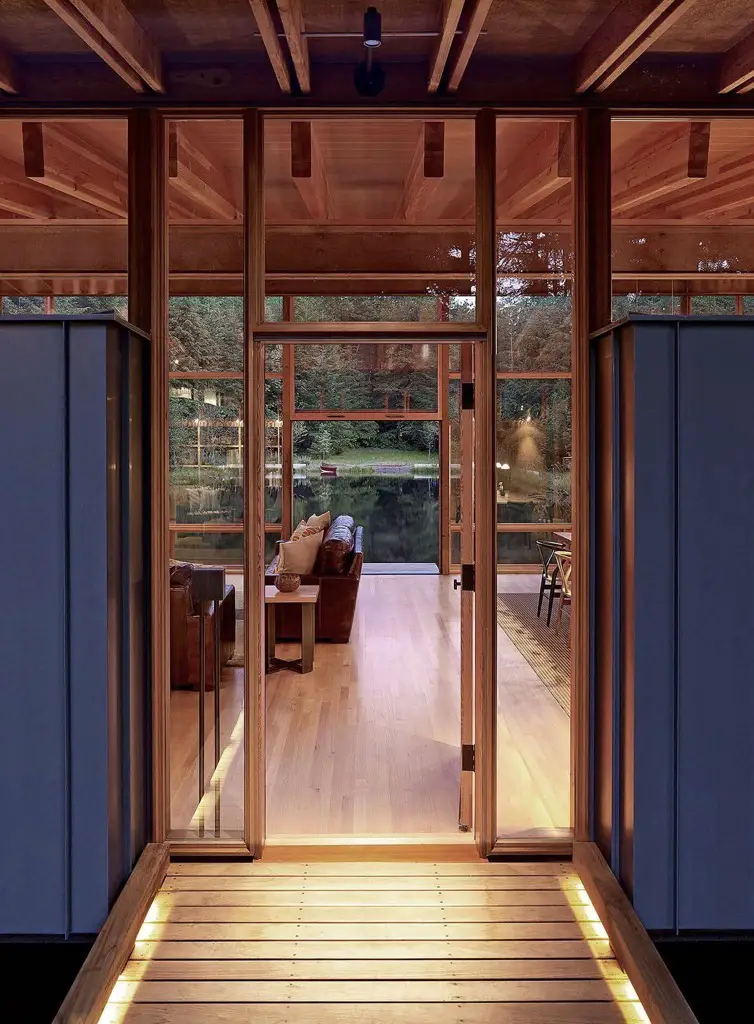 The materiality in itself appears to be an extension of nature, with exterior walls clad in Douglas fir, weathering steel and glass. A simple steel frame and roof contribute to the homey and earthy feel of the house. The architects wanted the journey within the property to be memorable and as such, "the broad vista of the pond offers a compressive release upon opening the front door". 
In the interiors, the house is equally peaceful and serene. With an open floor plan and floor to ceiling glass windows, interior and exterior blend and makes the resident feel connected with its surrounding nature.
These glass windows can likewise be opened and serve as a diving pool to the lake, furthering the immediate connections between property and landscape. The two buildings – the main house and the guest house – are connected by a covered walkway.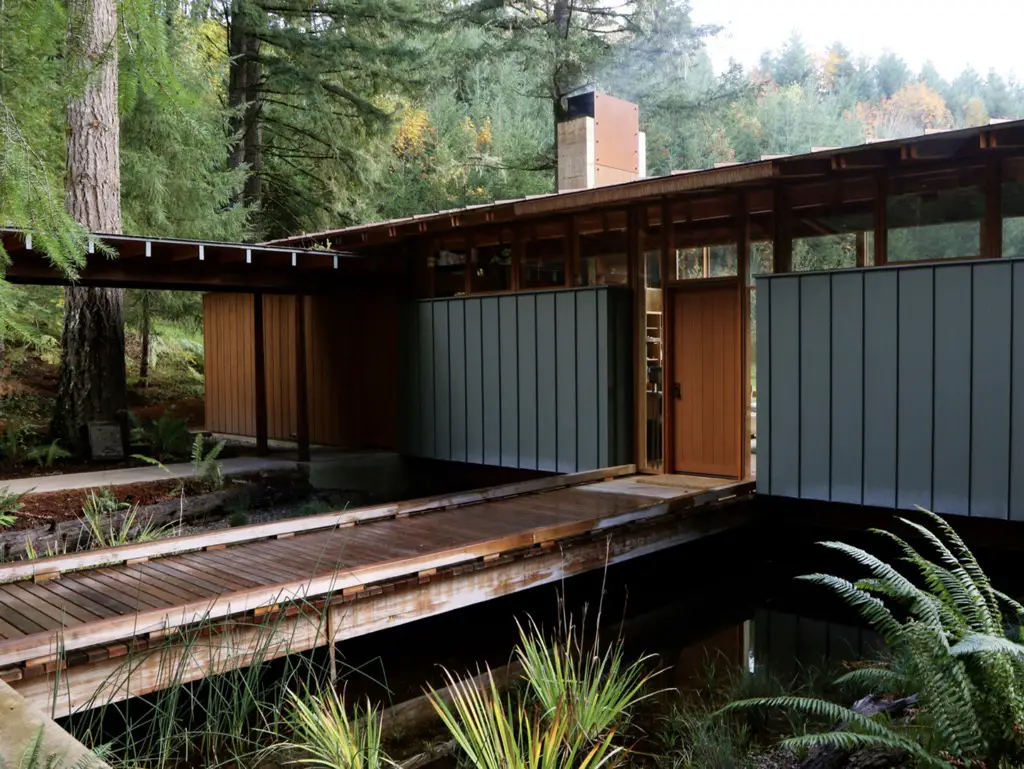 With its careful integration of site and clever use of materials, the Newberg Residence has been commended for its architecture, winning coveted awards such as the AIA National Housing Award, the Canadian Wood Council Merit Award and the AIA Northwest, Pacific Region Merit Award. As such, it lives up to its architects' vision "to make a house and life-giving pond one thing."