Few houses have a more appropriate name than "Woodsong". Located in Coconut Grove, Florida, it was built in 1968 by the architect Alfred Browning Parker. Built to surround the palm trees which already stood on the land, it is a veritable symphony in wood.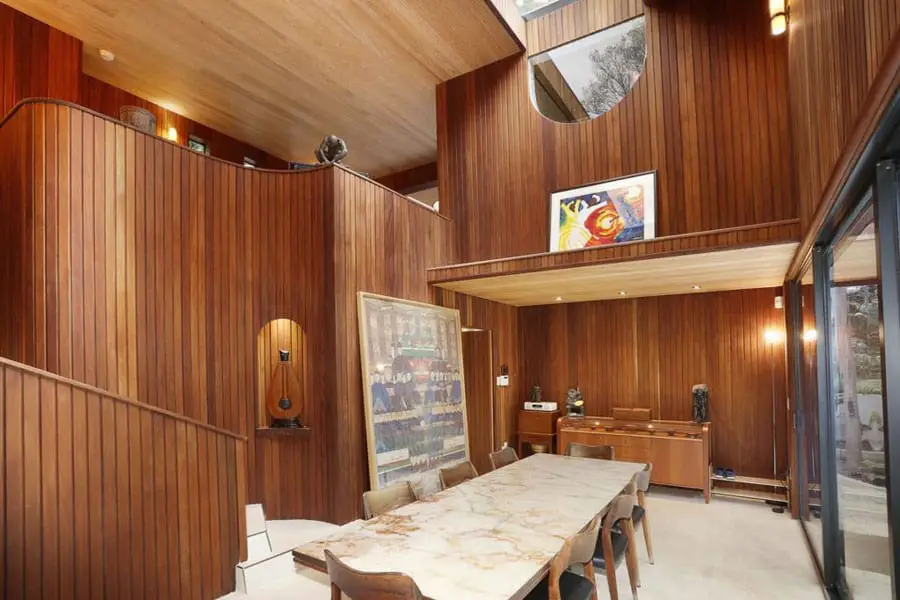 But it's not the palm trees which really hammer home this fact. By far and away the dominant feature of this home is its sumptuous wood panelling.
One of the most striking uses of the wood panelling is seen in spiral staircase cladding of the spiral staircase. Deep, reddish-brown stained Honduran mahogany panels snake around a sheer wall, which, in its curved shape, is reminiscent of the earlier Art Deco style which became so prevalent in Florida.
The same polished wood covers the sheer wall and continues on the outer wall of the upper level which the staircase leads to. Meanwhile, this is offset nicely by panels finished in a lighter tone for the ceiling of the lower level. The stark contrast serves to bring out even more the natural textures of the wood.
ALSO READ: Ossipoff's Hawaiian Modernism Shines in the Goodsill House
Such a stark contrast, seen throughout the house, also serves to bring out the homes peculiar contours of the structure, with irregular angles and curves making this home anything but minimal. This is surely the best indicator architect Parker's particular maverick Miami-infused style.
Indeed, the architect made his name in the place where he lived by adopting a notably more organic and tropical modernism, which eschewed the clean and distinctly man-made modernism of clean lines and geometric purity, instead articulating the complexity of nature from a more ecological basis.
ALSO READ: Mid-century Meets the Concrete Block: Fringe Architects 
Still, the whole thing is a masterclass in modernism's ability to provide great beauty with minimal decoration, letting the materials and the integrity of the design speak for itself.
Do you live in a mid-century or modernist-inspired contemporary house and want to be featured on MidCenturyHome? Contact us with some photos and a short description of your house at: info@midcenturyhome.com
Photos via Zillow