Despite its dense facade, the Tred Avon River House was designed to experience and soak in the stunning landscape known as Diamond Point. Located in Easton, Maryland, the modern home was completed in 2012 by Robert M. Gurney, FAIA Architect.
At the first onset, a small private gravel drive bordered by neat patches of grass is followed by a hedge-lined parking court. Here, the central block of the Tred Avon River Home rises from the background. Thirty-six-feet high and all almost entirely free of windows for light to infiltrate through, the solid facade hides the home from street view, providing it with a sense of privacy. Only the ten-foot-high entry door and few narrow sidelights pierce through to the inside.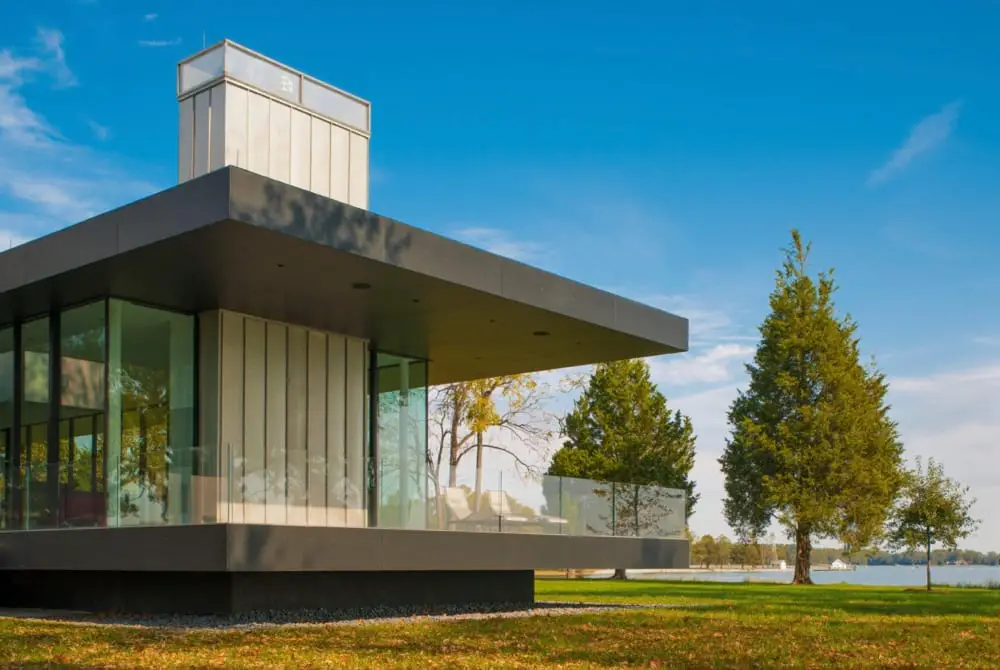 Upon closer inspection, the building reveals its two other volumes: to the west, a twelve-feet high block accommodates a garage as well as additional service space. To the east, another block hovers above ground, accommodating the home's main living spaces. Elevated four-feet above ground level, the risk of flooding is cleverly minimized.
The seemingly closed off home opens up into living quarters, extending over 124-feet. Thanks to walls of glass surrounding the entire space, the entire volume gets flooded with natural light during the daytime, not to mention the stunning panoramic views over the river. A framework of steel columns harmonize the space.
The color palette is kept simple and modern, composed mainly of sleek black window frames, crisp white paint on walls and ceiling plus grey floor tiling in the larger open spaces. Natural wood and modest, thoughtfully placed splashes of colour brighten up the interior.
Covered terraces extend from inside, providing a great deal of outdoor living space while at the same time continuing to enjoy the beautiful surroundings. It doesn't get much more 'front seat view' than the screened porch, which is carefully placed to maximize the river scenery while overlooking the pool.
The attention to detail in combination with simple and elegant interiors effectively causes a breathtaking primary sensory experience. As a geothermal mechanical system, solar tubes, hydronic floor heating and a concrete floor slab provide thermal mass. Large overhangs above terraces keep the amount of heat under control, while ensuring the dependency on fossil fuel is kept to a low. The Tred Avon River Home has won numerous design, merit as well as architecture awards.