[tie_slideshow]
[tie_slide]

[/tie_slide]
[tie_slide]
[/tie_slide]
[tie_slide]
[/tie_slide]
[tie_slide]
[/tie_slide]
[tie_slide]
[/tie_slide]
[tie_slide]
[/tie_slide]
[tie_slide]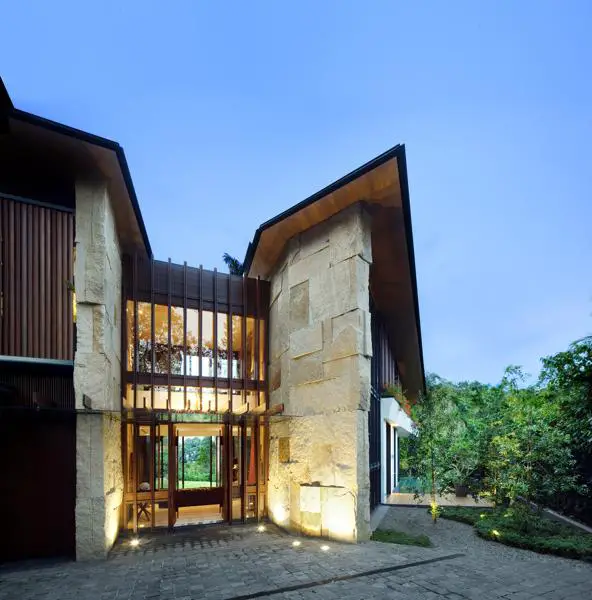 [/tie_slide]
[/tie_slideshow]

Singapore's light and airy Winged House, designed by K2LD Architects, makes the most of its unusual – and potentially challenging – triangular plot with its innovative and visually arresting shape.
The site is framed by this private family residence's magnificent wings, or trapeziums, which take their inspiration from traditional Malay architecture, where houses are designed to adapt to the tropical climate, keeping their inhabitants cool in the hot, steamy weather by allowing air to circulate naturally throughout the building. Further protection from the elements comes from the greatly extended roof, which offers shelter from seasonal heavy downpours, even when the residents are outside enjoying their beautiful garden and patio areas, designed by Watermount Gardens.
Three majestic 20-metre high palm trees grow at the centre of the plot, with the wings of the house gracefully radiating out either side of this natural focal point. The end of one wing features an inviting open air swimming pool, partially sheltered by the double-pitched overhanging wooden roof.
The entrance, main foyer and living room of theK2LD's Winged House lie between the two trapeziums, flanked by imposing split granite walls, which contrast with the lightness of the roofs and the vertical timbers of the rest of the building.
Timber is used throughout the construction, with lighter Burmese teak used for the undersides of the roofs, and darker Chengai timber employed for sun-shading screens. These screens not only act as barriers against the hot sun, but also help the house to blend in with the surrounding lush greenery of its plot.
Inside, a twisting wooden staircase leads to the upper floor, with its master suite, study, additional rooms and beautiful balcony, reflecting the unusual shape of the entire home. Further living space is provided down in the basement, which houses a gym, as well as guest accommodation and additional storage.
K2LD's design philosophy "embraces the sense and sensibility of architecture", and the practice firmly believes in establishing a strong dialogue between the architect and clients, in order to design the perfect home. Using a sensitive study of the site in question, the firm always produces designs that work with their surroundings.
Not driven by the latest fashions in design, K2LD focuses on the aspirations of its clients and the environment of the project. Such synergy is evident in the way the Winged House merges so seamlessly with its tropical plot.
Photos via K2LD
SEE MORE
[one_third]
[/one_third][one_third]
[/one_third][one_third_last]
[/one_third_last]