Set against a hillside under the Shakespeare Bridge, this unassuming modern home is a multi-layered architectural gem. The architects from ras-a studio redesigned the original midcentury house, expanding its square footage whilst preserving its dated yet robust structural elements. The two-storey house, aptly named House Under a Bridge, maximizes its unique location by replacing the solid wall between the shifting roof planes with a clerestory window. The effect is spectacular. In addition to bringing in an abundance of natural light, the replacement renders the bridge visible from almost every space in the house.
The client, a creative director in LA, wanted an additional guest bath and laundry room. Unfortunately, zoning requirements in the steep lots in the hillside prohibited the architects to expand the building footprint. Ingeniously, the architects carved the required additional square footage by playing with the house's elevation.
Following the site's natural grade, the architects extended the lower level, expanding on the existing crawl space to accommodate the new laundry room and guest bath. The resulting spatial arrangement is more dynamic – a split level layout consisting of lower, intermediate, and upper levels. 
The original plan was filled with dead-end spaces that detracted from the house's potential to be a well-lit sanctuary. The cat-like hallways were removed to extend the space of the master's bedroom, a critical design decision to cater to its single-user client. The master's bedroom, enclosed in a glass partition instead of a solid wall, likewise borrows from the overflow of natural light in the high-ceiling living area. Furthermore, it provides the owner relaxing views of the vegetated outdoors. The architects describe it as "like having a large picture window, but it happens to be on the interior."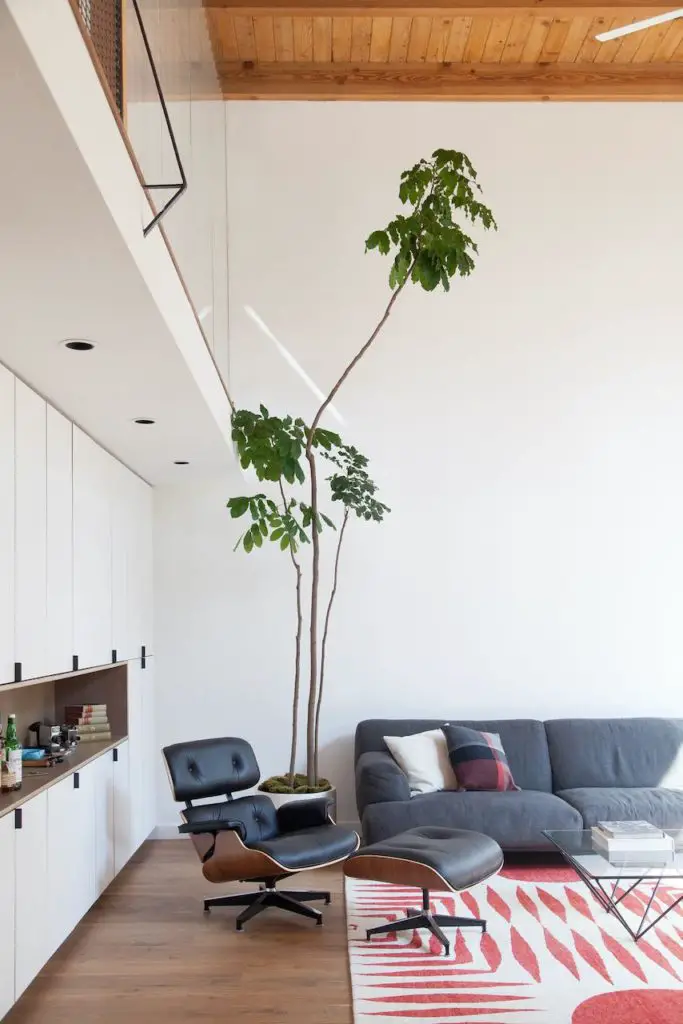 The existing posts and beam roofs had zero insulation and were in dire need of a rehaul. From a sustainability standpoint, the architects retrofitted them by "spraying on a rigid foam insulation from the roof side and coated them with a white, cool roof reflective coating." From an architectural aesthetic perspective, these structural elements were exposed, incorporating them into the house's modern design. The house was likewise updated by rehauling the obsolete finishes. For instance, the dark wooden countertops were replaced with bright white granite to lighten the interior aesthetic.  
The House Under a Bridge is a marriage of clean lines and cool colors, integrating neutral tones to harmonize the spacious interior with the dense greenery of the outdoors. The facade is extended to the height of the house and fitted with functional windows to encourage natural lighting and ventilation. The patio sits beautifully beneath the intricate Gothic architecture of the Shakespeare Bridge. A small staircase in the perimeter patio connects the house to the belly of the bridge, spatially bringing together two architectural marvels.