Casa Gaya fuses modern design with the surrounding natural environment. Completed in 2019 by Brazilian Candida Tabet Arquitetura, the contemporary home design draws on complex and detailed arrangements, while maintaining an air of simplicity and openness. Resting in the thick of lush vegetation in Porto Feliz, the complex stretches over a total of 720 square meters.
A long and winding road leads up to Casa Gaya. There are no other homes in close proximity and the dense vegetation around the house ensures maximum privacy in the countryside setting. 
Candida Tabet Arquitetura took on the project to create a home for a middle-aged couple who wished for a quiet, secluded place to escape the chaos of São Paulo's hectic metropolitan way of life. The design is split into two different wings – one for the couple's private use and the other for entertaining friends and family.
Combinations of lines and dynamic metric shapes dictate the pattern of the house, lifting, cutting and folding the roof in different places. The home's square shaped entrance features two pairs of wooden doors paired with a clerestory window. Wooden beams add beauty to the otherwise clean white facade, weaving a connection between the modern design and the surrounding nature.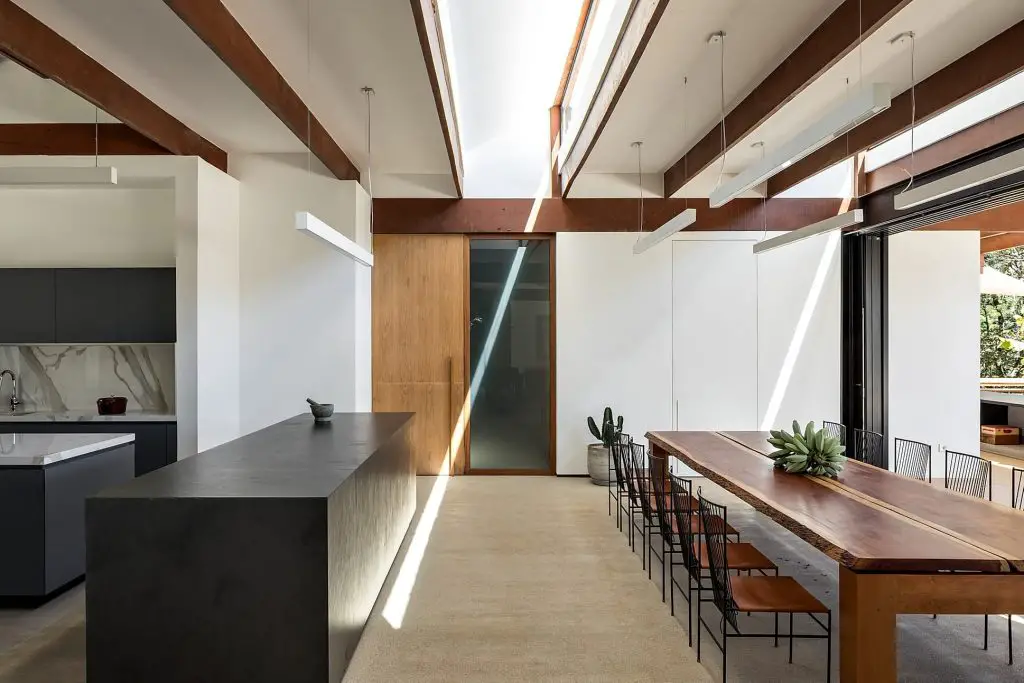 Inside, the open plan kitchen, living, and dining areas are located in the middle of the house. These interior spaces are paralleled to outdoor social areas, including a barbecue space, long tables for outdoor dining as well as a swimming pool.
Looking in from the back, the right wing accommodates three guest suites including bathrooms. The left wing makes space for the master bedroom, bathroom and patio as well as a sizeable closet inside the master bedroom. A study, tv room and gym are found between these spaces and the social areas.
Inside and out, the home's walls and ceilings bear a crisp white color paired with details of a darker, natural wood. Chic black kitchen appliances and furniture bear stark contrast to the predominantly white and wooden hues. 
Candida Tabet Arquitetura made sure to make use of enough glass as well as open space in order to allow plenty of natural light to flow in and through the spaces, bringing emphasis to the seamless indoor/outdoor connection of this contemporary home design. 
A massive wood burning fire pit in the barbecue area steals the show of the space and extends an invitation for feasting on Brazilian barbeque dinners in the comfort of the private natural setting of Casa Gaya.