Text provided by Cook Architecture
In 1960, builder Andre Bodor created a small development on a hillside lot overlooking Holmes Run Creek in Falls Church, Virginia. The cluster of eleven homes was inspired by post-and-beam California ranch houses.
Also known for his houses throughout the mid-century modern neighborhoods of Holmes Run Acres and Raymondale, his projects feature cathedral ceilings, enlarged gables with wide overhangs, and 27-foot glass walls.
The second home on the north side of the court was in poor shape with a leaky roof, mold, a rotten wood window wall, and outdated layout. Cook Architecture, led by principal Michael Cook, aimed to restore the original spaces that were design noteworthy, reconfigure existing spaces to suit today's living needs, add new space, and improve the surrounding site. The 2700-square foot final design includes five bedrooms, three bathrooms, and expanded kitchen.
The original structure remains relatively unchanged, with the exception of 230-square feet of added space for an expanded kitchen. The addition was created by infilling an existing screened-in porch and inserting a 23-foot steel beam to support the roof at the old exterior wall.
Elements of mahogany paneling, custom pegboard valances, white oak floors, and Douglas Fir beams were maintained to preserve the home's unique style.
Existing finishes were modified such as adding reflective white walls to allow the quality of light to be active, rather than absorbed. Existing mahogany wood walls were repurposed as trim and siding along the back of the 10-foot island. The kitchen features Poggenpohl cabinetry, Caesarstone countertops, and Heath tile backsplash.
Upstairs, the original Jack-and-Jill bathroom was reconfigured into two bathrooms instead of one communal. The old kitchen space now accommodates a new den. Four existing bedroom windows were enlarged to enhance the visual connection to Holmes Run Creek, the wooded surroundings, and the hillside lot.
On the lower level, cork flooring was installed and the existing mechanical room was transformed into a fifth bedroom, providing a private exterior door to the back patio. Large windows were added, allowing natural light to penetrate further into the space.
The home was ungraded with new plumbing, a new furnace, R38 rigid insulation on top of the roof decking, new 3⁄4-inch glass, T-fill siding, electrical panels, a new furnace, new underground power lines.
All new lighting, including the basic and the beautiful such as Artemide, was installed. Extensive site work improved the drainage system and the overall look of the hillside lot.
This remodel and restoration has been celebrated by the other ten neighbors who feared the home would be demolished to make room for a "McMansion." The community is now strengthened by preserving a homogenous example of an eleven-home tract of post-and-beam mid century architecture.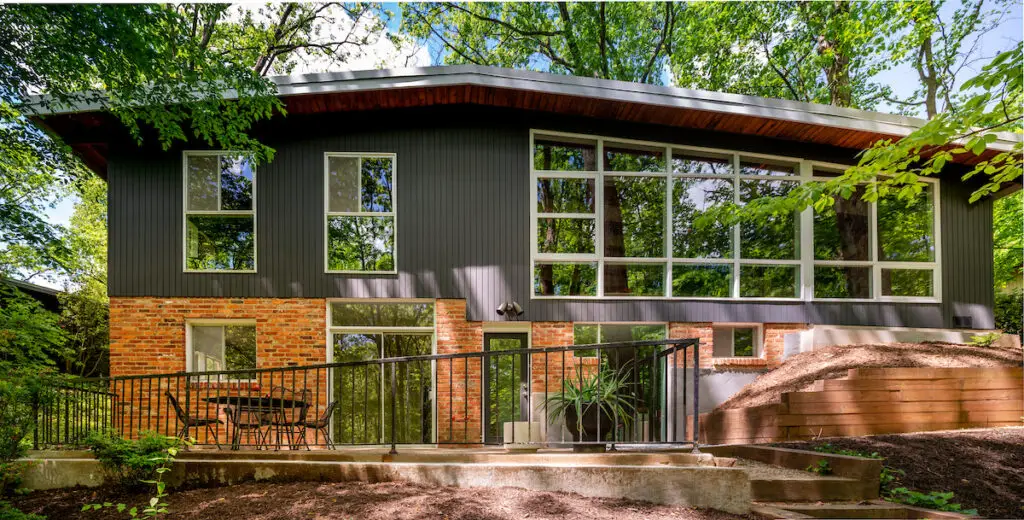 Photos provided by John Cole