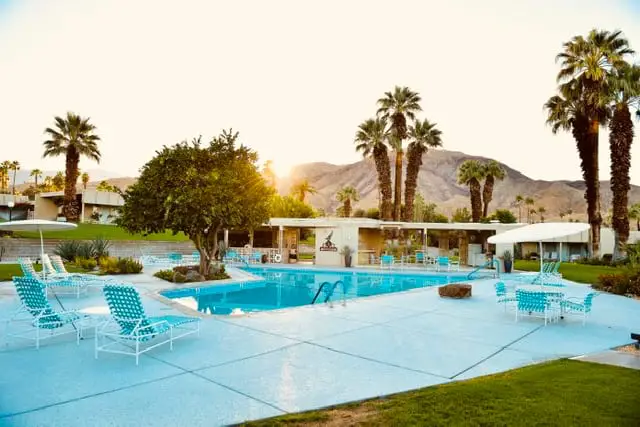 When joining our Facebook Group for midcentury homeowners, Cyndi Nistal triggered our curiosity with a comment concerning her and husband Carlos' home. We reached out to catch a sight of their beautiful Palm Desert home, which is situated in Palm Springs.
The couple were fortunate enough to discover their Sandpiper home in almost entirely original form. Today the Nistals share the story of their William Krisel designed midcentury home, the positive influence it has had on their lives, as well as their encounter with the man himself.
First of all, could you tell us a little bit about your background?
I'm an immigrant that came to the U.S. seeking freedom and a better way of life. My family came from Cuba and we were very fortunate to be granted Political Asylum. We were able to start our lives again from scratch, like many other immigrants before us. My wife is a second generation American with roots stemming from Italy and England.
In terms of our Professional lives, I'm a Controller (Accountant) and my wife owns her own business (Esthetician/Skin Care). We currently reside in Los Angeles, with a second home in Palm Desert (featured home).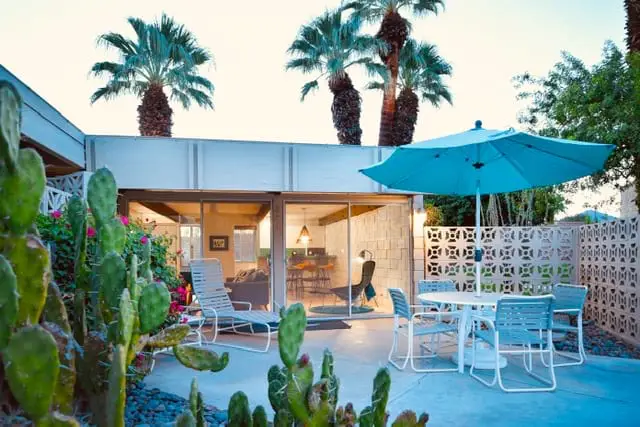 How did you come to live in your house and what drew you to the mid-century style?
We have been collecting midcentury modern furniture since the late 70's. As our collection progressed, we realized we needed the appropriate home to compliment the collection. Our first real-estate find was a William Krisel designed home in LA, built in 1956, it was a repossession and went completely under the radar of collectors. This was before Realtors started listing midcentury modern homes with the Architect's name, as has now become the norm in LA.
The home featured is our second home in Sandpiper, located in the city of Palm Desert, CA, not too far from the midcentury mecca of Palm Springs. Sandpiper was one of Bill Krisel's favorite projects and stands as an example of his genius. He was the Architect and the Landscape Architect for the Sandpiper project.
The condominiums were arranged in "Circles" with the pool in the center. Mr. Krisel has stated that he personally supervised the placement of each unit to maximize views and privacy. If you are ever in the Coachella Valley, Sandpiper is a must visit for any midcentury modern enthusiast!
What do you think was so special about this period in American design?
I believe that the key to midcentury modern design is the emphasis on function and a minimalist aesthetic. What was once considered futuristic, now just seems like great design. We have had guests in our home who have never heard of midcentury modern. They often comment on how great the house flows or how great they feel in the home. It's innate, intrinsic, that's why it continues to gain in popularity.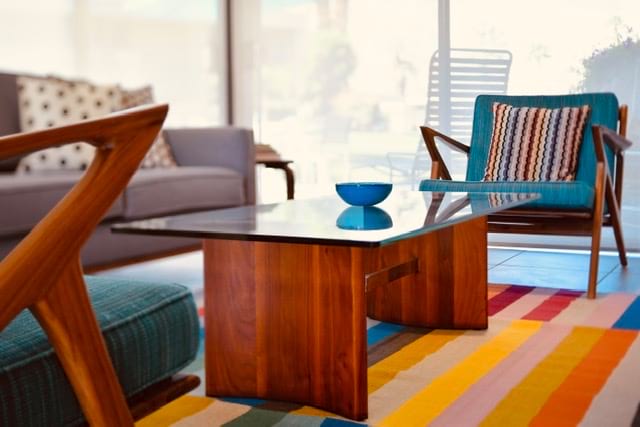 What do you know about the architect who designed your house?
We had the great pleasure of meeting William Krisel in the 2000's as he was enjoying a renewed appreciation for his work in the Coachella Valley. He was quite the character and was holding court at a recently restored Palmer & Krisel home in Palm Springs. It was interesting to hear him speak, "modernism is a language, not a style".
He brought great design to the masses, his work reflects how we live today, and he understood that over 60 years ago. "A house is more than just a shelter; that it is a way of improving your way of life." I really can't express in words how our lives and attitudes have improved by living in a William Krisel designed home.
Do you feel a certain sense of responsibility when living in a house designed by such a famous architect?
We feel our responsibility is to share the magic of a William Krisel designed home with as many people as possible, as he intended. To keep the home as original and unaltered as possible. We have had good success with listing our Sandpiper property on VRBO and making it accessible to midcentury modern enthusiasts. A tour of a Krisel home is good, actually living in the space for an extended period of time is very rewarding.
Have you had to renovate any part of the house? If so, which area(s)?
We were very fortunate to find our Sandpiper condo, it's almost 100% percent original. The original floor plan is completely unaltered. The kitchen and bathrooms are original. The unit just needed paint, window coverings and quality furnishings to complement the architecture.
What are the advantages/struggles of living in a mid-century house?
Let's start with the struggles. For us the struggle is keeping the unit original. Sometimes replacement parts are difficult to find. We have found a great community of Krisel enthusiasts at Sandpiper and throughout the Coachella Valley. We trade and share parts/knowledge with each other.
The rewards, as I mentioned earlier, are the sheer joy of living in great design. How it affects your outlook and your life in general.
What's your favourite part of the house and why?
It would be difficult to pick a specific part of the home. It all works in harmony. Great design always seems very simplistic, until you try to duplicate it. I will say that the view from our back patio, of the mountains to the west at sundown is breathtaking.
Do you have any tips for people interested in buying a mid-century house today? What should they pay attention to and why?
The number one rule for us was to be patient. Trust your gut and do your research. Your dream home will become a reality, believe that. There are still many great homes that need sensitive owners to rescue them, to share and enjoy with others.