Situated in the thick of nature, The Ravine House is a refined contemporary home design in Illinois, Chicago. Completed in 2017 by Wheeler Kearns Architecture, the dark single-storey home was made for a couple of cyclists and nature enthusiasts to support their lifestyle and engage with the surrounding nature.
The rectangular structure has several units which wrap around a courtyard-like outdoor space. The landscape design by Kettelkamp & Kettelkamp Landscape Architecture syncs with the natural landscape. A gravel pathway leads the way from the street to the house and surrounds the entire home. Local stones and birch are utilized through the courtyard.
Black square-edged vertical metal siding wraps around the main unit, which looks out over the surrounding landscape. Thanks to an abundance of expansive windows, natural light floods into the home throughout the day while creating a seamless connection between inside and outside. The placement of windows on all sides creates transparency throughout the entire unit.
The home is very much designed with careful detail and concern towards natural materials inspired by the location itself, including various forms of natural wood.
The interior too is very much in tune with the natural theme. Wood is used for the floors, bits of wall, as well as furniture. Speaking of the wood, it is a very present material throughout the entire structure. The main studio looks over a courtyard with birches and raised beds of vegetable gardens built by the homeowners themselves. Inside, a walnut casework serves as a live-edge walnut dining table. Created from a fallen tree of the clients' previous location, the piece of furniture is as stylish as it is sustainable.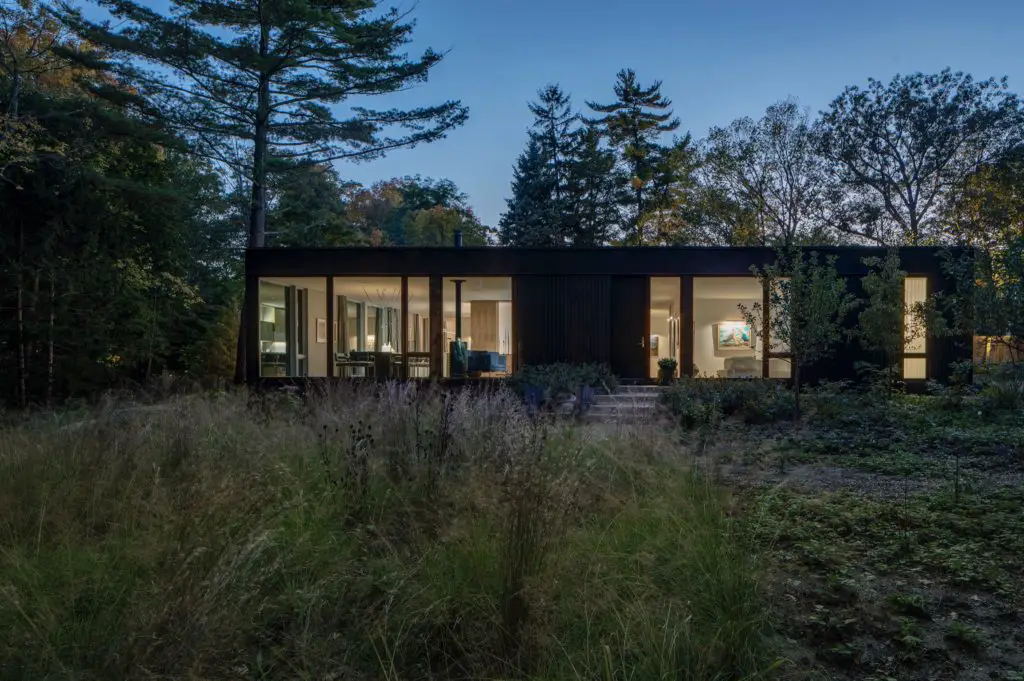 Aside from the wooden tones, the walls of all rooms are painted in clear white. Splashes of color brighten up the spaces in artwork as well as furniture throughout the different rooms of the Ravine House.