This contemporary home design in New South Wales, Australia is breath-taking. Named "Pirramimma", an aboriginal word meaning "under the moon and stars", it was built in 2016 by the Sydney-based firm Peter Stuchbury Architecture.
More than anything, it is the scale of this contemporary style home that first captures the viewer. Most notable in this regard is the roof, which, when looked at from the home's cross section, makes an inverse V-shape all the way along the building. Extending well over five metres, it creates awesome high ceilings.
Running all the way along the structure, also means that the architects have been able to make a real statement with the structural supports, where the white stone pillars are almost brutalist in their forcefulness. Likewise, the supporting beams, clad in panels of high quality wood, stained with a delightful reddish-brown polish, pack a similar punch.
ALSO READ: Architect Russel Jack's House is Modernist Australian architecture at its best
These panels carry on from the roof to the space below, a continuity which really emphasises the complexity of the angular structure, the expert joinery and the sheer quality of the wood itself, a nod to the conspicuous influence of Danish modern design that pervades the home, with its reliance on letting the quality of materials speak for themselves.
ALSO READ: Australian Homes: Gerry Rippon's House in Wahroonga, Sydney
Speaking of which, there are several lovely examples of Danish Modern dotted around the place, for instance, a pair of Papa Bear Chairs by Hans Wegner.
Indeed, while it far surpasses the scale of a typical mid-century modern house, there are several rather excellent examples mid-century modern furniture, including the two sofas in the open plan living area.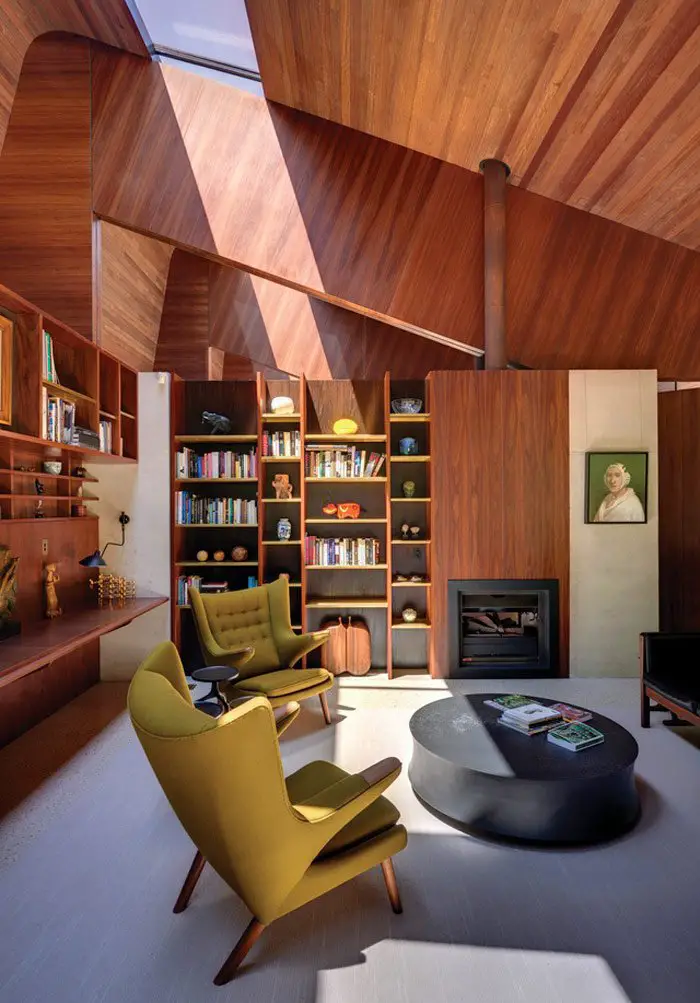 Another nod to the mid-century period is the complete openness of the design, best summed up in the fact that the master bedroom is not really a room at all, with the only tell-tale sign that it is being the presence of a double bed amongst those magnificent pillars.