Jørn Utzon's "Bright House" is a paragon of Danish design. Located in sleepy Harpenden (Hertfordshire, England), and completed in 1963, the single-floor house was originally built for Utzon's friend and fellow Dane, Povl Ahm (chairman of the renowned engineering firm Ahm).
By far the most well-known of Utzon's projects is the Sydney Opera House (completed in 1957), but long before the completion of the opera house, Utzon had established himself as one of Danish design's leading lights. There are several aspects of the Bright House that are characteristic of the Danish Modern movement from which he emerged.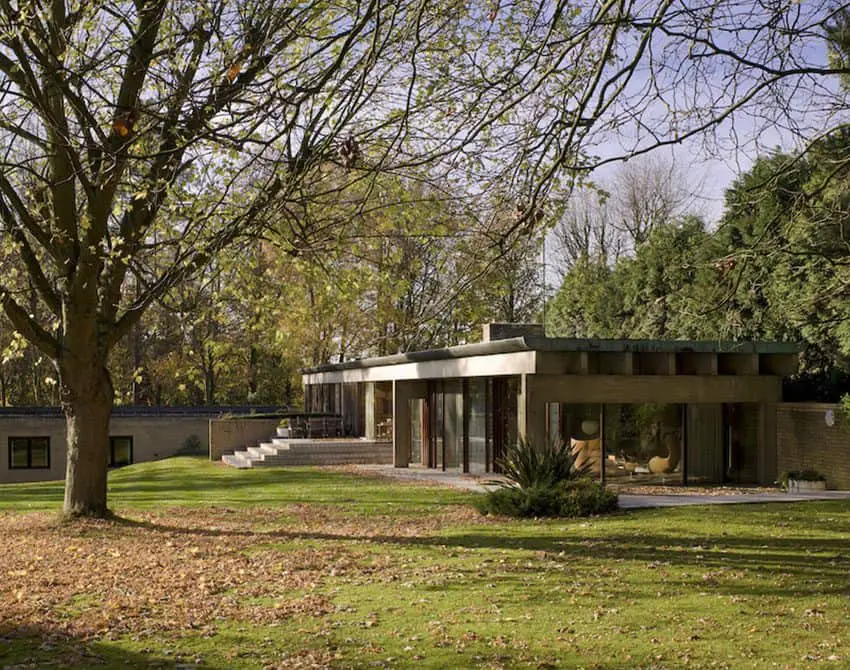 The first of these is the naturalistic element. In terms of its emphasis on simple, clean and functional design, Danish modern is quite reminiscent of the earlier Bauhaus movement which influenced it. But whereas the earlier modernism espoused by the Bauhaus could be rather harsh in its aesthetic, in Danish modern, nature had a slightly stronger influence.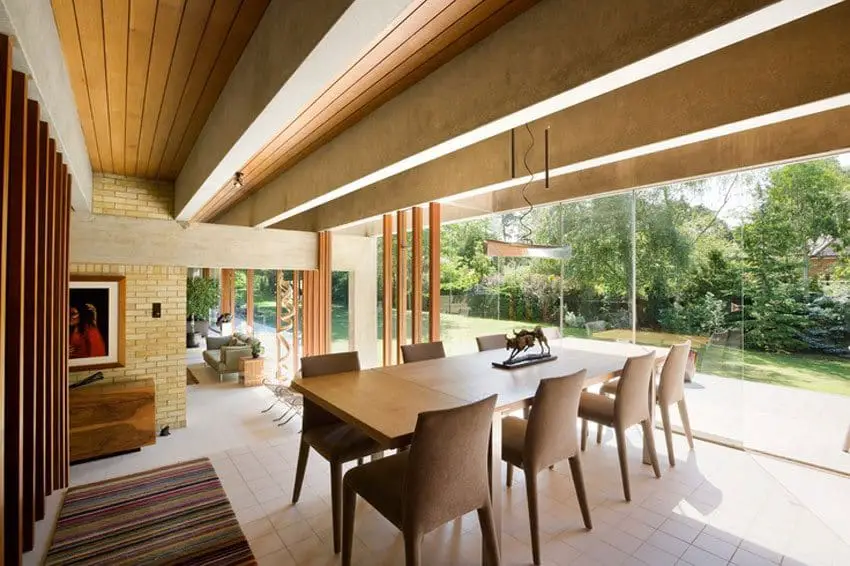 Natural, earthy colours abound in this house. There is a very diverse variety of brown and grey tones throughout, for instance, in the exposed brick wall, the furniture, the tiled floor of the living area and the many ceramic pieces. There is also an abundance of wood, highly polished to bring out the grain. This  abundance of grey and brown could look rather dull and lifeless, but, the sheer range throughout the house creates richness of texture akin to that you encounter in nature.
Another distinguishing characteristic of Danish design is on show in the furniture filling the house. The scarcity of wood in post-War Denmark encouraged designers to experiment with cheaper plywood in various designs. This vital aspect of Danish design is represented throughout the house, where several classics are in evidence. Namely, there are two of the most significant pieces by Danish designer Arne Jacobsen: the Egg Chair and the Swan Chair, both in the same earthy, orangey brown tone (befitting the overall colour scheme of the house).
These two elements, naturalism and the cost effectiveness of using materials like plywood, are part of the reason the Scandinavian style was specifically attractive to the American market. It allowed for mass production while softening the blow of more severe modernist designs. In short, it provided both quality and quantity.
Photos via Utzonphotos
There is an almost brutalist quality to this Utzon house when viewed from the outside. The roof draws a simple, confidently minimal line across the grounds of the property. It is supported by two layers of raw concrete joists, stacked one on top of the other. The stairs to the property subtly and delicately build up to the entrance. A clear patch of green grass surrounds the building, not overburdened by a variety of vegetation. Yet the warmth of the interior softens the impact typically associated with brutalist designs.
The balance achieved by the Bright House is what Danish Modern was all about.