The Axiom Desert House pays homage to the Palm Springs legacy of mid-century architecture, whilst at the same time bringing modern touches and energy efficiency via a prefabricated structure.
It was an exciting undertaking for the founders of Turkel Design who were simultaneously both the designer and the clients for this project. Axiom Desert House was to be both their private residence and a Living Lab for their company.
The Living Lab would allow the couple to test out new materials and finishes and experiment with processes for Turkel Design. It would give them first-hand experience with what works, what needs improvement, and what maintenance is involved. This was achieved to such success that Axiom Desert House was chosen as a Feature Home during Palm Springs Modernism Week in 2019, drawing thousands of visitors.
The design was pre-existing and customized for the site including Turkel Design's signature post-and-beam construction. Turkel Design have spent the better part of a decade designing contemporary pre-fab homes and based their own home on a version of the company's state of the art Axiom 2110 design from their Axiom Series.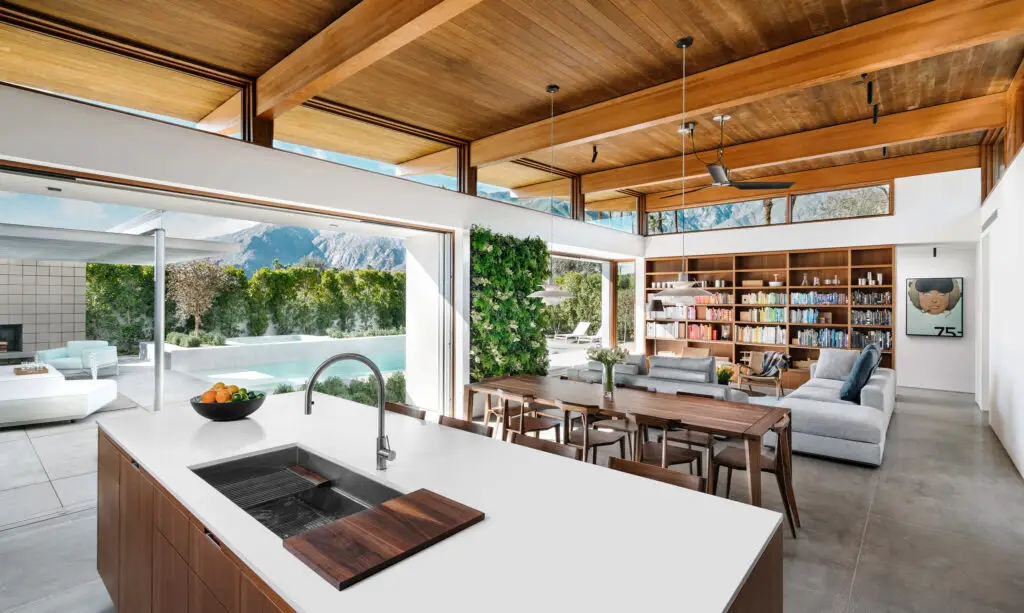 The entry opens to the great room, with an open plan living room, dining area and kitchen flowing through to a private courtyard. The great room features a green living wall and a 12-foot ceiling with clerestory windows. The windows allow for an abundance of natural light while fusing indoor and outdoor living. They also allow for an even better view of the San Jacinto mountains in the distance.
They also allow for an even better view of the San Jacinto mountains in the distance.  A "living platform" window-seat extending to and overlooking the courtyard is especially beloved with its operable glass panels that tuck away into hidden pockets. It's the perfect place, to sit, rest, and connect to the outdoors.
Turkel Design's tenets of careful design, sustainable living, and prefabricated building systems are demonstrated throughout the home. Energy-efficient products and systems were an important part of the design. This can be a challenge in the hot and dry desert climate of Palm Springs. The roof is covered with a reflective polycarbonate surface, an air gap, and then a photovoltaic system that results in net-zero energy use for the home.
Midcentury modern furniture pieces throughout the home pay tribute to the history of Palm Springs and its and its important architectural history and design movement.
The Axiom Desert House is more than just a house that feels like home. It allows clients, colleagues, and design lovers to experience and appreciate modern prefab building at its finest and a greater understanding of the benefits of sustainable design.