Each house is a reflection of its designers' artistic expression and the owners' personality and needs. This idea could not be better exemplified than with Heavy Metal – a labor of love between the architect and the client. Occupying a sprawling seven hectare property, Heavy Metal borrows its name not only from its industrial aesthetic, but also from the homeowner's passion.
An owner of a steel manufacturing plant, the client wanted his "forever home" to reflect his distinctive family business and his personal artistic background. As such, the house is inundated by steel elements to celebrate the owner's industrial entrepreneurial spirit.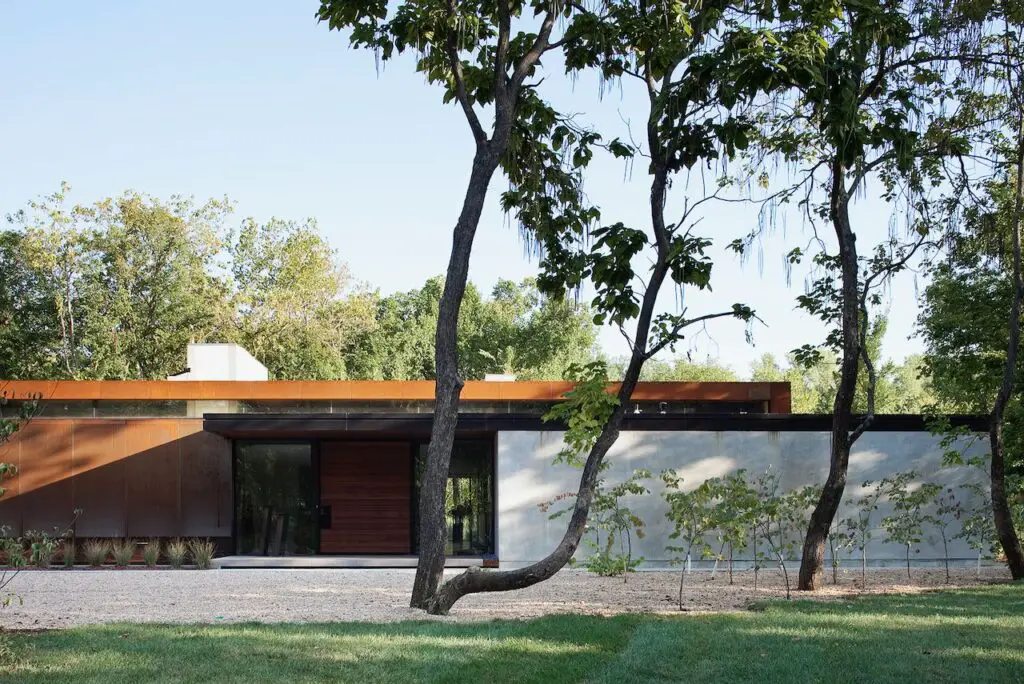 While steel pays homage to the owner's passions, it likewise adds a variety of textures and materiality to Heavy Metal. The megaton home, which rests on an expansive and densely vegetated land, exemplifies the various applications and luster of metal while exhibiting the owner's creativity.
The house is an L shaped bungalow, which lends itself well to a gallery-like organization. The circulation suits the display of the owner's extensive personal art collection in the hallways. Cautious of making the house feel too stiff, furnishings were added to bring in warmth and emphasize a visual connectivity to the exterior.
 Hot-rolled steel elements are blackened to show off their natural grain, while the exterior are left to rust to bring "out the natural warm reds of the steel's iron oxide." Moreover, these panels are strategically placed in order to adjust to the programmatic requirements. For instance, the facade becomes more opaque in areas that need privacy, and is more transparent in open spaces.
The perforation patterns are likewise a distinguishing feature of Heavy Metal. Computer programs aided the exploration of the different possible iterations of the perforations. The effect is a beautiful natural light filter that transforms from day to night.
In designing this Missouri modern house, the client reached out to architectural studio Hufft Projects, who quickly turned their vision into a metal masterpiece. While materiality shines in this project, the programmatic organization and design language likewise radiates throughout the house. The open floor plan is broken down with heavily textured rugs, giving the inhabitants a sense of warmth.
Heavy Metal also features a courtyard, but translates it into its own aesthetic language. Hufft Projects therefore bound a large outdoor space with panels of steel and glass facades. The dining area, like in most residences, serves as the heart of the house.
The high walnut ceiling creates a space that is intimate and inviting. Through a careful combination of thoughtful materiality, lighting and spatial programming, Heavy Metal succeeds in creating a truly distinct residence for its unique owner.