Text via the architect: Ply Architecture. The lush and green suburbs of Colonel Light Gardens hosts a row of heritage homes in Adelaide, Australia.
Pegged as an addition to a heritage home, the renovation architects Ply Architecture were thoughtful and cautious of preserving the original look of the existing house when imagining the addition the client requested.
A local Australian architect – Ply Architecture was conscient of the "tactile assembly of state heritage bungalows" lining the street of Colonel Light Gardens. The suburb, which is barely two thousand square meters, is located only about seven kilometers from the city of Adelaide and features a multitude of historical parks and gardens.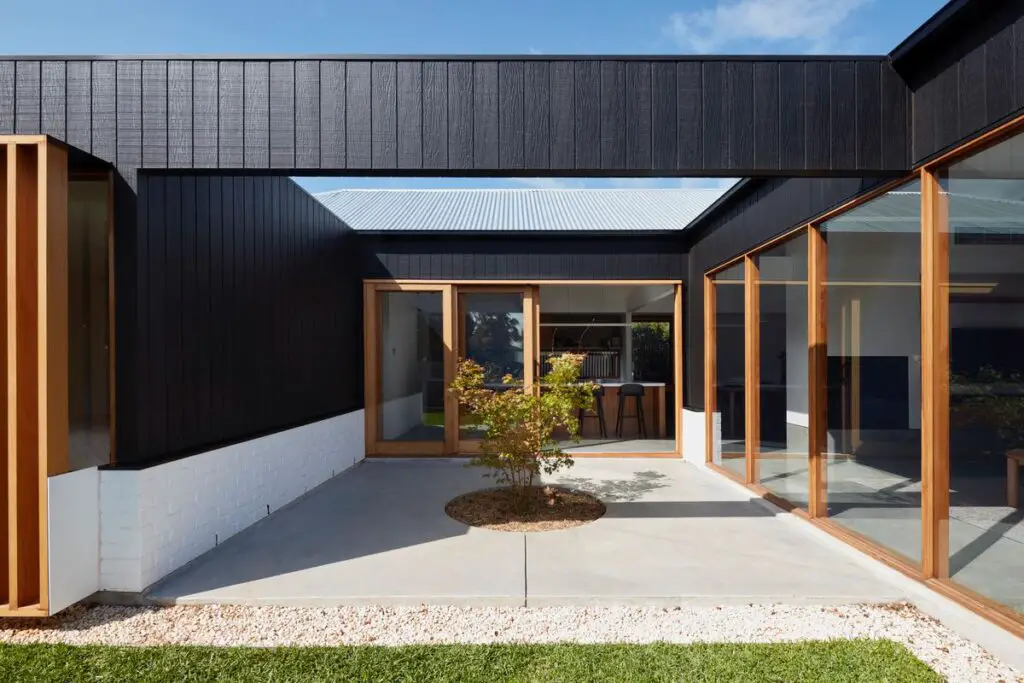 The main design brief required providing more additional space for a young and growing family. Beyond the clients' desire for a contemporary abode, they also hoped that the new addition will not overshadow the existing heritage home character of the original house and their neighboring adjacencies.
The young family requested that the volume and form of the new addition would function to not only complement but also synergize with the existing house. Furthermore, they wanted to use this opportunity to not only fulfill their spatial needs, but also to deliver the aesthetic aspirations that the existing house alone will not be able to satisfy.
While the existing house belonged to a row of bungalows that created a picturesque streetscape, the clients' young family was quickly outgrowing their house's outdated brick walls and limited space.
Fortunately, Ply Architecture had enough space on the site for a sprawling yet low scale volume that could capitalize on the original house's northern orientation.
They extended the interior programs of the existing house, grouping these spaces according to their function while maintaining visual connections among them. To promote an efficient structural layout and form and maintain consistent proportions, open volume gables anchor flat minimalist forms.
Design concepts of scale and intimacy are likewise achieved through "a series of emphasised horizontal members [spanning] the width of each space".
The addition, which was named NTH/, features concrete and earth tones, mimicking a sense of Japanese architecture. The materiality was used to bring a fresh contemporary feel to the otherwise outdated aesthetic of the existing house.
The facade is clad with a rough sawn timber cladding, emphasized and supported by a rustic white masonry plinth engulfing the perimeter of NTH/.
The concrete floor is softened by natural hardwood and soft screens, which also function to bring in a copious amount of natural sunlight and ventilation. The resulting addition is minimalist in its aesthetic, but succeeds in complementing the outdated yet charming feel of the original house.