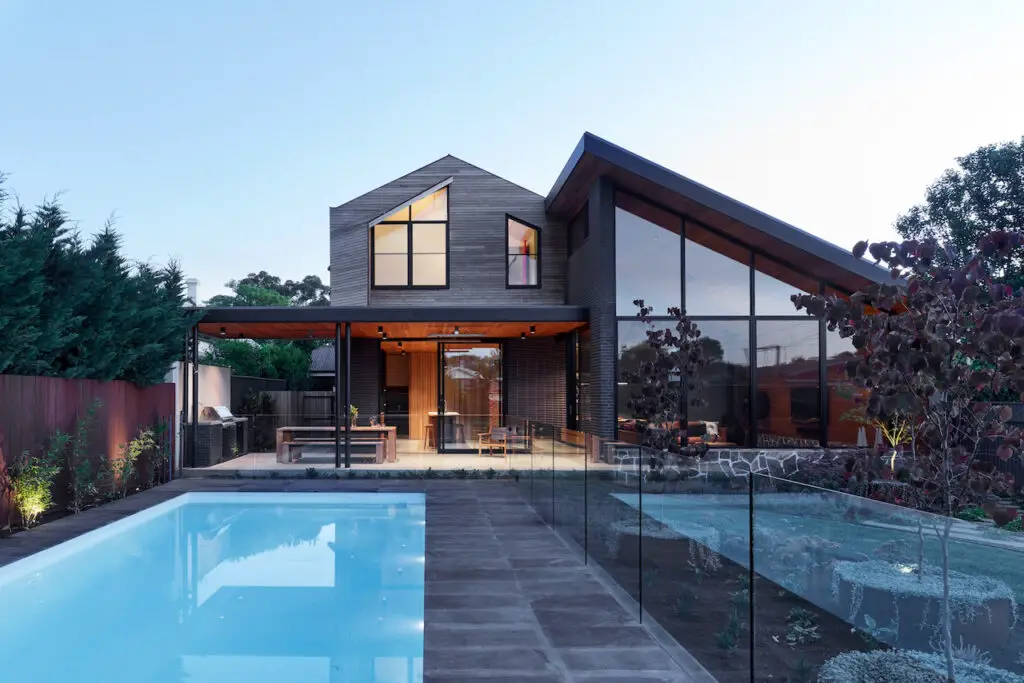 Text supplied by Archaea
The site at Balham Avenue presented an attractive 1910 return verandah villa that sat quietly amongst its neighbours. At the rear, a 70's addition prevented connection to the deep site and the northern landscape.
Our client's brief was underlined by two core requests. Firstly, a house that was capable of supporting a growing family, particularly the changing needs of their young children.
Secondly, a house that radiated warmth and held a clear sense of home through a collection of spaces that fostered restorative living and a lifestyle away from the demands of working as medical doctors, free of clinical shades of white.
The brief grounded a design process calling for exploration beyond gestural form and configuration of pragmatic space. Addressing the brief meaningfully required a process that pivoted around texture, colour and materiality.
An attempt to dissolve the distinction between context and content was made in pursuit of a solution that embodied our clients at every scale and through every sense.
Form was shaped as our understanding of our clients grew, with their individual habits and behaviours informing the arrangement of volume, activating heritage spaces for the parents and second storey volume for the children.
Council restrictions of second storey additions drove the design to maximise internal space with voids and varied angles. Gabled rooflines, sympathetic to the existing heritage coupled with ridgelines reaching up to allow sunlight in and views out. Ceilings and soffits follow internally with a double height living area at ground.
At the first floor, the children's breakout space is bound by a playful plywood ceiling. Throughout, the selected palette of material and colour is enhanced through its placement and format.
Primary paths of circulation are reinforced through use of material to visually guide one through and into the main spaces which coincide in granting ancillaries an appropriate privacy.
From the entry, exposed face red brickwork marks the existing fabric with confidence and clarity. The neighbouring timber lined wall traces a gentle curve, leading one around from entry with up the stairs or through to the kitchen and dining areas.
The free reign of timber over the ceilings is supported and brought to ground with bold slimline brickwork that encourages the expansive living area a healthy stretch toward northern aspect.
As the silvertop-ash continues out to form a raking eave, its projection both permits and prohibits sunlight seasonally ensuring perennial comfort. An abundance of thermal mass couples with in-slab hydronic heating and cooling.
This celebration of materiality and tactility is carried through and found again in the custom design of fixtures and the subtler junctions throughout.
The patina of brass counters the warmth of timber in the design of the bespoke dining table as well as towel rails, hooks, door and joinery handles, mirrors and vanities.
Outside, a playfulness is captured through a circuitous path across the rear lawn framed by raised corten planters and the slate fire pit. The landscaping has been designed to compliment the lifestyle fostered indoors and is reinforced through materials and further textured detailing.
Photos by Sam Noonan