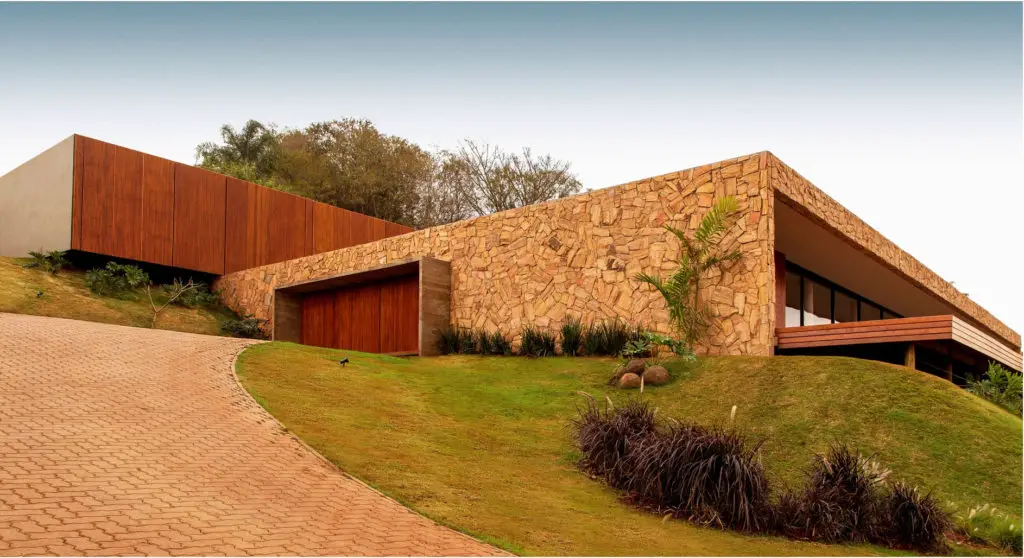 Tucked into a hillside surrounded by mountains, valleys and grasslands, this modernist home blends perfectly into its environment. Completed in 2017 in the area of São Paulo, Brazil, the Franca-based architecture firm MF Arquitetos aspired to fuse architecture into the terrain. As it shows, they pulled it off stunningly and fittingly named the home Casa das Pedras, which translates to 'house of stones'.
Casa das Pedras is split into two compartments, which rise up from amidst the mountains of Minas Gerais. Resembling the surrounding landscape, the lower section, a large rectangular design, features an expansive stone wall, from which a wooden deck extends out over the hillside.
The entire length of the lower section opens by way of sliding walls which, when open, expose beautiful nature as the lines between inside and outside are blurred. The open plan includes a dining area, kitchen as well as a living area, all of which correspond to the natural color palette that circles the building.
As much as the living and dining areas are essential for entertaining, the kitchen is the beating heart of a home. Here, the kitchen has been strategically placed in between the living and dining areas. The sleek black kitchen amenities are stashed neatly into a brick barrier; only a sizeable stone-shaded kitchen island obscures a bit of the view from one end of the entire space to the other.
The meticulous blend of stone, wood and brick forges an organic connection between architecture and nature while providing the interiors with a polished look. The rectangular home design stretches over 630 square meters in total, and although the design of the home is spectacular inside and out, it sits rather discreetly in the hillside.
The second 'block' of Casa das Pedras rests above the lower, from where a gorgeous wooden staircase leads up to the private bedrooms of the home. Slightly transparent wooden screens close in to conceal the spaces and conversely, can be fully opened to expose breathtaking views as well as to soak in endless amounts of natural light.
The same grey tiled floors which deck the entire downstairs flow from inside to the outer patio upstairs, building on the prominent indoor/outdoor connection of this impressive contemporary home design.