Text supplied by by Ora
This project demonstrates a remodel and interior design updates to a post and beam 1953 hillside home in Mount Washington, Los Angeles.
The original 880 square foot home had good bones with many of its original features still intact, but it was in need of updating.
The goal of the renovation by the architectural and design team at Ora.la was to capture the spirit of the original home.  The design evolved in response to how the house adjusted to the seasons.
Air conditioning was removed because deep overhangs and existing ventilation panels proved adequate for passive cooling. 
With a few simple moves, including removing a wall separating the kitchen from the main space and enlarging an existing window opening in the kitchen, the home was transformed into an airy, light-filled space, strengthening connections between the living spaces and the garden outside.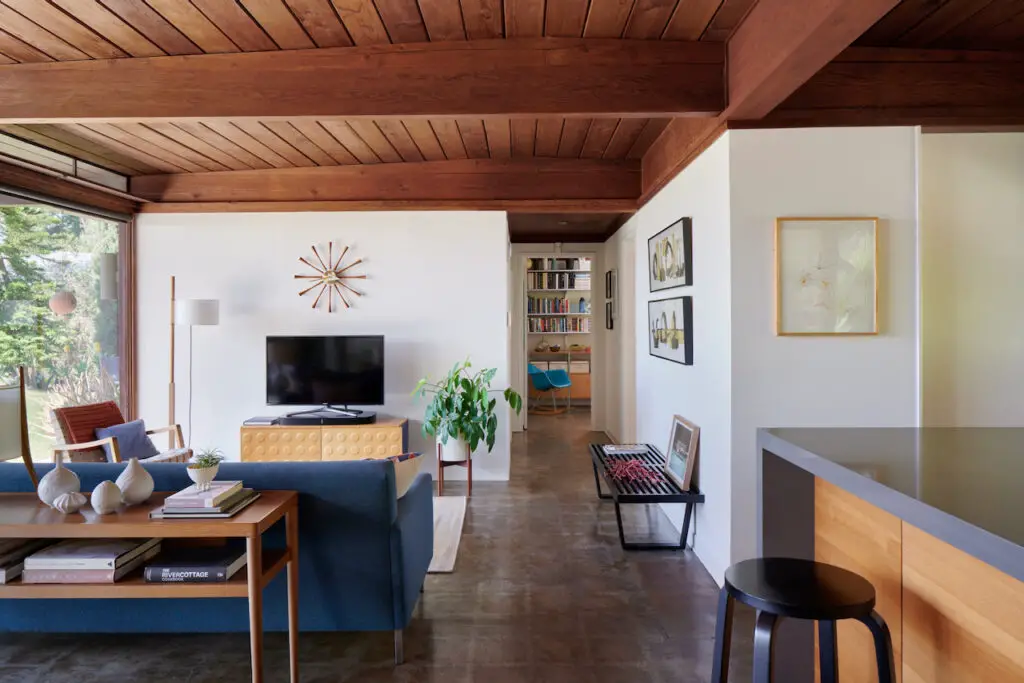 The home's simple, unassuming finishes were appealing to the owners. With the kitchen as the focal point of the living space, care was taken to create a design that did not overwhelm the space. 
This was especially important with the owners consisting of a chef and an architect. On one hand the functional ease of a commercial kitchen was required, and on the other hand a warm aesthetic was needed to make it feel like a home.
A new island serves as the main inside gathering area. Open plywood shelves float in-front of frameless glass, framing garden views and providing a display for the owner's ceramic collections.
A new skylight in the serene bathroom fills the space with natural light.  A blue plywood and laminate vanity floats over the polished concrete floor below and playing off the existing neutral house finishes, tile colors were selected to visually enlarge the small space.
The master bedroom benefits from a large glass window at the foot of the bed with sunrise views over the City beyond. 
The second bedroom is used as a home office with a skylight providing ample daylight for working.
Guests stay in the detached accessory dwelling unit which was converted from a former garage.  This flexible space is also used as a study, den and library, providing a quiet get-away that opens into a shady part of the garden.
Photos by Eric Staudenmaier