Text by Rob Henry Architects
Located on a site embedded with family memories, the Jingston house in the Australian Capital Territory, replaced what was a tired and poorly orientated cottage, previously owned by the homeowner's grandparents.
At the end of a cul-de-sac, the site looks easterly across Woden Valley as well as northerly into a eucalyptus tree filled reserve that weaves through the suburb.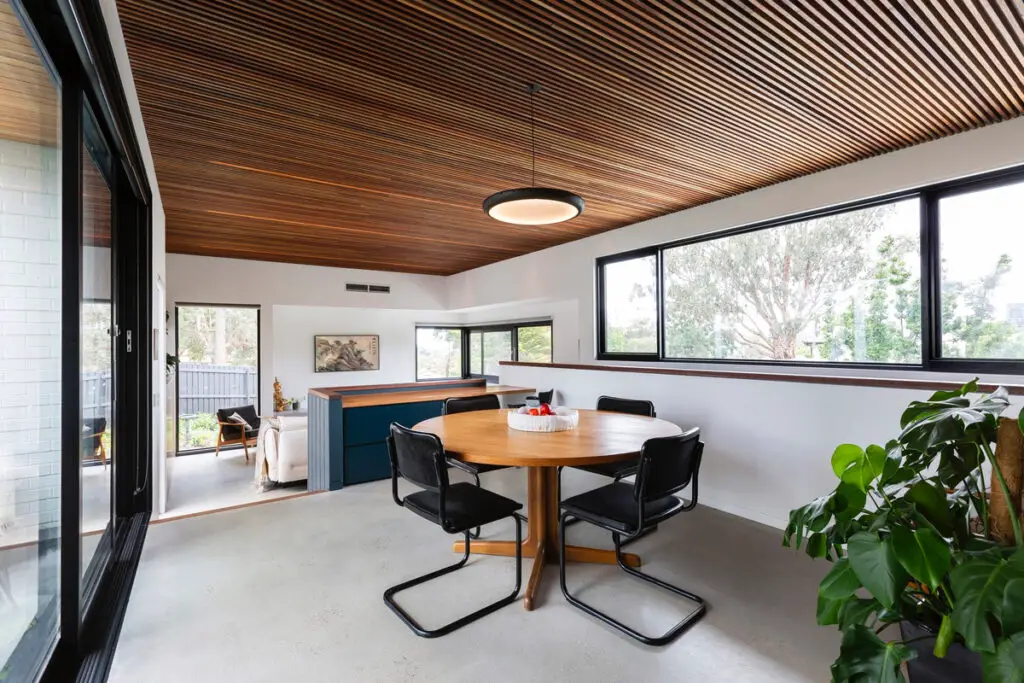 The owners lived on the block for almost ten years before rebuilding, and their new, light filled home has connected them to the nature around them, revealing surprising new angles and vistas around a place they thought they knew so well.
Working with the sloping terrain, Rob Henry Architects segmented the spaces into a series of interconnected levels that step up with the site to allow for continuous association to rear landscape, whilst also maximizing views and delivering privacy from the street.
At the core of the C-shaped design is a verdant courtyard that provides a sense of tranquillity within.
The entry is positioned at a half level between basement services and living zones.
A gradual unveiling of spaces occurs as you enter and move up into the living area. A corner bay window provides a framed view of the reserve, whilst a slot window connects you to the garden.
From here you rise again into a dining/study space with dual aspect – a view to the central courtyard across a calming pond with a commissioned water feature, and east to the developing cityscape.
Concealed behind a slatted timber screen, which complements the slatted timber ceiling, is the kitchen. It's connected yet private, to allow energetic cooking to occur without impacting the serenity of the living spaces.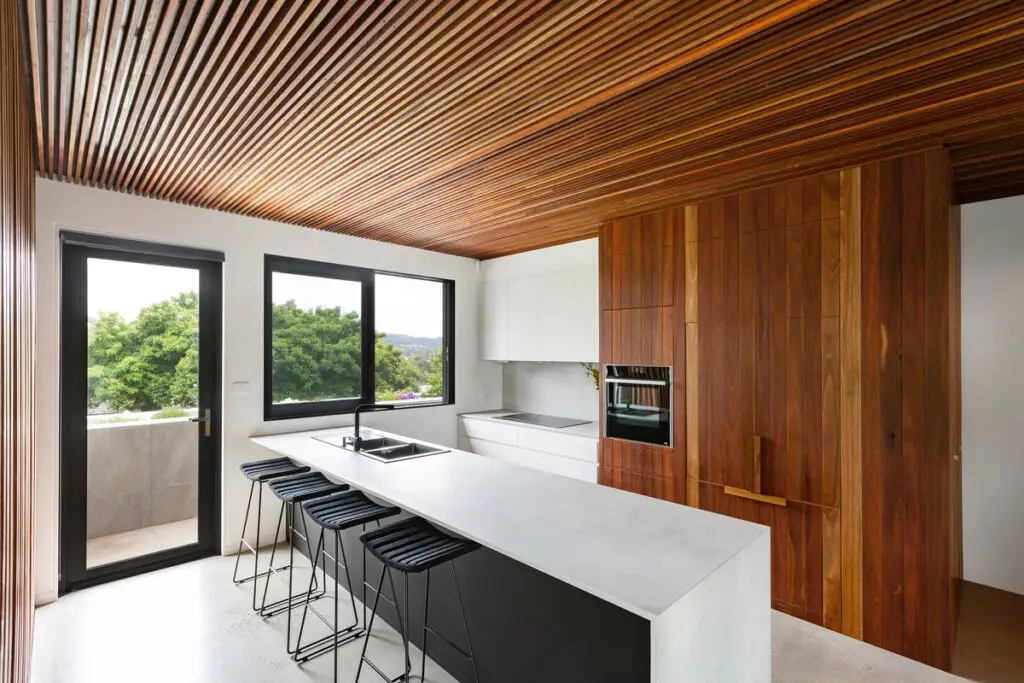 The kitchen links to a front 'morning' terrace filled with herbs, and through a spiral staircase to a basement brewery space.
Moving around the courtyard, which is ever present via fully glazed walls, a corridor leads past a utility zone into a multi-use area that visually connects back to living spaces across the courtyard. A final level change takes you up into the private bedroom retreat.
A restrained external material palette of raked and painted brickwork, grooved lightweight cladding, and timber walls and soffits is a nod to the original midcentury architectural gems within the suburb.
The form plays with subtle angles, folds and projections, vertical and horizontal textures, and interconnecting planes to envelop the courtyard.
A circular cut-out acts as a moving light sculpture throughout the day, both externally and internally.
The interior palette is also restrained to evoke tranquillity and blend with the exteriors.
The predominant use of timber in ceilings, screens, floors and joinery offers warmth and texture, and is balanced by light concrete flooring and white walls. Subtle colour is added to the entry spine; purposefully chosen to enhance an important artwork.
Enduring an immensely challenging construction process, it was sheer perseverance, determination, and a strong bond between client and architect that brought this project to fruition.
What lies ahead is the accumulation of many more family memories, shared by multiple generations in inviting spaces filled with warmth, creativity, and serenity.
Photos by Ben King