John Lautner was famous for designing vibrant and full of life houses. Many of his buildings (the Elrod House and Goldstein Residence above them all) were included in famous movies, music videos and fashion photo shootings because of their dramatic flair and beauty.
Although not portrayed in a movie, the Wolff Residence is in many ways a celebration of Lautner's imagination and creative spirit.
The client, Marco Wolff, was an interior designer and friend of another client of John Lautner, Arthur Elrod. In 1961, Wolff asked Lautner to design an equivalent of the iconic Frank Lloyd Wright Fallingwater, but in Hollywood. For his house, the client asked the same Wright's trademark cantilevered rooflines and geometrical continuity.
However, Lautner twisted the design with his own individual markings, thrusting and rotating the building out from the hillside in a series of juxtaposed and cascading rectangles into the swimming pool below.
The residence's roofs and balconies are woven between four mature eucalyptus trees giving the house a distinct feeling of a love nest on a hillside. From the inside, all the intimate spaces at the back of the residence expand into the larger front rooms with one hundred and eighty degree panoramic views.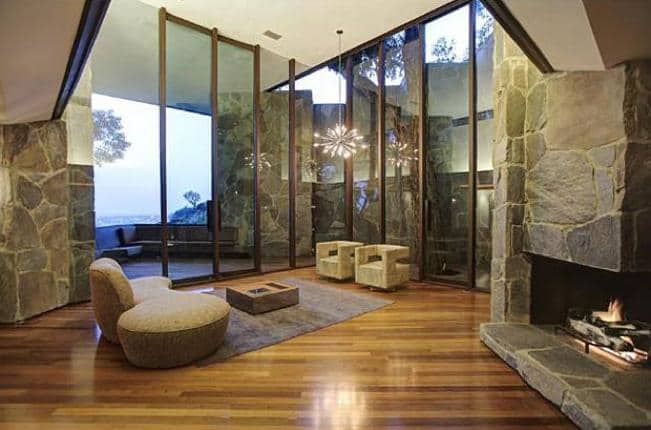 The combination of flow and space from the back to the front creates a dynamic spatial event. John Lautner developed a way of extending his vision of spatial projection by compounding its effects over the various layers the structure is comprised of.
For most of his career, Lautner worked primarily on residential projects. His early works were of a relatively small scale but in later years, as his reputation grew, his client base became more wealthy allowing him to focus on grander projects as with the Goldstein Residence.
Do you live in a mid-century or modernist-inspired contemporary house and want to be featured on Mid-Century Home? Contact us with some photos and a short description of your house at.
Selling?
Drop us a line if you want to advertise a mid-century house for sale!
Regardless of whether you are the owner or the real estate agent, we would love to hear from you.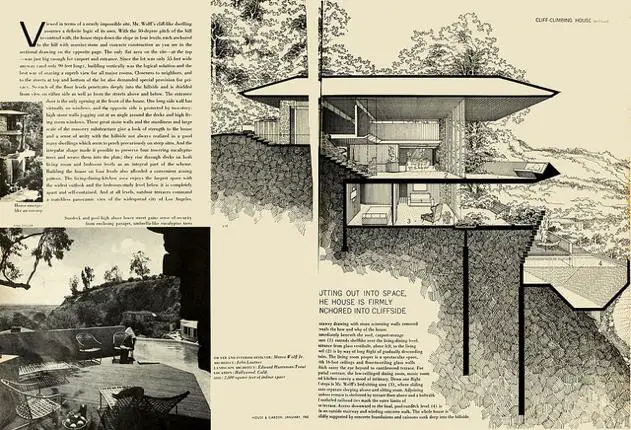 Photos via Angelenoliving, Flickr users MidCentArc and BK Elwell