Text from architects
History
The original house was built in 1950 and was 750 square feet on a typical infill lot in an East Austin neighborhood. It was a great first-time home for me twenty years ago. I lived in that house for seventeen years always with the intention of remodeling and adding another bedroom and bathroom.
I worked sporadically on the design as a side project while running my own architecture practice. It wasn't until 2016 that I seriously came up with viable schemes. There were no less than four schematic designs. All would be livable and affordable, but I wasn't terribly thrilled with any of them.
The 1950's house was a blank slate so to speak. Rectangular form, simple gabled roof, steel casement windows and wood siding covered up at some point with asbestos tiles like many homes of that era. I've done a handful of similar projects over the years, but this proved to be difficult. Making a rational connection to the addition, a visual connection to the back yard and creating natural light in the original structure felt forced.
That's when my girlfriend, Elizabeth (now wife) decided it made more sense to build a new home instead of the renovation/addition. It became apparent the new schematic design was a direct response to what I disliked about the old house. The old house was dark with little access to natural light. It had no visual connection to the backyard which made it feel even smaller than it was.
We rarely spent time in the backyard as it was literally out of sight out of mind. It couldn't open up on nice days, impossible to create cross ventilation. With no insulation it was also difficult to keep cool in Austin's sweltering summers.
Instead of demolishing the old house we decided to have it moved. Afterall, there was no reason to put twenty odd tons in a landfill especially since it had good structural integrity and would possibly make someone a good first-time home just as it did for me. Its new location is only a few miles away.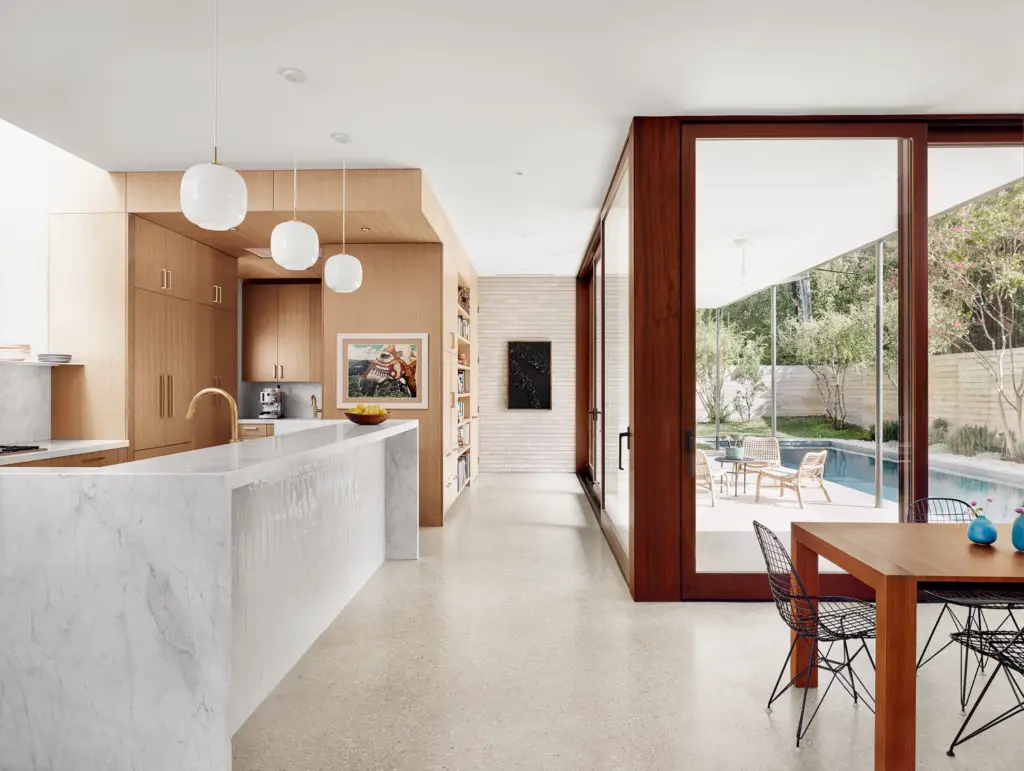 The Design
The house is essentially two staggered rectangular volumes that almost slide past each other. The connection creates two inside corners and effectively the "front" door and the "back" door which are large 10 ft tall wood and glass sliders. Not only does one enter in the center of the house but simultaneously experiences the front entry courtyard and the rear covered patio and pool area, both conceived as outdoor rooms and extensions of the interior spaces.
The layering of the spaces and use of custom steel corner windows allows the interior to expand into the landscape, making the 2000 sf two-bedroom, two-bathroom house feel much larger.
It employs an open floor plan but because of how the volumes slide past one another it creates opportunities for the den, living room and kitchen to feel like their own distinct spaces.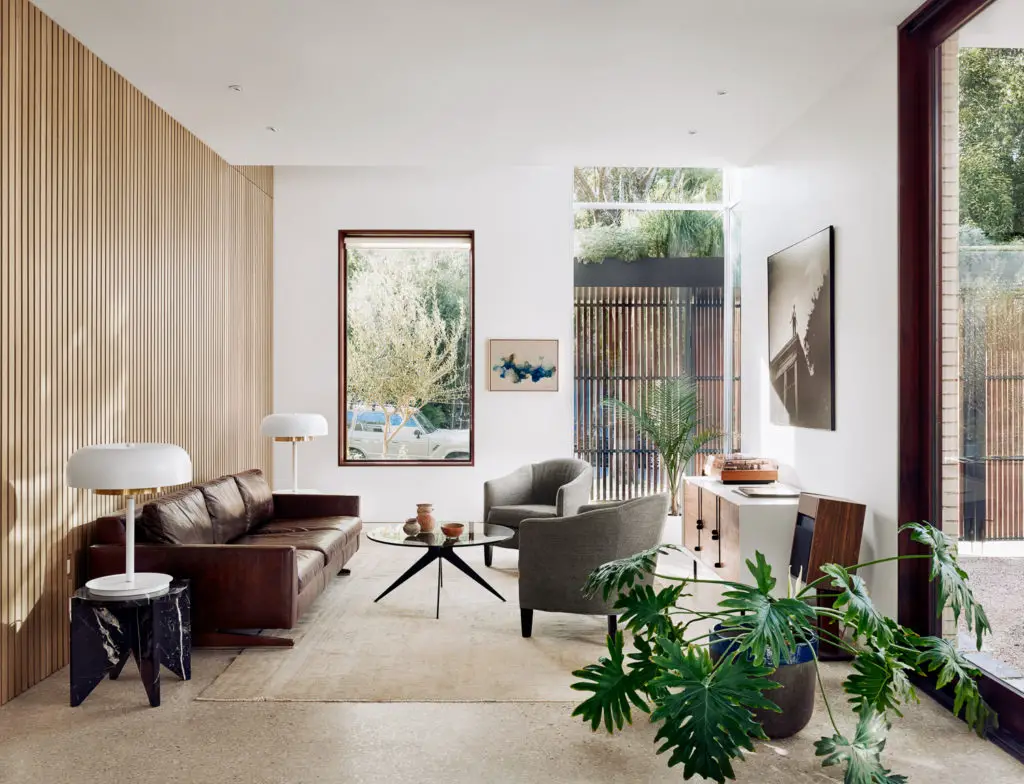 The front façade of the house is composed of a brick clad volume with full height steel corner windows and a steel planter that hovers above the vertical Ipe wood slats that enclose the entry courtyard. The enclosure creates privacy from the street while still letting breezes enter the house through the screened sliding doors. It was important that the scale and proportions of the house fit in with its context.
Many of the houses on the street as well as my direct neighbors still live in the original homes from the 1950's. While the home is decidedly contemporary it does not overpower the neighboring homes. As a long-time resident this was very important to me. I wanted to set an example of how you can build new in an established neighborhood while being sensitive to the context.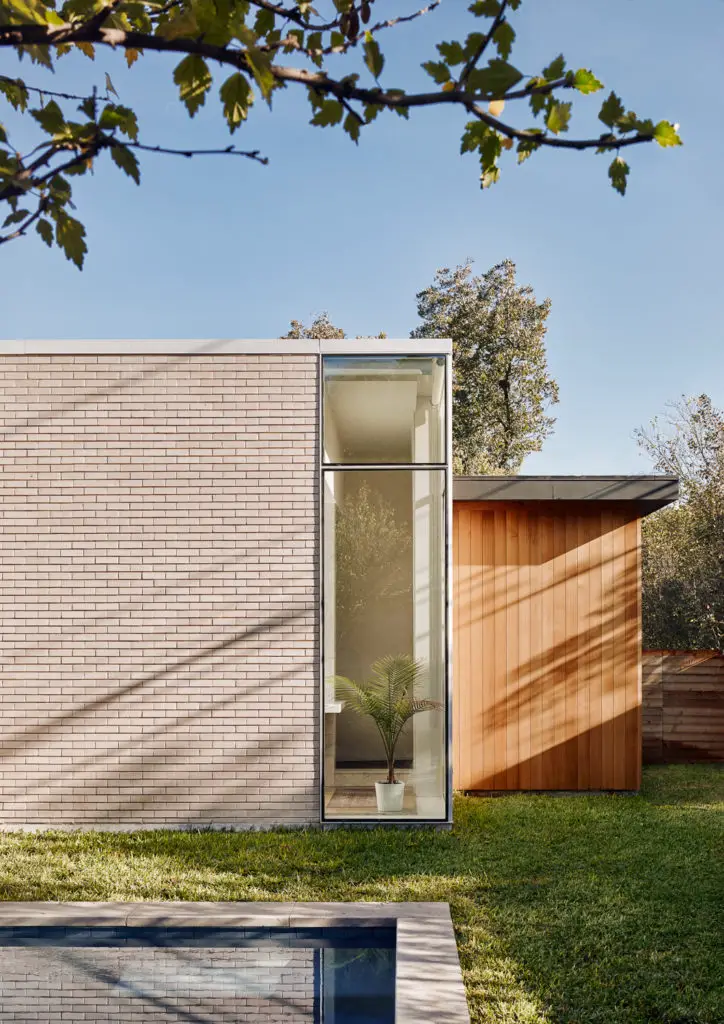 We chose an edited materials palette of light earth tone brick, ground concrete floors throughout, marble countertops and white oak cabinetry and wall paneling as the major materials. The kitchen island has porcelain tile that feels handmade from Ann Sacks while the back wall of the kitchen is venetian plaster. The full-length skylight illuminates the subtle sheen of the plaster and creates swaths of light that change throughout the day.
The guest bath has full height tile in a soothing shade of blue also by Ann Sacks. A skylight in the shower provides natural light and brightens the room. Vintage sconces flank an antique gold framed mirror that was owned by Elizabeth's grandmother. The vanity is marble with a custom steel base powder coated in a deep shade of blue to match the hall and guest bedroom paint color.
The design is incredibly efficient as well. Because of the abundance of natural light, we rarely turn on any lights during the daytime hours. Roof and wall insulation are closed cell spray foam which yields high R-values. This paired with a high-efficiency packaged roof-top air conditioning unit makes for low utility bills. With the orientation of the house we take full advantage of the southwest breezes so that we can turn off the AC unit altogether.
The house is largely furnished with pieces we already owned. I have a small collection of mid-century modern furniture that consists of Eames wire dining chairs with Eiffel bases and an LCW bent plywood chair. The Womb chair and Tulip dining table are by Saarinen. Elizabeth had these great barrel chairs, coffee tables and side tables that we feel works together to make an eclectic mix.
Our art collection is also a combination of what we already owned with a few new pieces. It's an assortment of photographs, paintings and found objects. When you live on a property for many, many years you become acutely aware of how a house responds to the environment.