This house in Mill Valley California could easily be mistaken for one of Frank Lloyd Wright's. In fact, it was built in 1962 by John Liebermann, an acolyte of Wright's.
One of the more obvious standout Wrightian features of the house is the circle brickwork patterns and structural elements, particularly reminiscent of something like the Cooke House.
For instance, the support for the ceiling in the central living area comprises a series of brick arches, and in a particularly nice touch, one such arch goes all the way through a floor to ceiling window to the garden, thereby emphasising the link between these indoor brick features and those outdoors.
ALSO READ: 3 Frank Lloyd Wright Houses we Love
Speaking of which, the floor of the back garden is also host to a lovely assortment of brick patterns, with plain red bricks arranged in concentric rings around the circular pool and similarly going from a ring of plain brick to blue around a fountain, shooting a simple jet of water out and onto the floor.
READ ALSO: Frank Lloyd Wright in Arizona: the Norman Lykes House
In another nice touch, the design of this fountain, of a minimalist style (with just a few simple tubes shooting a jet of water onto the blue bricks) echoes the tubular support that runs all the way around the outside of the house.
It would be silly not to point out the other obvious standout Wrightian element of this house, the copious amount of highly polished redwood that runs throughout.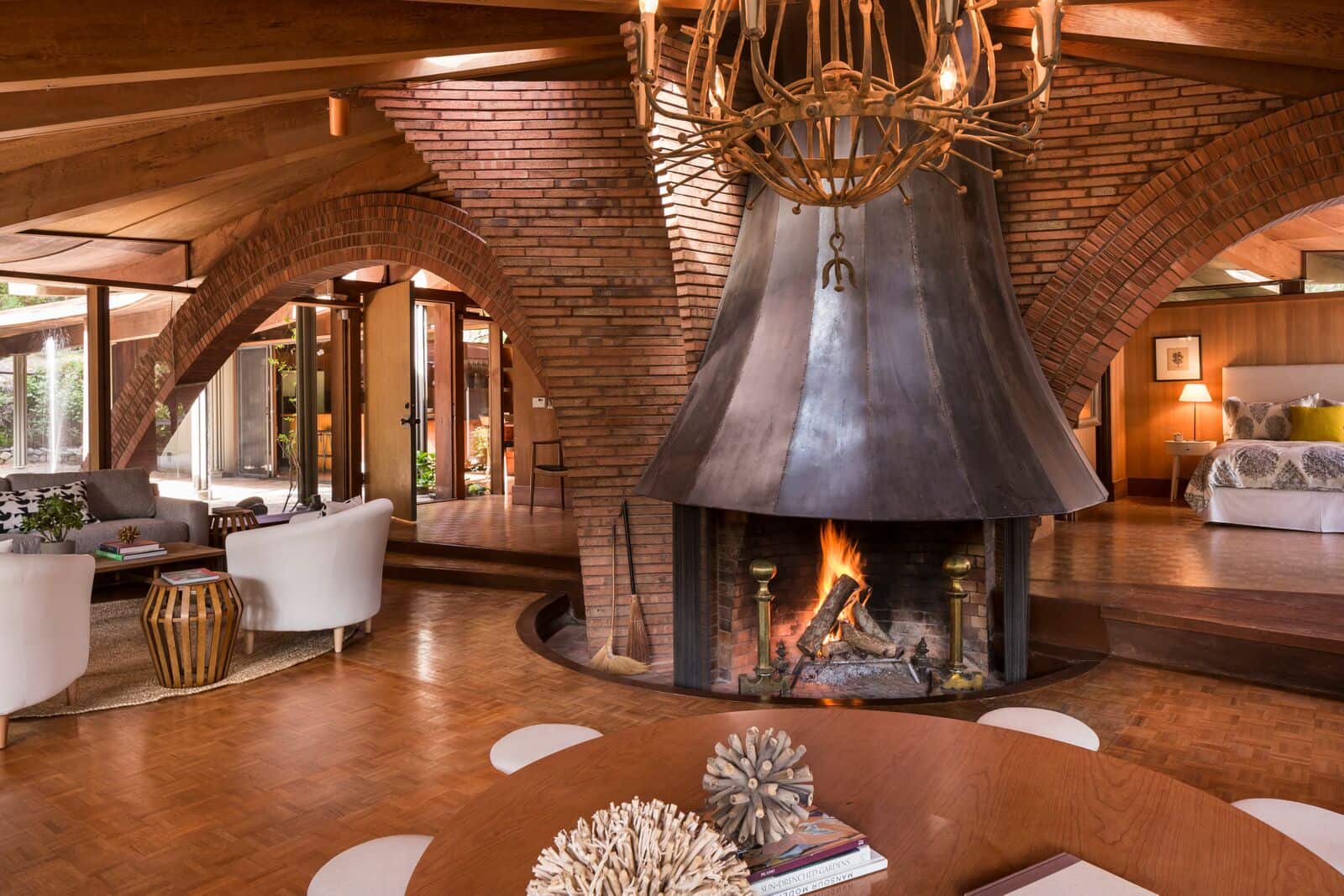 Besides the brick, the floor is almost exclusively parquet, in a variety of patterns. This intricate arrangement of small wood pieces brings a captivating texture to the more monumental wood beams.
Also, in the absence of a wall between the kitchen and dining room spaces (with only a large set of shelves splitting them up), the alternation between brick and parquet also provides a delightfully subtle transition.
Do you live in a mid-century or modernist-inspired contemporary house and want to be featured on Mid-Century Home? Contact us with some photos and a short description of your house at.
Selling?
Drop us a line if you want to advertise a mid-century house for sale!
Regardless of whether you are the owner or the real estate agent, we would love to hear from you.