Located in the rural area of Adelaide, this midcentury modern inspired house on the hills explores how to respond to context and to take advantage of rural living.
Completed just last year by client centered and design focused firm Mountford Williamson Architecture, who specializes in residential projects across South Australia, Balhannah House comes in the form of three linked pavilions. At 250 square meters, the pavilions "splay around the curve of the hillside". Each pavilion houses a specific function and different program.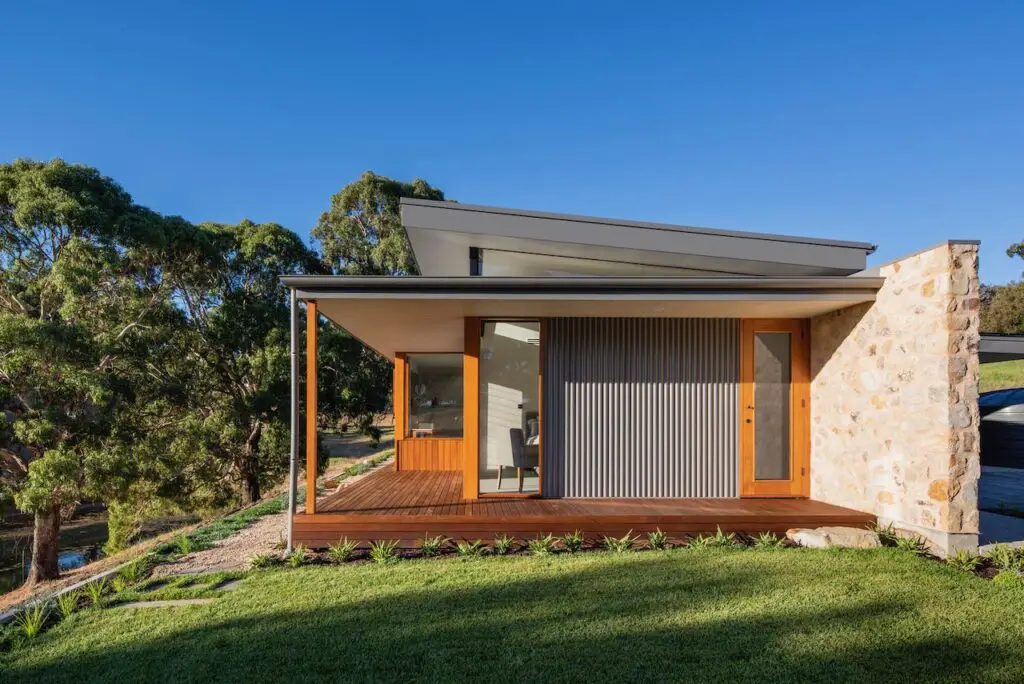 Divided into public and private, the pavilion has dedicated spaces for the entertainment areas and the relaxation spaces. The central pavilion houses the more public living areas while the more intimate areas are located in the separate pavilions at both ends of the Balhannah House.
To access the front door, one must pass through a blade wall "of local stone with entry to the home through one of the links". Through this, the visitor can have views to the large Eucalyptus trees across a large dam and to the panoramic view beyond. 
One of the three pavilions is a stone cottage, which the previous owner rented out as a bed and breakfast before being purchased by the current owners. The two pavilions followed the scale of the existing pavilion while maintaining a contemporary characteristic. 
The material palette consists of a robust combination of timber, local stone and corrugated steel allowing new to sit comfortably against old." The juxtaposition between the old and the new mimics the same dynamic of the new additions against the existing pavilion.
The spaces between the separation among the pavilions provides opportunities for outdoor living as well as access to the northern sun.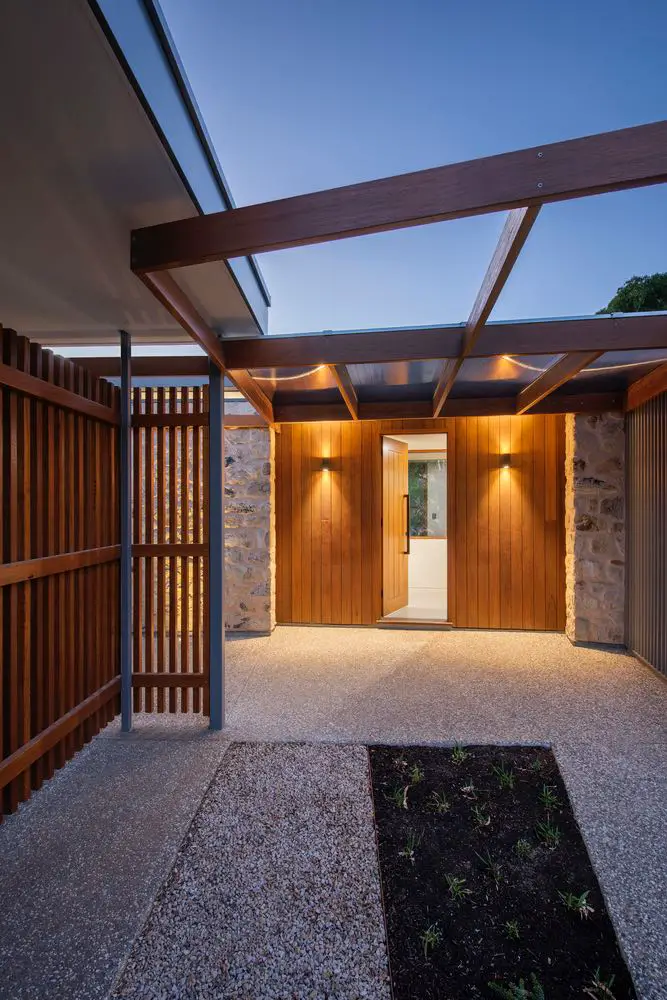 Like a traditional veranda, a timber deck wraps around the home, creating an outdoor circulation space. High level glazing in the form of glass floor to ceiling windows also allows for views to the sky and the adjacent trees, truly connecting Balhannah House to its natural surroundings. An internal stone wall, along with other materials, bring in a sense of earthiness and warmth to the interior spaces. 
Balhannah House sits comfortably against its lush green backdrop. The interior of the house continues the natural elements of the outdoors, with stone materials and earth tones for the fixtures completing its subdued yet relaxing character.
Wooden slats are also reminiscent of the tall trees that provide its backdrop. Artificial outdoor lights place emphasis on the materiality of the stone facade, further providing visual and material connections between the built property and nature.