One typically associates the New York townhouse with an era prior to the explosion of modernist homes in the middle of the 20th century. And yet, the interior of this modernist house looks as modern as they come.
Indeed, it has really benefitted from being decked out in some lovely built in cabinetry, an exceptional collection of modernist furniture—including an Eames lounge chair in the open living area and a set of white tulip chairs in the dining area—as well as a beautiful open staircase that delights in its functionality.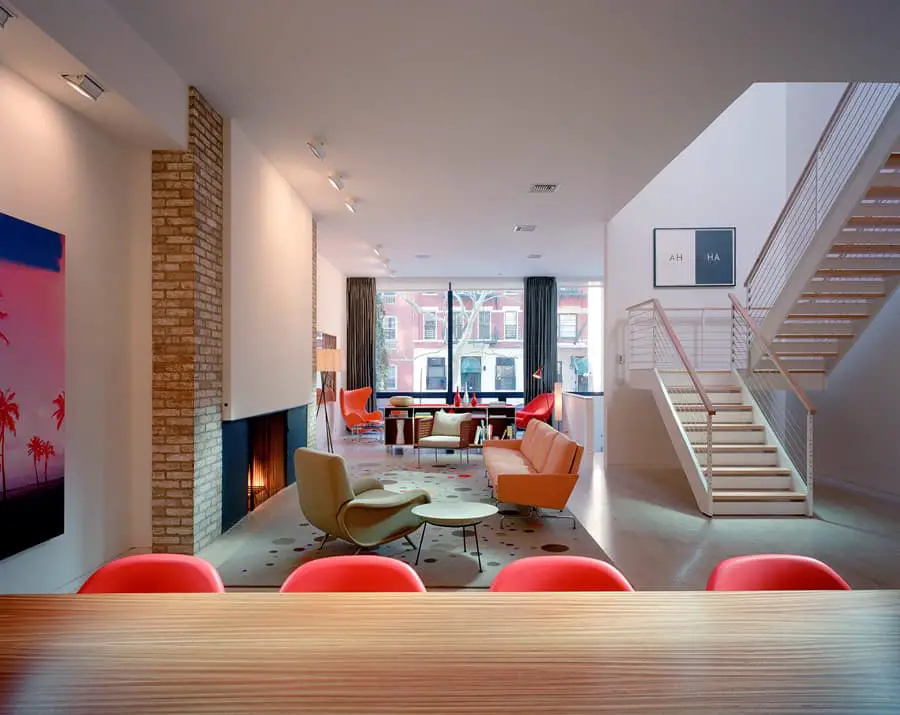 Even so, while any homeowner can inject a touch of modernism into the interior of their home, they are still usually left with an exterior that is not modern at all, lacking the openness and exposure to the outside that is the stock in trade of a modernist house.
ALSO READ: The Most Playful Modernist House We Have Ever Seen
So, what is even more striking about this house is the addition and renovation carried out by Alexander Gorlin Architects, which takes advantage of the underused gap between the house and its neighbour.
Perhaps the most striking aspect of this addition are the windows, which occupy the overwhelming majority of the front of the house. Bathing the home in light, their continuation across three floors is a quite striking modernist gesture.
This is even more evident when considering the simple geometric repetition of the window frame. Extending all the way up, the pattern is quite reminiscent of a Mondrian painting, or the wooden-framed, paper windows found in the traditional Japanese architecture to which modernist mid-century design is so indebted.
Incidentally, the narrowness of the additional space calls to mind another celebrated new build, the Gap House in London, built by Pitman Tozer Architects.
Both houses represent smart, beautiful responses to the squeeze on land values in the two cities, proving that modernism does not need vast open spaces to take seed.