The feature that really stands out in Feldman Architecture's Tierwelthaus is its decorative louver system. Not only is it visually impressive, it also settles the home discreetly within the beautiful natural surroundings in California's Portola Valley. What you might not have expected is that this was the second renovation project Feldman Architecture carried out on the contemporary home design.
According to an article by Modern Luxury Interiors California, the home was initially acquired in a bankruptcy sale. After joining forces with Feldman Architecture, more than halfway through the project, the property was sold again.
Once the current homeowners purchased the dwelling, another alliance with the San-Francisco was formed with the aim to give the home the appropriate look it deserved, inside and out.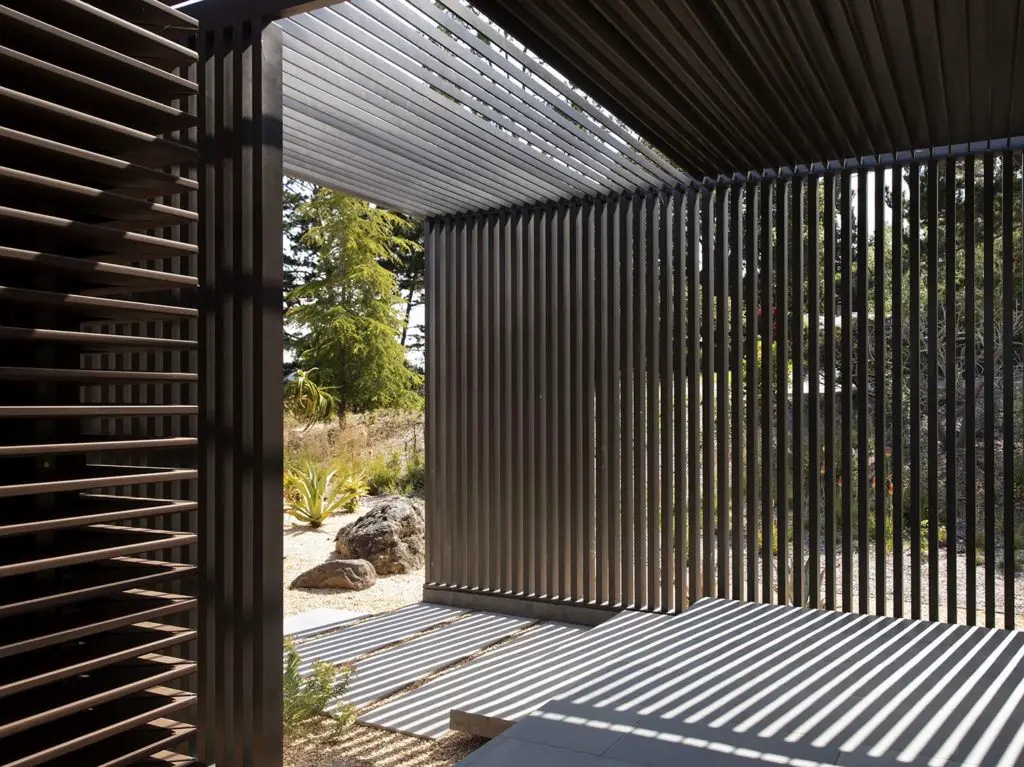 A strong bond between nature and the home was essential throughout the entire designing process. Tierwelthaus, also known as 'Wildlife House', is nestled between trees and bushes, resting hidden from the quiet road. Mildly put, the backdrop is serene. A deer trail runs next to the home, leading to a nearby canyon. Frequent visits from bobcats, screech owls and other little creatures add to the charm of this place of residency.
The dark brown louver system, acquired from Woodn, blends in with the natural landscape. At the same time the louvers allow light to seep in and the outside is visible through the slits which circle the home.
Thanks to its hillside location as well as expansive decks on both sides, the home also benefits from the vast views that open up far and wide.
Inside, the homeowners went for a simple, natural color palette. Light natural wooden cabinets from Bartlett Cabinetry bedeck the kitchen. Clean white walls and ceiling paired with grey tile floors have a cooling effect in the open plan living spaces.
The landscape design by Surface Design Inc. makes use of drought-resistant plants including Agave plants, cabbage trees and succulents, which fit in with the natural landscape while feeding into the personality of the Tierwelthaus and its inhabitants.