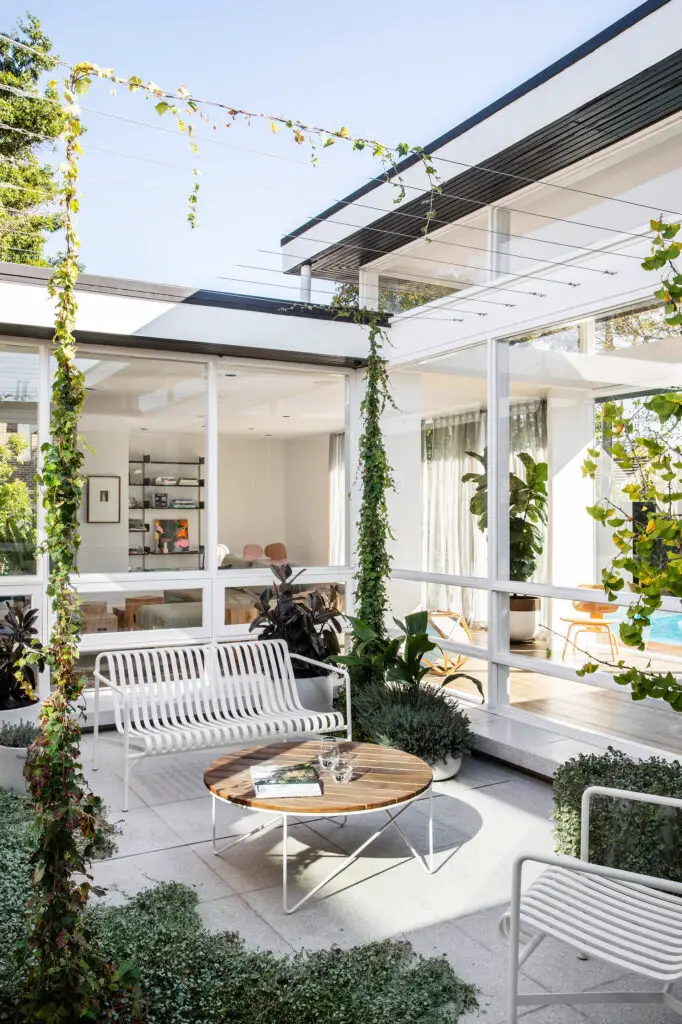 Designing one house for a client is a proof of trust. Designing two is a compliment to the architect's creativity and grit.
The vibrant designer from the eponymous studio Chelsea Hing Interior Design, who has over the years "built a reputation for beautiful, liveable interiors crafted with character", breathes new life into this remodel of a midcentury modern home in Brighton, Australia.
Left untouched since the 1950s, Chelsea Hing has catapulted this home into contemporary aesthetics with her signature style of creating soulful and expressive spaces. 
In explaining her initial design idea, Hing says that her team embraced "an understated Palm Springs vibe" applying a contemporary new vision to this midcentury stunner.
She adds, "low and slow was the order of the day, nuanced with just enough luxe, colour and fun." She shares the interesting backstory of her second time client, who would pass by the street on which this house is located during his nightly walks.
Curious about the property at the end of the cul de sac, the client discovered this midcentury gem that has been preserved since the 1950s. Though the house seemed like it had been abandoned – as evidenced by its dilapidated state- he was able to track down the owner and buy the property and thus began Hing's magic.
They pored over the original drawings, unearthing hidden midcentury elements beneath the existing house. Eager to incorporate them into the remodel, Hing was disappointed to discover that the house's biggest asset was "the 'O' shape of the main living areas that overlooked the light drenched central courtyard."
She turned this into a centrally located courtyard that receives an abundance of natural light. This update likewise boasts of the white material palette that overwhelms the entire property. Vines crawl up the glass frames, creating a sense of drama and awe which contrasts the simplicity of the space.
In the interior, the design language of clean lines is continued and emphasized by the removal of frivolous design elements. Purist and minimalist, the house capitalizes on natural light while remaining faithful to its midcentury roots.
The living room provides an accent piece through a dark rug that contrasts the pale palette of the house. Wood boxes that function as a centerpiece table add a ruggedness that complements the understated and muted elegance of the midcentury house.
Across the house are little gems such as a reading nook, providing a family friendly place at the request of the client. Metallic accents add a touch of color to the otherwise gray bedroom.
The bathroom is likewise a discovery – a contrast of a dark black brick wall juxtaposed with a clean white bathtub. Evidently, Hing succeeds in bringing this 1950s into the 21st century.