This iconic 1945 design is enclosed by a waterfront on one side, a large meadow on the other in Stonington, Connecticut. Originally designed by architect John Lincoln, the Stonington Residence was refurbished by Joeb Moore & Partners, which was completed in 2013. The restored historic house combines rustic elements with modern elegance and now serves as a comfortable family home in the midst of nature.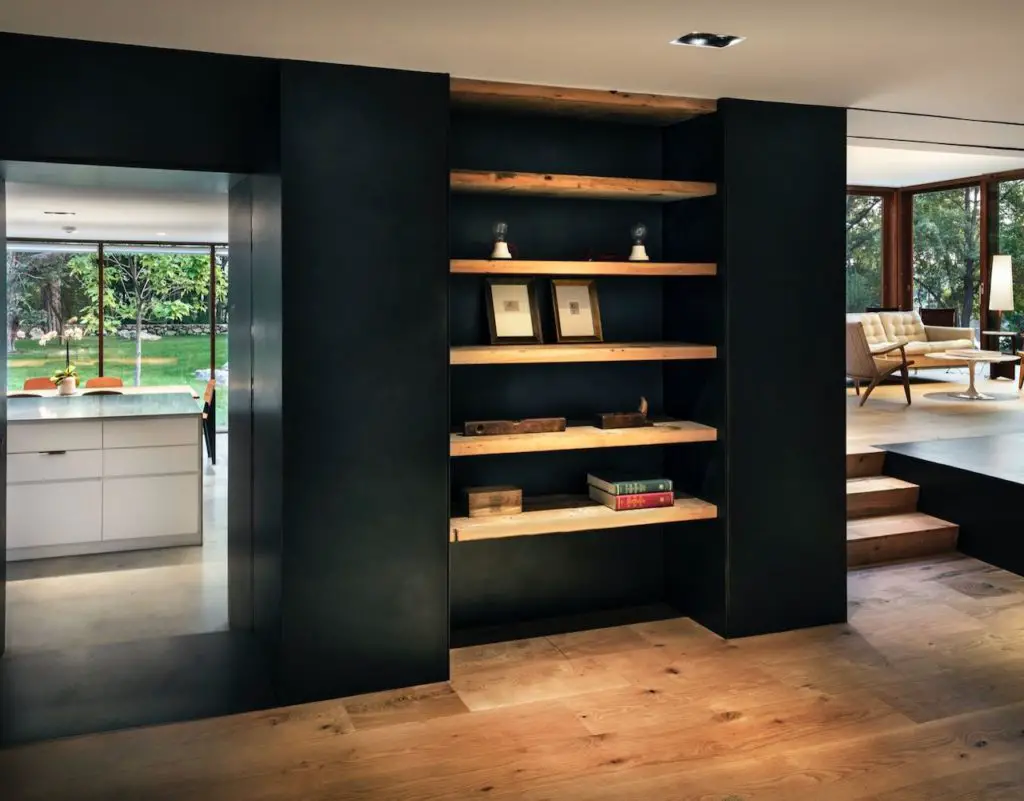 The residence stretches over 4875 square meters. The original building accommodates five bedrooms, three baths, a library, a laboratory and three fireplaces, offering plenty of space for family and friends to visit.
A chunky granite wall runs through the house, serving as the home's centerpiece as well as divider. Bits of the same granite wall are found at the front of the house – the bright red entry door is embedded into said wall – as well as in smaller detail at the back.
Original architect John Lincoln was a former senior architect for the Navy at Quonset Point and professor of architecture at the Rhode Island School of Design, among other roles. The use of stone, flat roof and the corner windows tell tales of influences by Frank Lloyd Wright's influence.
The home's design is ladened with unique details such as split levels, mixed materials and the use of light and space. Downstairs, the granite wall ensures privacy at the home's facade. Floor to ceiling windows paired with clerestory windows forge a seamless connection to the stunning nature that surrounds the site, while allowing plenty of natural light to flood into the home.
The color palette incorporates mainly earthy tones of grey and various shades of natural wood paired with clean white walls, creating a fresh, light and airy flow throughout the interior spaces, coupled by furniture to match.
Outside, the site's natural boulders shape the outdoor areas, which include a studio, garage, pool as well as outdoor patios.
Split into two levels, the lower level is mainly made up of the shared entertainment facilities. The upper level, a rectangular wooden unit, accommodates the master bath- and bedroom and the childrens bedrooms and bathroom.