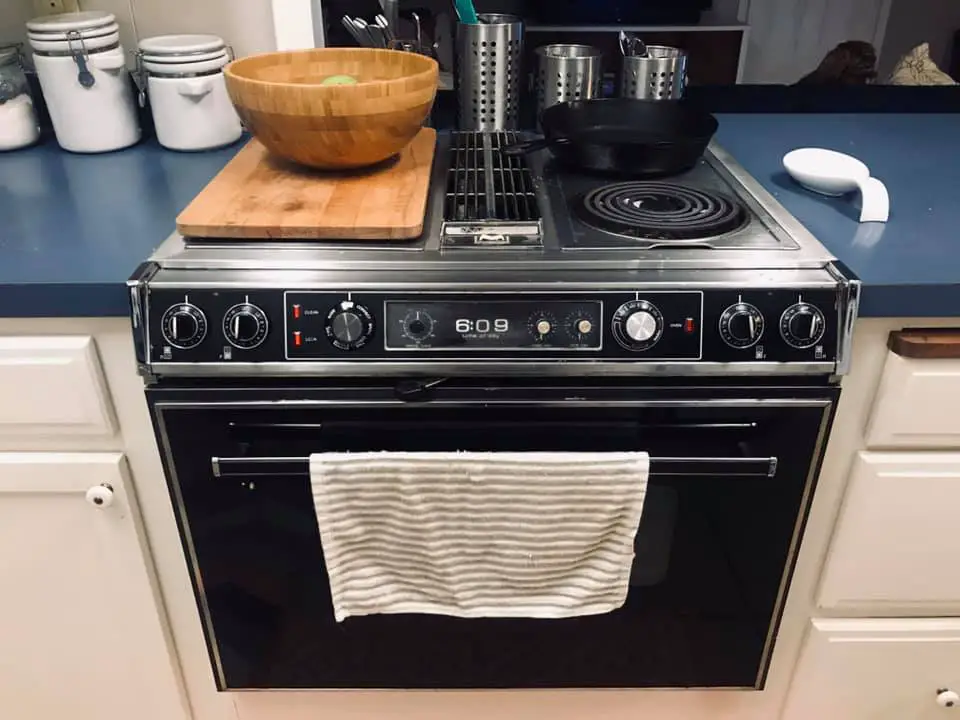 👉🏻 you're gonna replace everything anyway, you might as well get rid of this too. It's gonna look weird with a brand new kenmore or GE fridge and you still have this dated thing in there throwing it off.

👉🏻 My grandparents have this same stove in their 1960s ranch. I think they put it in right before I was born. It's still going strong. They've replaced the fridge and dishwasher since then but the stove and trash compactor are still in business. I would keep it until it dies. New appliances don't last.

👉🏻 Keep it!!! Any new electric range with electronic controls will have a fan that runs NONSTOP when the oven is on and it's ANNOYING. Trust me. I've searched and searched. I mean, if a constant high-pitched fan noise doesn't bug you, go ahead

👉🏻 30+yr. old appliances aren't worth much, maybe $100 in working condition. I don't think replacing it will de-value your home as mid century. The downdraft will narrow your choices in selecting a new range. I have replaced downdrafts with overhead exhaust hoods and it can get involved with new ductwork, drywall repair, etc.

👉🏻 used to be a kitchen designer. Retired now in my own MCM. I would never design expensive cabinetry and countertops around a 30 year-old appliance. This is a drop- in range, which requires totally different cutouts and panels than free-standing ranges. And it's a downdraft, so, if you upgrade later to a range w/vent hood, there will need to be totally different ducting run. I would design for the years to come.

You can read more tips about this topic here.

These are only few of the thousands tips that midcentury home owners share with each other's in our exclusive Facebook Group dedicated to them. If you own a midcentury house, and are not already a member, join us now!