This contemporary home design underwent renovations with the aim to create a better flow throughout the home as well as maximize entertainment areas, both inside and outside. Located in Manhattan Beach, the Art Barn was transitioned from an outdated family home into a modern beach house that reflects the lifestyle of the homeowner by Los-Angeles-based Architecture and Interior Design firm Oonagh Ryan.
The old design of the Art Barn was restricting the use of space and cutting spaces off from one another. A total of 820 square feet were added to the original design, including a 545 square foot patio for entertainment. A fire pit and sleek and simple seating spread around the patio make up a contemporary but cosy overall look.
The patio is situated at the back end of the house and is accessible through a large floor to ceiling glass door which slides open. This door is huge, opening up almost half of the back side. Inside, the home's open plan kitchen, living and dining areas flow smoothly from one to another, as well as to the patio.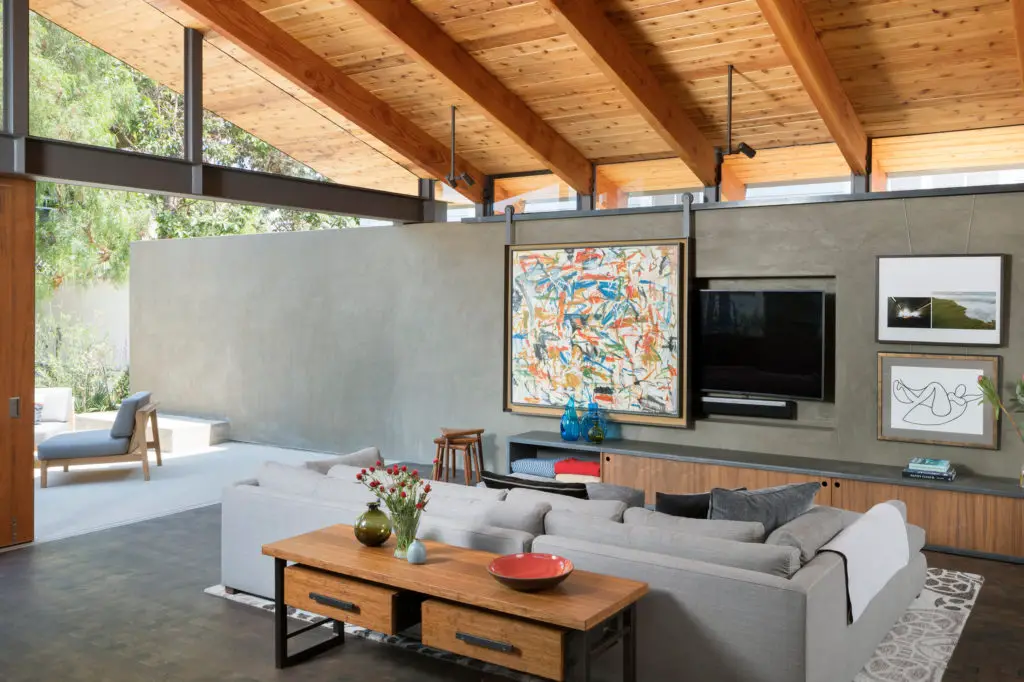 The openness is amplified thanks to the additional windows, which make up the back wall of the home. Not only do they allow plenty of natural light to flood in, but also create a seamless connection between the indoor and outdoor areas.
In redesigning the open plan space, Oonagh Ryan Architects made sure to create plenty of open space that would allow the homeowner to display his art collection. Clean white walls serve as their backdrop. Douglas fir beams and knotty cedar boards create the ceiling as well as surround the kitchen space. A plaster wall extends from inside the living area to the patio, ensuring privacy within the outdoor area.
The home's design plays on modern form, such as the break in the roof. In combination with carefully selected contemporary interior decor and the considerable use of wooden boards with a rustic feel, the Art Barn manages to balance a gentle balance between modern and traditional.