The Gueda House is proof, if ever you needed it, that simple design can always be eye catching. Built by Mustafa Bucar Arquitetura in 2009, the home is located in Goiânia, the capital and largest city of the Brazilian state of Goiás.
When we say eye-catching, the main feature we're referring to is, of course, that wall of tiles in the courtyard, something which immediately made us fall in love with the place.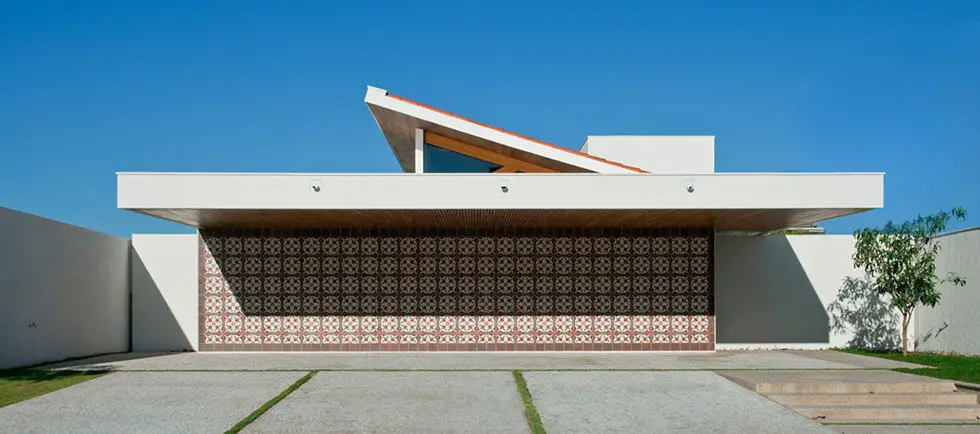 Several aspects of the house contribute to its natural character. Firstly, there's the Bacchus Marsh stone used for both the external and internal walls. Boyd had originally intended to use concrete but instead went with these lovely stone walls. These feature throughout the house and provide a lovely combination of difference and repetition.
Boyd had also originally intended to have the ceiling plastered. Again, he eventually went with the more distinctive natural option, employing a thatched ceiling. The ceiling is quite unlike anything we normally see in a modernist house, but it fits right in.
READ ALSO: Duran & Hermida's Los Faiques Modern Dwellings: Where Minimalism Reigns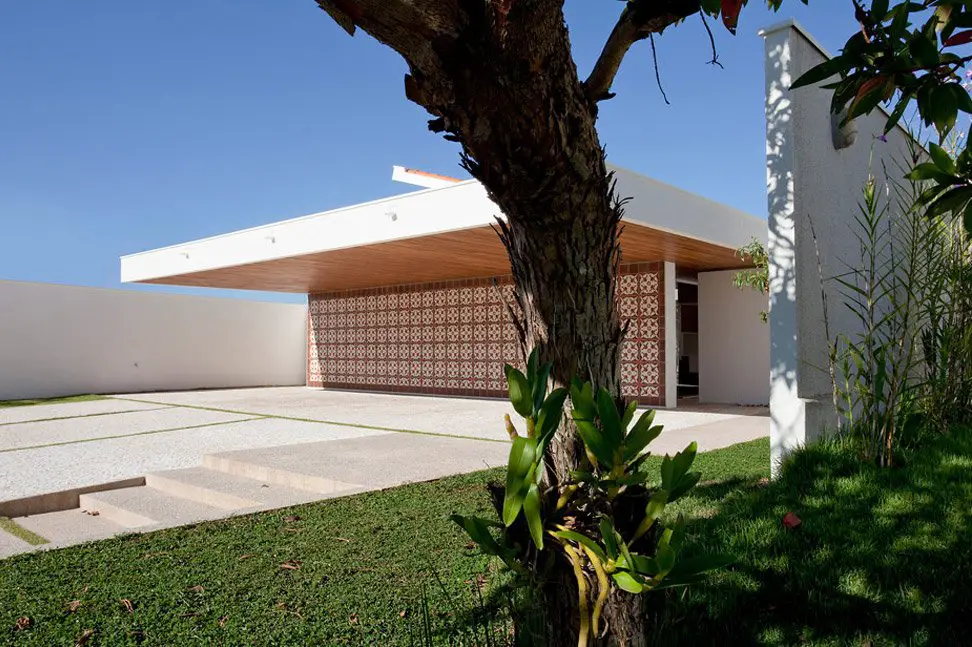 This kind of flourish really hammers home the fact that a design need not be overburdened with decoration in order to be characterful. Just one short, sharp burst of creativity can raise the home to a work of art.
We could probably stop at the wall, but the rest of this contemporary style home also deserves praise. One thing that particularly caught our eye was the way that the structure privileges drifting between interior and exterior spaces.
This is best represented in that supporting wall in the living area. Completely exposed to the outdoors, on one side it supports a television, and on the other, just a couple of metres away, there's a tree poking out from a courtyard patio.
The colour palette also simplifies things nicely. Besides the inevitable intervention of greenery, it does not deviate all that much from white and brown of the tile pattern, with wood, and white marble in abundance.
READ ALSO: 57Studio's FLD House is Perfectly in Tune with its Context
It goes without saying that these aspects of the design make for an unusually cool home environment amid the tropical climate of the area (where average temperatures run from 26 °C (79 °F) in the warmest month to 22 °C (72 °F) in the coldest).
All in all, it's a truly exceptional contemporary home design.