The Hillside Residence offers us a perfect example of a midcentury remodeling gone right. Situated in Seattle, Washington, this 1957 home received a modern update under the skilled efforts by SHED Architecture & Design together with interior designer Jennie Gruss.
This stunning 1950s midcentury home was originally designed by PNW architect Arnold Gangnes. Fast forwarding to half a century later, the time was right to freshen up the home to accommodate a young family. Using a mix of natural materials, namely wood and brick, SHED Architecture set off to update the house with the intention to stay true to its original character.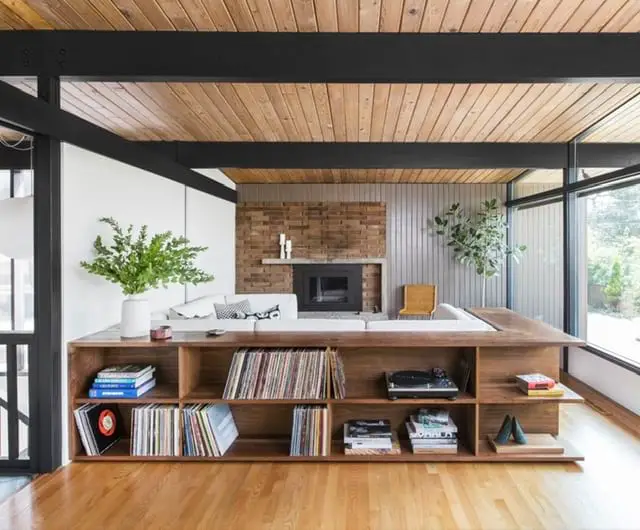 In architectural practice during the 1950s, it was common to design the multiple floors of a house to reflect one another. This was also the case with the Hillside home. Instead of making major changes to the original blueprint, SHED decided to pay attention to the family's living patterns and adjust the kitchen, bathroom and bedrooms to fit their needs.
A green roof and a patio were added to the home's first floor, creating extra outdoor living space for the family to enjoy. Another major change to the first floor was that the master suite, including two separate bedrooms, a bath and a master bath, was converted into a single master bedroom, including a master closet and a master bath with a separate toilet compartment.
The living and dining room floors remain original. The hardwood floor in the other areas of the first floor was newly installed to harmonize with the dark timber beams and the Douglas fir ceiling paneling. The natural color palette complements the surrounding environment of the home, which is made up of trees and lush greenery.
Large windows throughout the open living plan ensure views of the natural surroundings, creating a seamless transition between inside and the outdoors. The original expansive deck extends out from the home's dining area, further blurring the lines between inside and outside.
The basement floor of the Hillside Midcentury also underwent some changes. What used to be the storage, was turned into a striking "endless pool", measuring roughly seven by 13 feet. Here too, various shades of natural wood echo the views seen through an expanse of windows which can be folded open for full integration with the outdoors.
The lower level contained a larger living room, which was turned into a guest bath, mudroom and a media room. Additionally, the lower level accommodates a pair of bedrooms as well as an office.